Final: USA def. Spain, 90-81
Aug 17, 3:58 am UTC
The United States defeated Spain 90-81 in a game that they were never able to pull away.
After leading by double digits at the end of the first quarter, Team USA was outscored 61-59 over the final three quarters.
Turnovers plagued the United States as it finished with 23 which ultimately led to a 71-62 advantage for Spain in overall FG attempts. That will be one of lessons the USA surely will take as it heads over to Australia for a trio of tune-up games prior to the start of the World Cup.
Marc Gasol led all scorers with 19 points and was followed by Ricky Rubio who scored 14 of his 16 points in the first half.
Four players scored in double figures for the United States led by Donovan Mitchell who finished with a team-high 13 points.
End of 3rd Quarter
Aug 17, 3:27 am UTC
USA leads Spain 71-58 and has been unable to pull away.
After leading by 11 points at the end of the first quarter, Team USA has outscored Spain by just two points over the last two periods.
Middleton and Walker, USA's leading scorers in the first half, combined to shoot 0-3 in the third quarter while going scoreless.
Rubio continues to lead all scorers with 16 points.
Live Box Score
Aug 17, 3:12 am UTC
Halftime: USA leads 54-41
Aug 17, 2:51 am UTC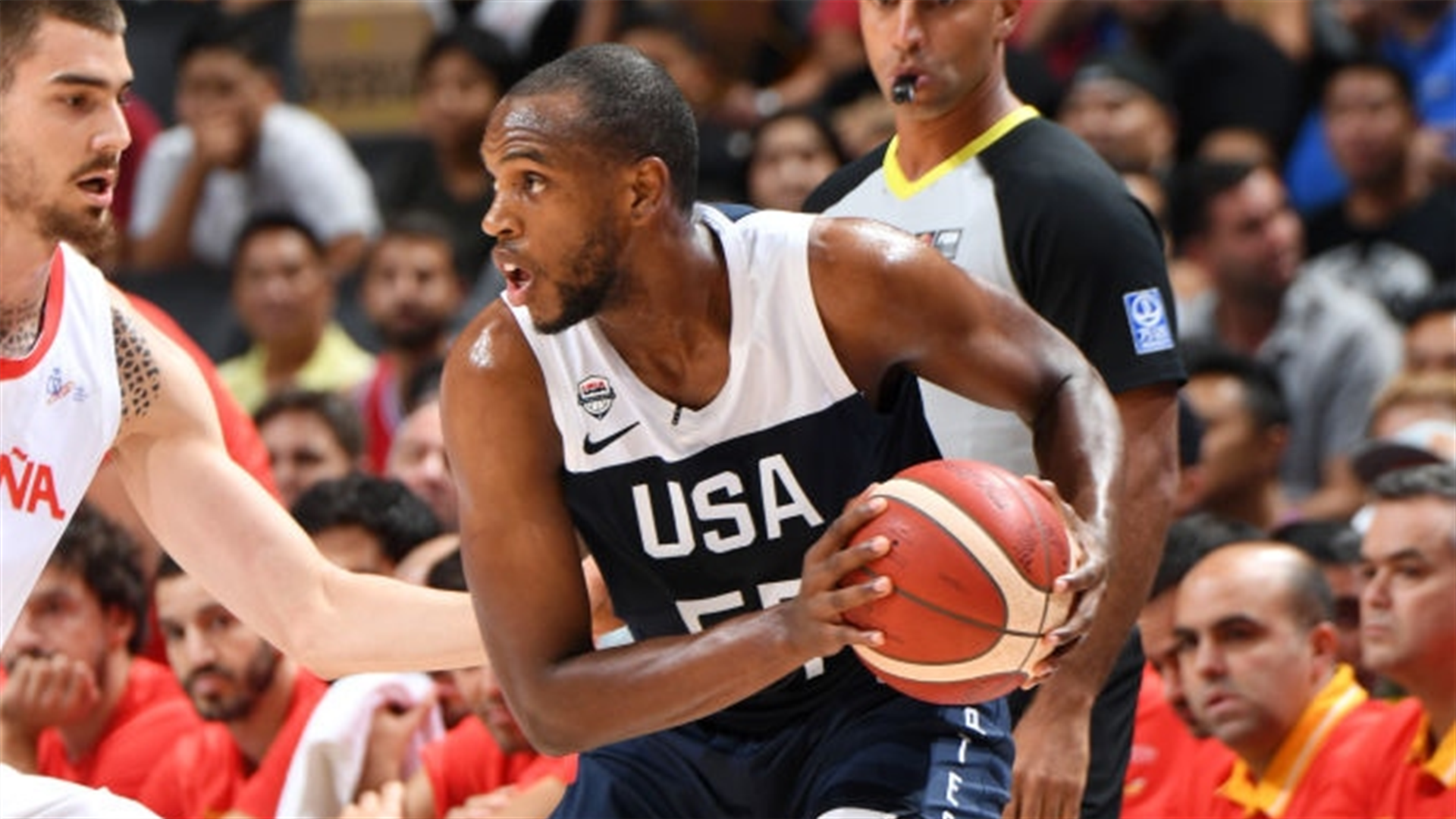 The United States takes a 13-point lead into halftime thanks to some strong outside shooting and a big advantage on the glass.
USA shot 7-11 from the 3-point line compared to 4-13 for Spain.
Leading the way is Khris Middleton (10 points) and Kemba Walker (9 points) as the only two All-Stars from last season are a combined 7-7 from the field.
Ricky Rubio leads all scorers with 14 points and has more points than the rest of Spain's starting lineup combined (6 points).
Upcoming schedule for USA
Aug 17, 2:44 am UTC
Following this game, the United States will travel to Australia before heading to China for the World Cup.
Here is the upcoming schedule for Team USA.
Team USA Upcoming Schedule

| | | |
| --- | --- | --- |
| Date | Opponent | Location |
| August 22 | Australia | Melbourne, Australia |
| August 24 | Australia | Melbourne, Australia |
| August 26 | Canada | Sydney, Australia |
| September 1 | Czech Republic | Shanghai, China |
| September 3 | Turkey | Shanghai, China |
| September 5 | Japan | Shanghai, China |
Jayson Tatum throws it down
Aug 17, 2:43 am UTC
End of 1st Quarter
Aug 17, 2:18 am UTC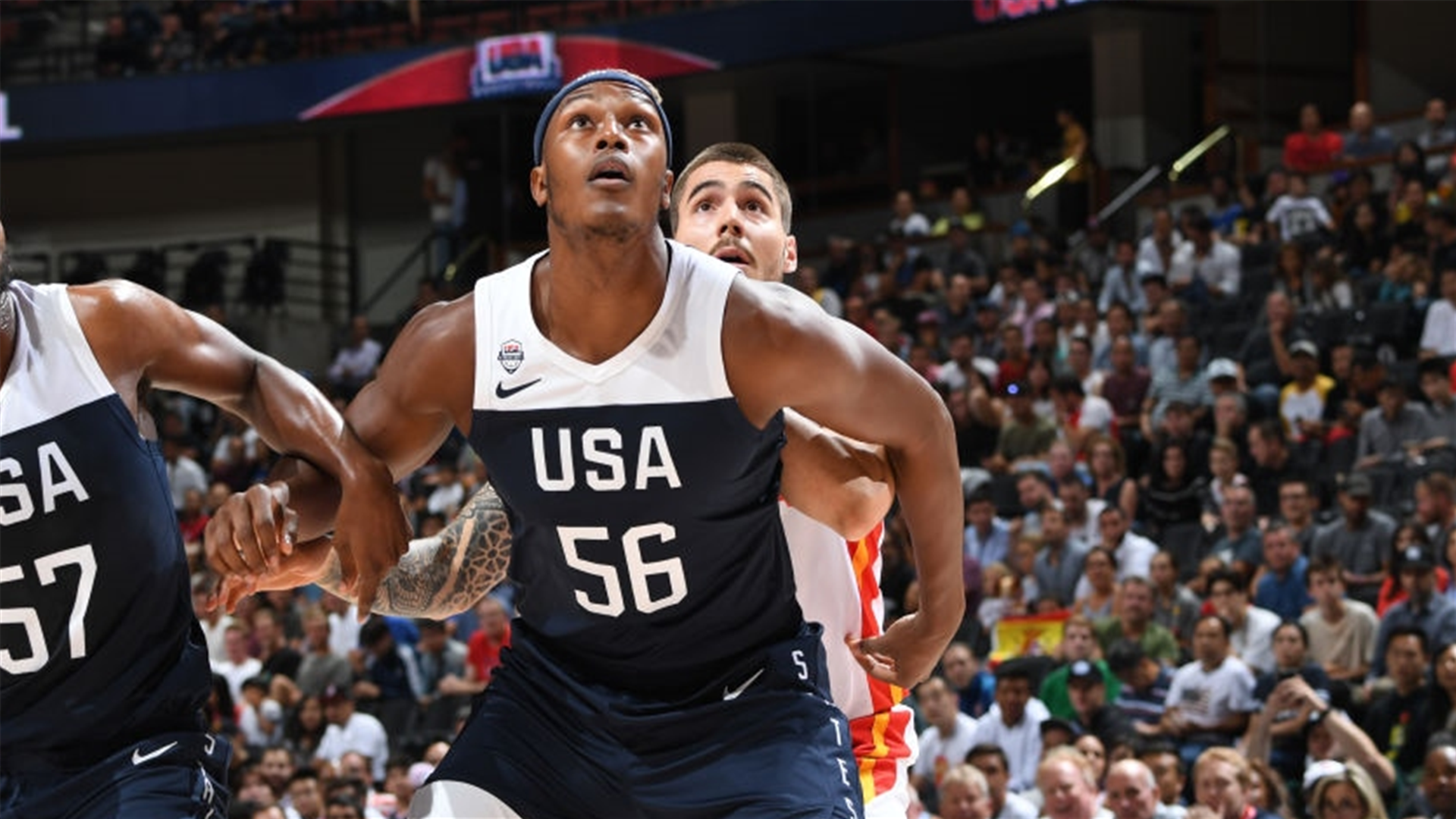 At the end of the first quarter, the United States leads 31-20 while shooting 56% from the field includin 5-8 from beyond the 3-point line. Perhaps most encouraging is the advantage on the glass as USA held a 14-3 edge on the glass. Depth in the frontcourt and a lack of size has been one of the potential trouble spots for the Americans who are currently carrying just four natural bigs in Brook Lopez, Myles Turner, Mason Plumlee and Kyle Kuzma.
Leading by double digits early against an experienced and talented Spain team must be a positive sign for head coach Gregg Popovich on the heels of Wednesday's 36-17 loss in a scrimmage against a team mostly comprised of G-League and fringe NBA players.
USA roster update
Aug 17, 2:09 am UTC
Earlier on Friday, it was reported that P.J. Tucker was pulling out of consideration for the final roster due to an injury. Tucker will now focus on getting ready for the start of the season with the Houston Rockets.
With Tucker's withdrawal, the United States is down to 14 players that will eventually get cut to 12 ahead of the start of the tournament on August 31. According to Marc Stein of the New York Times, all 14 players will make the trip to Australia as the team finishes its tournament prep with exhibitions against Australia and Canada.
Those 14 players on the @usabasketball roster that must ultimately be reduced to 12:

Harrison Barnes
Jaylen Brown
De'Aaron Fox
Joe Harris
Kyle Kuzma
Brook Lopez
Khris Middleton
Donovan Mitchell
Mason Plumlee
Marcus Smart
Jayson Tatum
Myles Turner
Kemba Walker
Derrick White

- Marc Stein (@TheSteinLine) August 16, 2019
Starting Lineups
Aug 17, 2:03 am UTC
United States: Kemba Walker, Donovan Mitchell, Harrison Barnes, Khris Middleton, Mason Plumlee
Spain: Ricky Rubio, Rudy Fernandez, Victor Claver, Juan Hernangomez, Marc Gasol