During All-Star Weekend, 17-year-old Amaan Sandhu from India was one of 64 high school prospects that participated in the sixth annual Basketball Without Borders Global Camp.
Of the 40 boys at the camp, he was the only one from India.
"I was very proud of that [being the only Indian boy at the BWB Global Camp]," Sandhu told NBA.com's Carlan Gay at the conclusion of the BWB camp.
He wasn't the only Indian, as there were two present among the 24 girl campers in Siya Deodhar and Harsimran Kaur - both awardees at the most recent NBA Academy India Women's camp in Mumbai during the NBA India Games.
"I was excited that I was going to be the only guy to represent my country. It was pressure too. I was nervous about what I was going to do since I had the five words on my back - he represents India."
Starting early
Initially a swimmer, Sandhu didn't have to look far to develop an interest in the sport.
"My parents are from the basketball background," Sandhu said.
"My father was an international basketball player, my mother was a national-level player and my sister was also an international basketball player. So, I used to watch games with my father, mother and sister, and slowly I started gaining interest in basketball."
From there, his basketball journey began when he was one of the first 21 student-athletes added to NBA Academy India when it first opened in May of 2017.
Seeds of future NBA greatness are being sowed at the NBA Academy! #NBAHangout pic.twitter.com/YRwFfqKBHm

- NBAIndia (@NBAIndia) June 27, 2017
Over the past couple of years, Sandhu has been among the young rising stars of India. After spending a lot of his first year getting into shape, Sandhu started getting recognized by getting calls to multiple NBA development camps.
The first was in June of 2018 when he along with Princepal Singh and Aashay Verma represented India at an NBA Global Camp in Italy. In 2019, he represented NBA Academy India at the third NBA Academy Games in Atlanta and was later picked among four Indians for the Basketball Without Border Asia Camp in Tokyo.
Hard work, dedication, perseverance - Amaan Sandhu gets it done!#ACGNBAJump #NBAAcademy
@ACGWorldwide pic.twitter.com/MqTNNL0O1R

- NBAIndia (@NBAIndia) August 9, 2019
NBA India Games experience
"It was basically a dream come true for Indian basketballers," Sandhu said while talking about the historic NBA India Games in October 2019.
"I was there at the games because the NBA Academy campers [boys and girls] were there. We met a lot of players like Myles Turner from the Indiana Pacers and also from the Sacramento Kings. So, it was good. I saw, for the first time, NBA players performing in front of my eyes."
Plan ahead
Between the NBA India Games last October to playing in Hungary in January and now this BWB Global Camp, it's been an eventful past few months for the 6-8 forward/center.
That's not all. Sandhu was part of the gold-medal-winning national squad at the South Asian Games this past December and the gold-medal-winning Punjab squad in the U-21 category of the 2020 Khelo India Youth Games.
"I get nervous sometimes, so, what I'm going to work on, when I go back [to India], is gain some strength," Sandhu said, talking about his takeaways from this Global camp and the past few months.
"I'll work on my dribbling and passing, and I think work on my shooting skills too."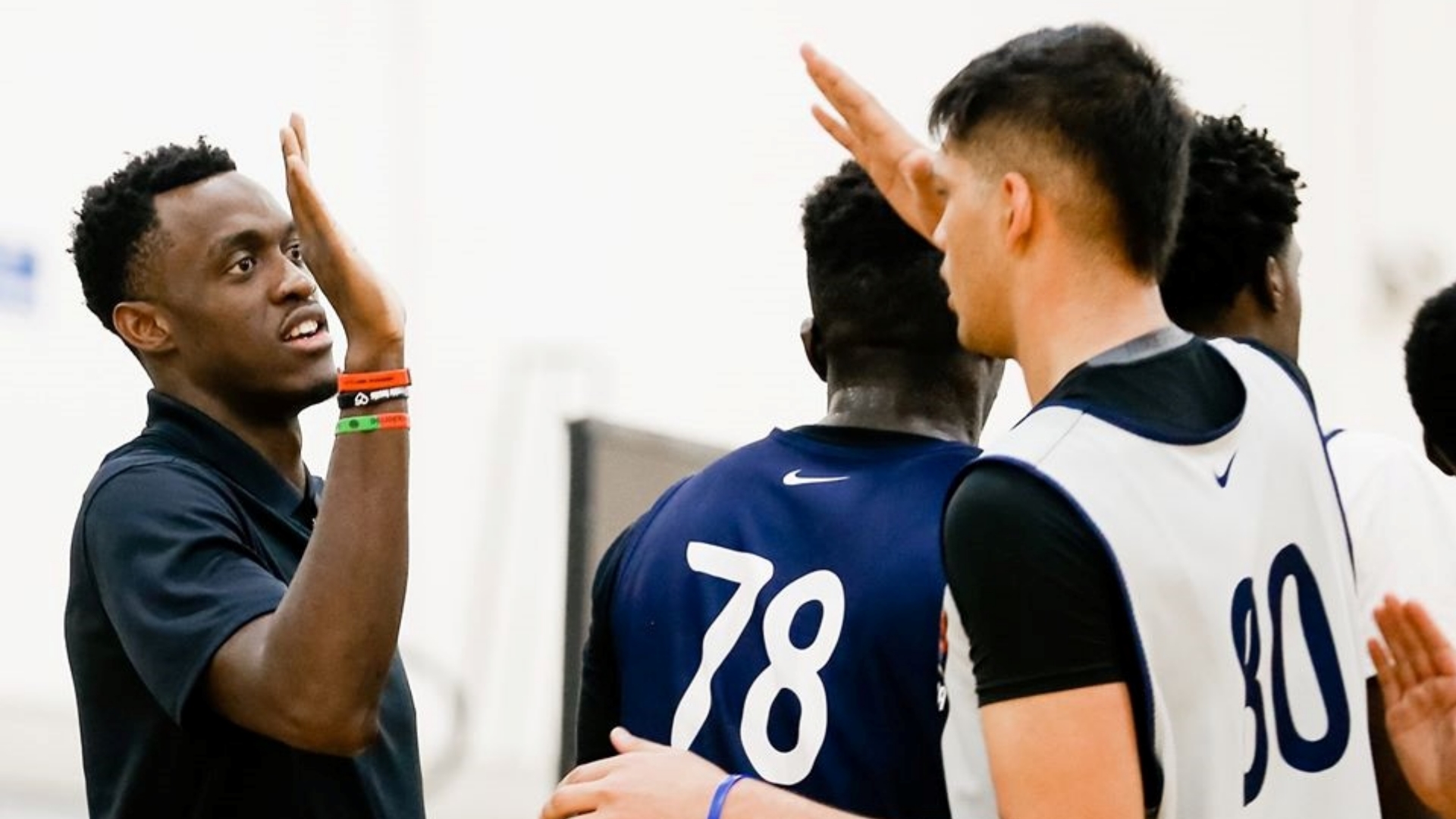 Above: NBA Champion and All-Star Pascal Siakam giving Indian Amaan Sandhu a hi-five during the BWB Global Camp.
While it is every budding teenager's dream to eventually get into the NBA, Sandhu understands the steps needed to be taken in between.
"My end goal is to make it to the NBA but now, I'm working to get a D-1 scholarship. I'm studying, working on it and even the Academy is helping me."
If he makes it, Sandhu will be the third Indian-born player in the last four years after Kavita Akula and Sanjana Ramesh to receive D-1 scholarships. Akula received the scholarship at Grand Canyon University in Phoenix, Arizona while Ramesh enrolled into Northern Arizona University.
The views on this page do not necessarily reflect the views of the NBA or its clubs.