CHARLOTTE, N.C. - Grishma Niranjan represented India proudly at the Basketball Without Borders international camp during NBA All-Star weekend.
The 5-5, 126-point guard from Bangalore, making her first-ever trip to U.S., was on the winning Minnesota Lynx team. Niranjan, 17, is trying to come back to the States next year with a scholarship for her undergraduate collegiate studies.
By playing on the same court with the best girls in the world at Queens University in Charlotte, she loved her three-day crash course to further her basketball education.
"You realize what level the competition really is," Niranjan told NBA India. "This is not how the game is back in India. It's way more aggressive and way better here. I realized how much more work I need to put in. I was happy to be here to learn more and take back as much as I can."
Niranjan has a better appreciation of the different mentality of U.S. basketball and plans to also help people understand that more in India. She has been on a long journey with the sport but is looking forward to the next chapter of her game.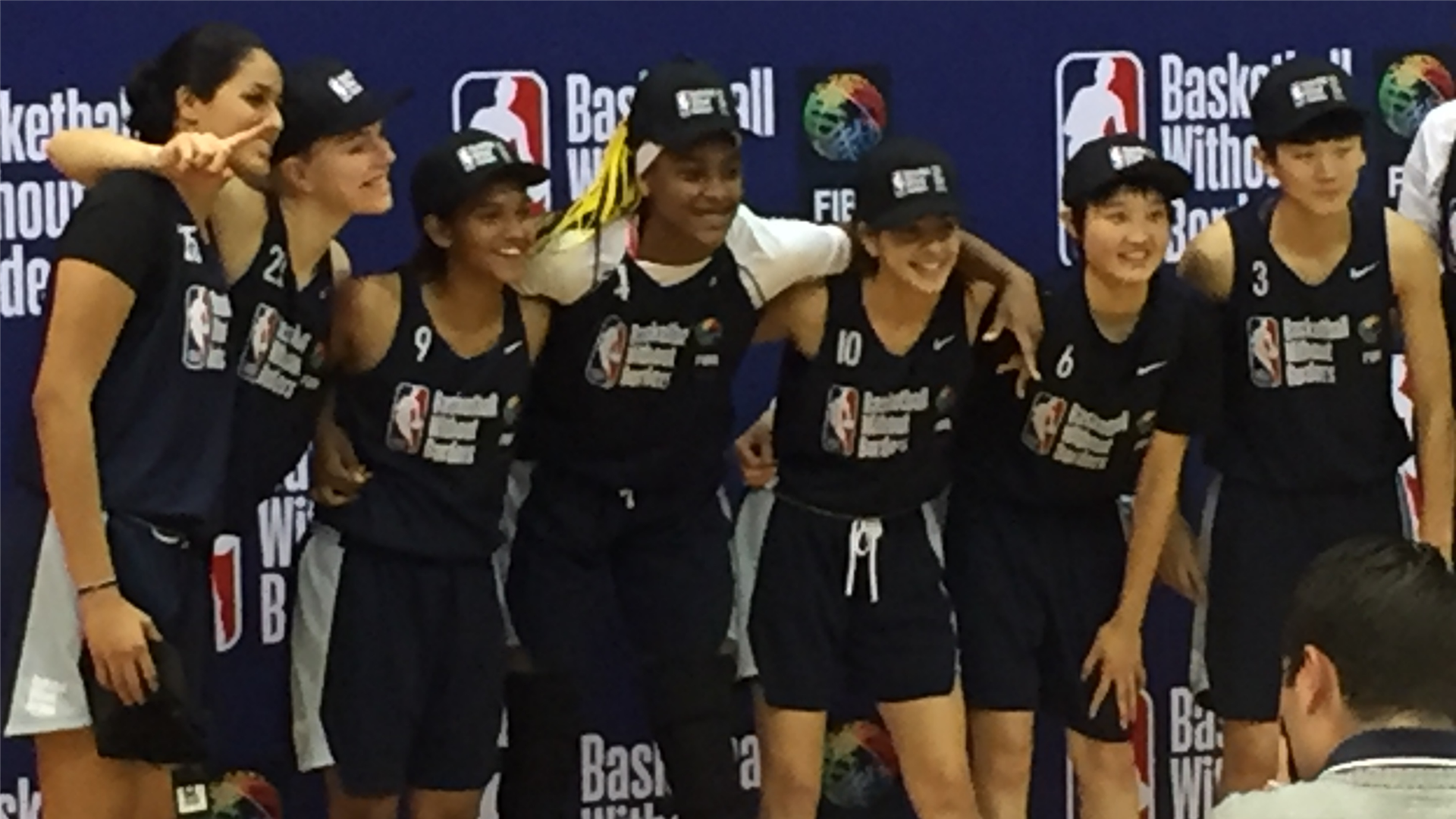 "I started in the sixth grade and I just put in the work and the results came out pretty well," Niranjan said. "I realized I was good at it, so I just started loving it, so I continued doing it."
Being selected for Basketball Without Borders also comes with the perk of attending the All-Star game. That gets Niranjan only closer to the hoops heroes who have inspired her.
"Sue Bird gets me hyped a lot because she's amazing, just everything about her game as a point guard," Niranjan said. "For men, I lean toward Steph (Curry) a little bit, but LeBron is still the greatest player to me. I can't wait to get to the arena - I'm going to cry."
Going down the college basketball path in the U.S., Niranjan is looking for only two simple things in where she lands.
Grishma Niranjan (#9) showing good recovery on defense and ball handling from point in Basketball Without Borders camp action #NBAAllstar2019 @NBAIndia pic.twitter.com/lgnnLiWNde

- SN's Vinnie Iyer (@vinnieiyer) February 17, 2019
"I just want to go somewhere where they need me and they can also help me get the most out of my game," Niranjan said.
HarshWardhan Tomar, who took his talents from the Bhind district in Madhya Pradesh to the Stellazurra Academy in Rome, Italy, also enjoyed his time as the Indian boys representative at Basketball Without Borders.
The 6-7, 235-pound power forward, who turned 18 at the beginning of February, got plenty of valuable instruction on the weak point of his game, given his position.
"I am going to take back with me a lot more skills. What I needed to learn is how to rebound more," Tomar said. "On offense, it's also so important to give second chances for your teammates to score. The coaches really helped with how to box out better."
Although Tomar's team fell short of victory, he considers himself a big winner, too.
"When we made the finals I was so happy," Tomar said. "Even when I was not playing and on the bench, I was just happy. I had good teammates and it was great learning for me."