Pelicans All-Star Anthony Davis will be front and center as he opens the season against the Houston Rockets and reigning MVP James Harden.
In an unusually wide open race, the MVP award is certainly within grasp for the game's best big man on the eve of his seventh season.
Davis believes he is the best player in the NBA, ahead of the likes of LeBron James and Kevin Durant, considered by most to be the two best in the league. He's starting to build a case on paper - averaging 28 points per game in back-to-back seasons, leading the league in blocks per game three times, selected to 1st-team All-NBA three times and making the All-Star team each of the last five seasons.
But while he may be accumulating accolades, at least in terms of overall perception, Davis mostly still resides in the shadow of James, Durant and 2-time MVP Stephen Curry, putting him in the second tier of superstars.
It's a perception Davis is looking to end now. "I see myself as the best player in the league, most dominant player in the league. I think it's time for that step," Davis told ESPN in the offseason.
"You only get a short window. And, I don't want that window to close, so I think my time is now."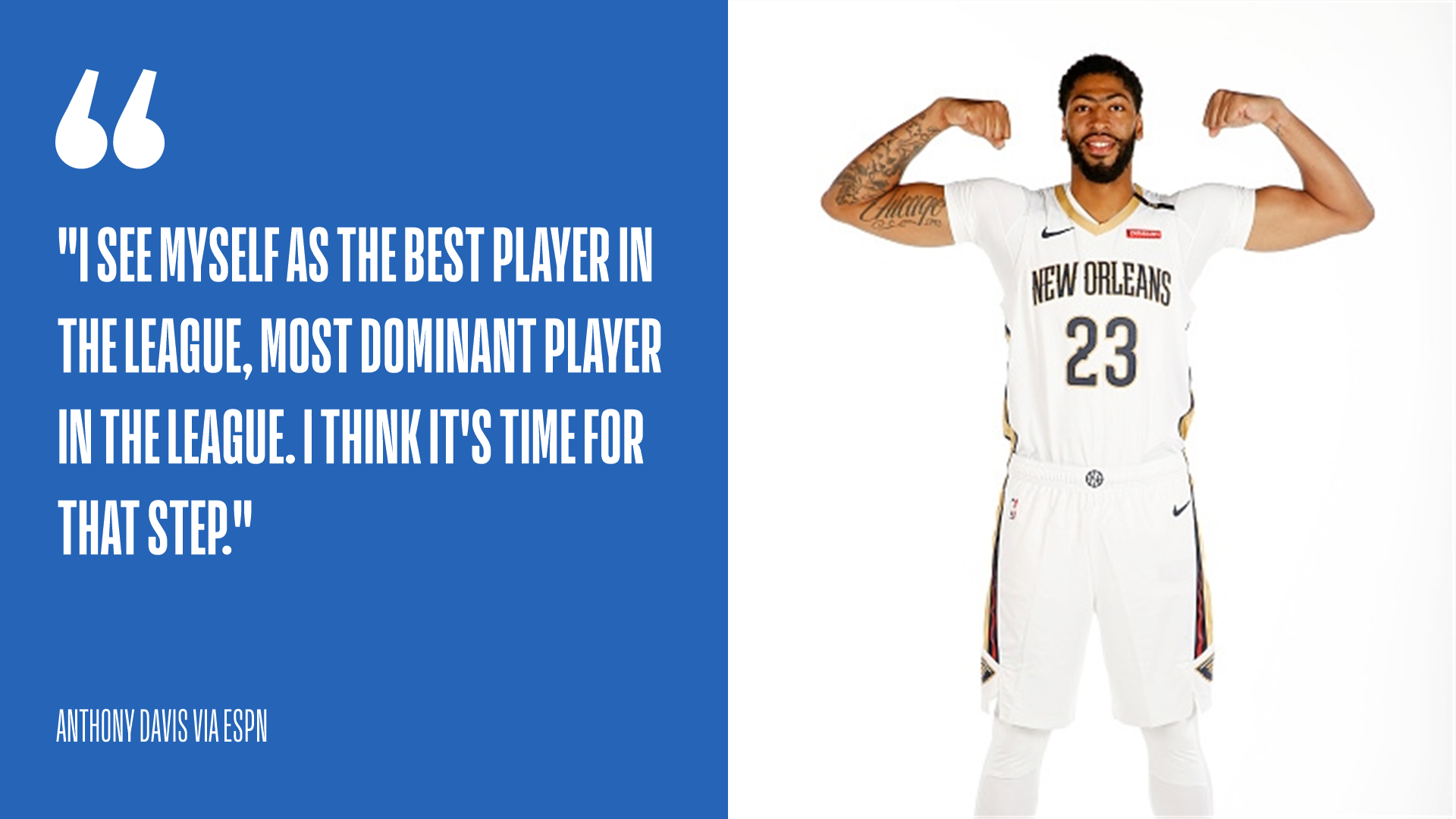 Asked why he should be ahead of LeBron and Durant, Davis replied, "Don't get me wrong, those two are great, great players, but I think I bring something unique to the table.
"My game is different from both of those guys. Both ends on the floor. I was MVP candidate and Defensive Player of the Year candidate, and so that's why I feel like my name should be at the top of that list."
James, Durant, Curry and Harden have all reached the NBA Finals, while Davis has only made two playoffs appearances for the Pelicans, progressing no further than the Conference Semifinals.
"Winning definitely helps everything," said Davis. "It helps with your legacy. It helps to be in the top of that list. So for me - yes, people see everything that I do. But not going forward in the playoffs or going to the playoffs every three years doesn't help my case."