The Boston Celtics needed a win to avoid going down 3-0 in the series against the Miami Heat and they did just that, bringing a different level of energy to get on the board in the Eastern Conference Finals.
Led by their dynamic duo of Jayson Tatum and Jaylen Brown, the Celtics were in control for the majority of the game. Another late push from the Heat put a scare into Boston, but they'd ultimately hold off Miami for the first time this series to bring it to 2-1.
If you missed any of the action we had you covered with live updates, highlights and more from this contest.
Final: Boston Celtics 117, Miami Heat 106
The Heat didn't make it easy on them, but the Celtics were able to hold on to this one to take Game 3.
Jayson Tatum and Jaylen Brown were electric in leading Boston to victory. Tatum finished with a near-triple-double of 25 points, 14 rebounds and eight assists while Brown had 26 points, seven rebounds, five assists, three steals and one block. Gordon Hayward looked solid in his first game back, playing over 30 minutes with six points, five rebounds, four assists and three steals to make an impact.
For the Heat, Bam Adebayo's 27-point, 16-rebound double-double stands out while Tyler Herro's 22 points (15 in the second quarter) was the only other constant source of offence.
Back in the win column ✅ #CelticsWin pic.twitter.com/ScYDSzKBgO

- Boston Celtics (@celtics) September 20, 2020
Bam Adebayo got an easy layup to drop to cut the lead to five, but Marcus Smart converted a pair of free throws to bring the lead back to seven. Celtics lead 111-104 with 47 seconds to go.
I repeat... Miami still will not go away. Duncan Robinson knocks down another two 3s to cut the Celtics lead to just eight points and then draws an offensive foul on Jaylen Brown to give the Heat possession with a minute remaining. UPDATE: That offensive foul has been upgraded to a Flagrant 1, giving the Heat two free throws and the ball. Robinson goes 1-of-2 from the line, trailing 109-102 with 1:03 to play.
Miami still will not go away, but Boston's still scoring easily in the paint, making it tough for the Heat to cut into this lead. Duncan Robinson finally got a 3-pointer to fall to snap Miami's streak of missed 3s, but Kemba Walker immediately responded with a strong take to the rim to keep the Celtics up 104-88 with under five minutes remaining.
The Heat have missed 14-straight 3-pointers and are being outscored in the paint 54-28. The combination of those two things helps explain the Celtics 97-80 lead with under eight minutes to play in the contest.
End of third quarter: Celtics 89, Heat 74
The Heat went on a run to keep things close, but the Celtics responded right back with a run of their own to close the quarter.
Jayson Tatum (20 points) and Jaylen Brown (24 points) are stealing the show, while Kemba Walker's 16 points has been a steadying hand for Boston's offence. Bam Adebayo had emerged a bit more in that third quarter, up to a double-double of 18 points and 12 rebounds, but Miami has still been quiet offensively as a whole.
There hasn't been much from Heat superstar Jimmy Butler in this one just yet, as the All-Star forward has just 10 points shooting 3-for-9 from the field.
12 minutes to play. pic.twitter.com/t2rB96A1eT

- Miami HEAT (@MiamiHEAT) September 20, 2020
And following that 11-1 Heat run, the Celtics go on a 7-0 run of their own to regain control of the game at 89-73. The streak was capped off by this and-one dunk from Jayson Tatum on an ill-advised foul from rookie Kendrick Nunn.
Hayward steal ➡️ Tatum dunk 😤 pic.twitter.com/DZ5t67kLFN

- NBA TV (@NBATV) September 20, 2020
Three consecutive missed layups for the Celtics breathe a little bit of life into the Heat. Miami has since gone on an 11-1 run to cut Boston's lead to just nine at 82-73 with under two minutes remaining in the third quarter.
The Heat are hanging around but are struggling to score consistently. Bam Adebayo converts an and-one to help cut into the Celtics' lead a bit, as Boston has yet to extend their lead to 20. Even with Adebayo's strong finish, it's still a convincing 16-point Celtics lead at 78-62.
The Celtics hold a commanding 76-58 lead as they begin to figure out this Heat zone that gave them so much trouble in Games 1 and 2. This dime from Marcus Smart to a cutting Jaylen Brown helps in that department.
The VISION, the SMOOTH dime, the JAM!

📺: ESPN pic.twitter.com/3ZhAuKAfDV

- NBA (@NBA) September 20, 2020
Halftime: Celtics 62, Heat 50
Some team halftime stats: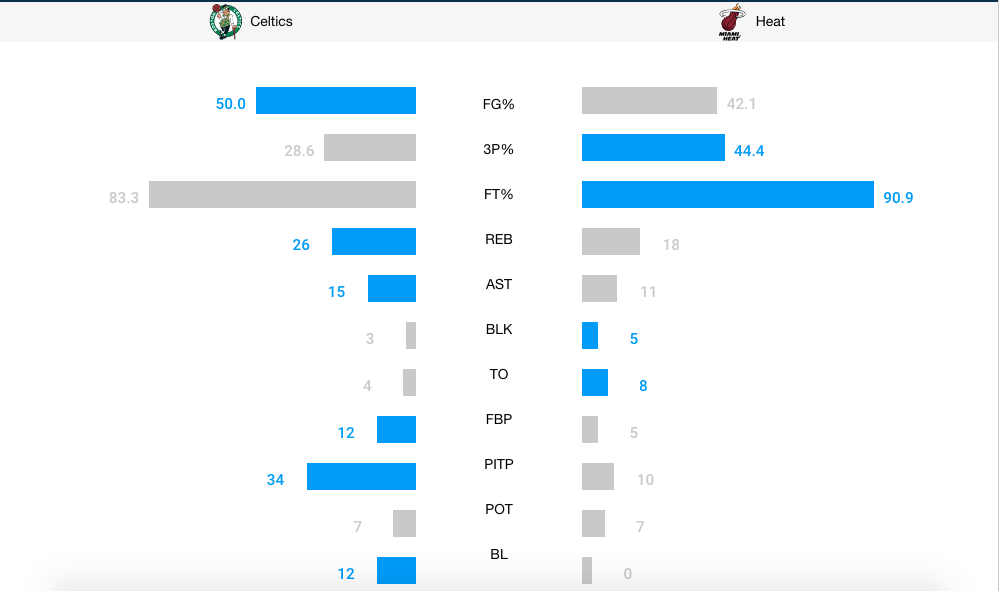 The Celtics held off Tyler Herro's red-hot second quarter to maintain a 12-point lead heading into the half.
Herro was on fire, scoring 15 points in the quarter shooting 6-for-7 from the field with four 3s, but Jayson Tatum and Jaylen Brown turned things around with easy transition buckets for the Celtics to ignite the run.
Tatum is flirting with a triple-double at halftime with 13 points, seven rebounds and seven assists. Brown is leading the scoring charge with 17 points shooting an efficient 8-for-12 from the field.
Herro is the only Heat player in double figures with 18 points. Bam Adebayo is a perfect 4-for-4 from the field for eight points, but Boston is doing a much better job of keeping him away from easy lobs at the rim. Goran Dragic and Jimmy Butler have both been quiet, scoring six points apiece in the first half.
BOS closes 1st half with 11-2 run on ESPN! @celtics 62@MiamiHEAT 50

Jaylen Brown: 17 PTS, 5 REB, 2 STL
Tyler Herro: 18 PTS, 4 3PM pic.twitter.com/7BpHU1BRUY

- NBA (@NBA) September 20, 2020
A 9-0 Celtics run negates Tyler Herro's hot streak, giving Boston a 60-48 lead with under a minute to play in the half. Fiesty defence has turned into transition buckets for the Celtics.
quick hands 👐🏾 pic.twitter.com/dnT9DVMhio

- Boston Celtics (@celtics) September 20, 2020
JAYSON TATUM! After receiving a technical foul for arguing a call, the Celtics' All-Star forward throws down a vicious dunk in transition to spark a run. Boston now leads 45-37 with 6:48 left in the second frame.
Jaylen 🚫
Jayson 🔨
Jayson 👀
Jaylen 👌#NBAPlayoffs on ESPN pic.twitter.com/JvrBpjOpTz

- NBA (@NBA) September 20, 2020
Welcome to Game 3, Tyler Herro. The rookie has scored 11 of Miami's last 14 points, knocking down three straight 3s to bring his team back in to this one. The Heat still trail 40-36 with just over eight minutes remaining in the half.
Tyler Herro. No hesitation. ♨️ pic.twitter.com/wU8jGLMOYB

- NBA TV (@NBATV) September 20, 2020
End of first quarter: Celtics 31, Heat 23
Jayson Tatum gets a 3-pointer to go just before the quarter comes to a close to give the Celtics a 31-23 lead.
Boston did a much better job of taking care of the ball in the first frame than they did in Game 2, only recording one turnover in the quarter. They're bringing better energy on the defensive end, making life tough for the Heat who are shooting 35.3% from the field through one period. In a balanced scoring effort, Jae Crowder is the team's leading scorer with just five points.
Q1 ✅ pic.twitter.com/9xwM6dii4S

- Boston Celtics (@celtics) September 20, 2020
Gordon Hayward checks in for the first time since the first round of the playoffs and immediately makes a play, dropping a sweet pass to Daniel Theis for a layup. The Celtics remain in the lead 22-17 with 2:54 left in the quarter, as the Heat are hanging around with all five starters finding their way into the scoring column early.
Another playmaker on the floor! pic.twitter.com/UqjD2IQeio

- Taylor Snow (@taylorcsnow) September 20, 2020
The Celtics have come out strong, shooting 7-for-11 from the field to take an early 16-9 lead. Jaylen Brown has it going, scoring six points shooting 3-for-4 from the field to get Boston started off right.
The @celtics open Game 3 on a 16-9 run on ESPN! pic.twitter.com/TfdmmZ7Zem

- NBA (@NBA) September 20, 2020
Pregame
Here's your first look at Gordon Hayward going through the motions ahead of his return in Game 3.
Gordon Hayward is set for his return to the @celtics lineup! ☘️

🏀: BOS/MIA, Game 3
⏰: 8:30 PM ET, ESPN pic.twitter.com/92VuGNyycN

- NBA (@NBA) September 20, 2020
Same starting five for the Celtics as well - Kemba Walker, Marcus Smart, Jaylen Brown, Jayson Tatum and Daniel Theis.
Game 3 starters ☘️ pic.twitter.com/RDR39iiZZ6

- Boston Celtics (@celtics) September 20, 2020
Same starting five for the Heat - Goran Dragic, Duncan Robinson, Jimmy Butler, Jae Crowder and Bam Adebayo.
Locked in.#HEATFirstFive | Game 👌 pic.twitter.com/vmZUWjcgzA

- Miami HEAT (@MiamiHEAT) September 20, 2020
Celtics head coach Brad Stevens announced pregame that he expected Gordon Hayward to be available in a role off the bench for Game 3, and now he's officially listed as active.
Gordon Hayward is officially listed as active for Game 3 of the Eastern Conference finals.

- Tim Reynolds (@ByTimReynolds) September 19, 2020