There's a buzz on the brink of another new NBA season, one crammed with more history than usual as the league celebrates its 75th anniversary.
Players, coaches, 30 franchises and fans around the world are rightfully excited about 2021-22 as it plays out over a full slate of 82 games, on what for the first time in several years will be pro basketball's traditional October-to-June calendar.
That doesn't mean everyone is taking their eye off the bogeyman of the past two seasons, lurking in the shadows as a potential problem again. The COVID-19 virus, the vaccinations against it and the unknowns about variants and breakthroughs remain on NBA minds.
Navigating two virus-disrupted seasons guarantees nothing, but it does provide road maps and confidence, as expressed Monday afternoon by NBA commissioner Adam Silver.
MORE: Full season preview guide for 2021-22 | By the Numbers - NBA's 75th season
Asked about the league's ability to walk through a COVID minefield from March 2020 through the 2021 Finals last July, Silver wasn't ready for a victory lap. But he was encouraged.
"I think we won't know until we can look back," Silver said, "when this pandemic is truly over how we can grade ourselves relative to how other businesses have done. I'll just say that I'm really thrilled that we're back to something that looks closer to normal this year."
Getting back to full arenas should boost overall league revenue above $10 billion this season, Silver projected. But the hits the NBA took in attendance, lost games and TV audience still gouged an estimated 35% from its bottom line, he said.
Losing player availability to the virus or quarantines no longer is a major concern. The Orlando "bubble" in which the 2019-20 season was completed and the protocols imposed for last season largely worked for a demographic - young, supremely conditioned athletes - already at low risk.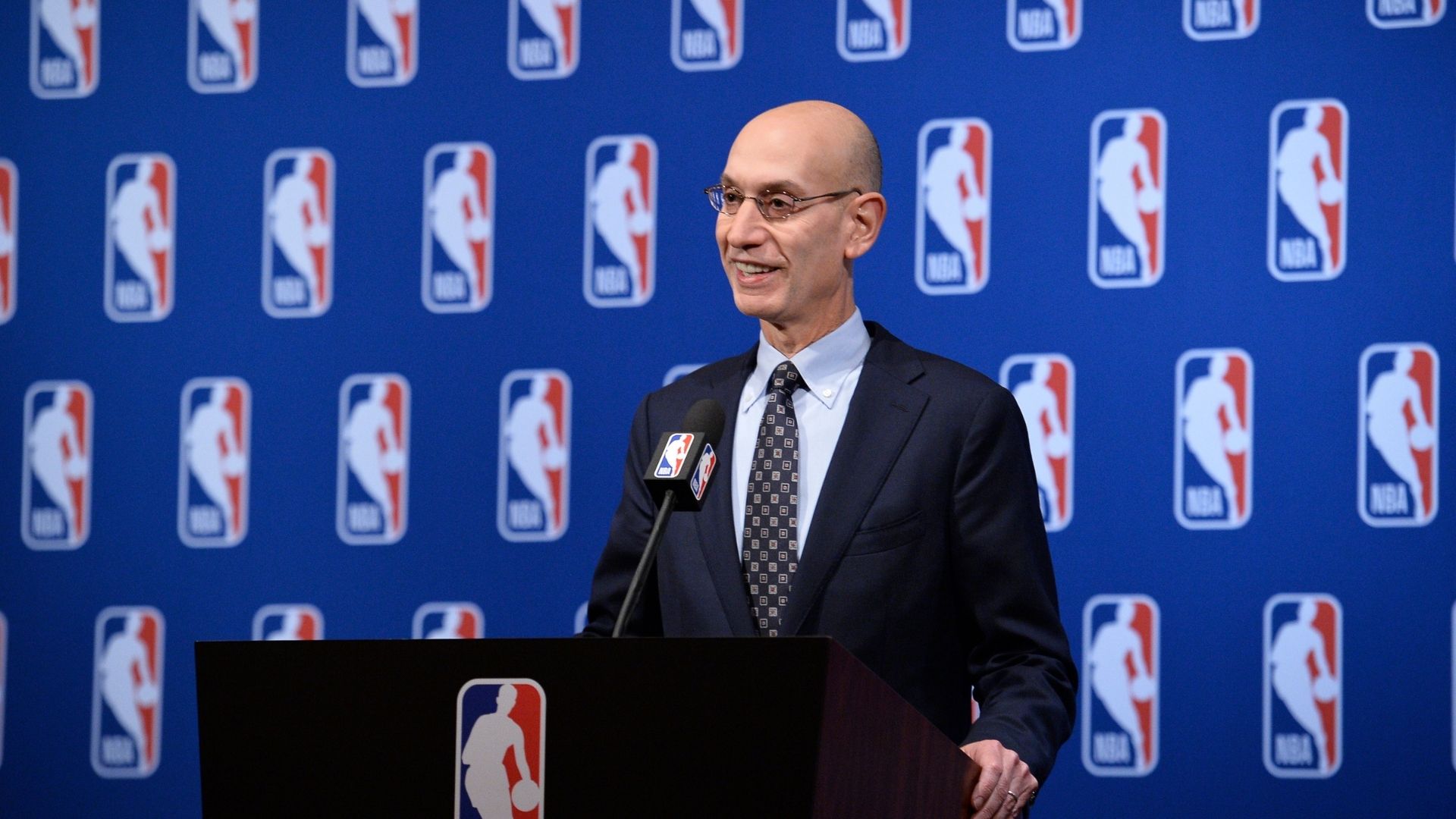 Now, approximately 96% of the league's 450 or so players have been vaccinated. Public attention has shifted to exceptions within that 4%, most notably Brooklyn Nets guard Kyrie Irving. Irving's situation is unique because of New York's vaccine mandate, requiring him to receive the injection in order to play within the city limits at Barclays Center, the Nets' arena.
Silver was asked by one of the reporters covering the Zoom news conference if it is fair that Irving can't play in New York but visiting opponents can, not subject to the local rule.
"I'm not sure if fair is the right way to approach it," he said, "because there's nothing fair about this virus. It's indiscriminate in terms of who it impacts, and I think it's perfectly appropriate that New York and other cities have passed laws that require people who both work and visit arenas to be vaccinated.
"This is between Kyrie and New York City right now. This is not a league issue. It's not mandatory in the league."
MORE: KD 'positive about Kyrie-Nets situation | Nets won't permit Irving to be part-time player
The NBA was unable to make the vaccine mandatory for players in negotiations with the National Basketball Players Association. As a result, it threw itself into educating players about the virus, its impact and the benefits of the vaccine.
"We'll see how it plays out," the commissioner said. "Frankly I hope that Kyrie, despite how strongly he feels about the vaccination, ultimately decides to get vaccinated because I'd love to see him play basketball this season. And I'd love to see the Brooklyn Nets have their full complement of players on the floor."
Drawing crowds of 18,000 fans or more - a major issue when the league opened 2020-21 in mostly empty arenas - isn't the concern it was, thanks largely to how smoothly and breakout-free the NBA postseason went. League executives also have done their homework on the NFL, MLB, NHL and college football, which also have dialed up fan capacities without setbacks.
"Different regions of the country have adopted different practices, and so going into the season we'll have some arenas that require everyone to be vaccinated and others where it's illegal to even ask," Silver said. "That's what we're dealing with in this country right now.
"I think certainly fans understand the conditions they're entering. … There's no doubt that people seem incredibly [eager] to get back out, be in full arenas, just enjoy the excitement not just of the game but being around other people."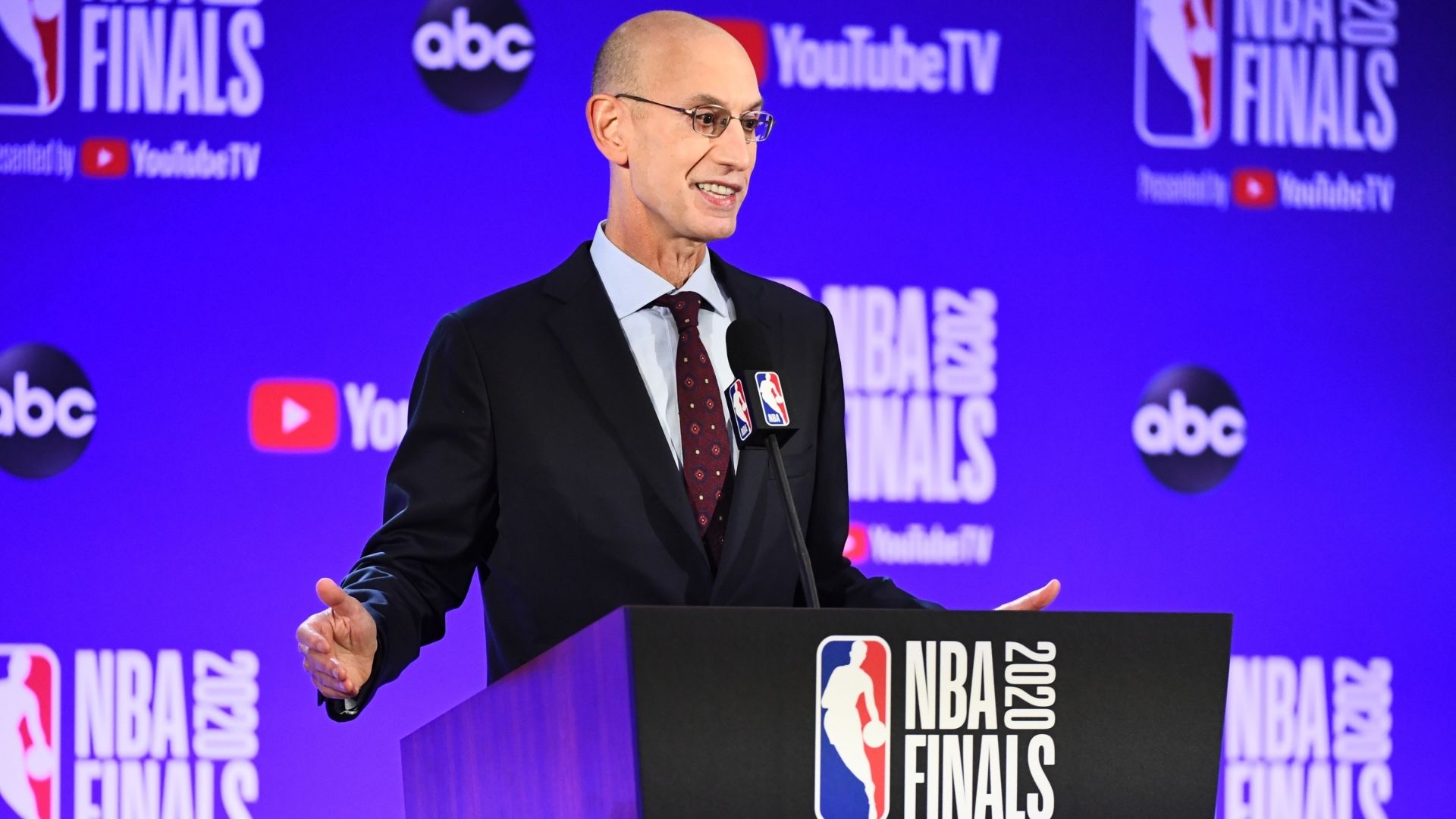 Several NBA players including Washington's Bradley Beal, Golden State's Andrew Wiggins and Orlando's Jonathan Issacs, asked about vaccines by media reps, have wound up in the public spotlight after talking about their individual choice. In a few cases, players such as Golden State's Draymond Green and Minnesota's Karl-Anthony Towns have defended a fellow player's individual choice in receiving a medicine or not. Some of the responses on social media have not been pretty.
"In terms of players expressing their opinions and their individual choices, I always encourage that," Silver said. "It doesn't necessarily mean that because a player has a particular opinion it then becomes their right. I think that gets lost sometimes, that having an opinion about whether to get vaccinated is different than your right to play NBA basketball."
Silver added that seeing such discussions turn divisive was "disheartening" given sports' history of providing common ground for people of disparate views and backgrounds. "Anything that the league can do … to create more of a constructive environment for people to talk [is] something that we want to continue to try to do."
Among other topics Silver addressed:
* The tampering investigations of the Chicago Bulls and the Miami Heat are ongoing. Both teams acquired players this offeason - Lonzo Ball to the Bulls, Kyle Lowry to the Heat - in complicated deals that were announced immediately upon the official opening of free agency. That suggested the parties had work on details before such negotiations were legal, per NBA rules.
* The opening of Seattle' renovated downtown arena, home of the new NHL Kraken franchise, rekindled chatter about the NBA returning to that market via expansion. "Seattle is one of those cities that we have our eye on," Silver said. "We had great success there in the past, and the fact now that they have a state-of-the-art arena back online only increases their prospects. But it's premature to get more specific than that."
* With four months of virus unknowns before All-Star Weekend in Cleveland - where the NBA's 75th anniversary will have its highest-profile celebration - Silver said he is confident it will be "a great experience." In 1997, to commemorate the 50th anniversary, 47 of the Top 50 selected players were in attendance.
* Silver noted that eight different franchises have won NBA titles in the past 11 seasons: Dallas (2011), Miami (2012, 2013), San Antonio (2014), Golden State (2015, 2017, 2018), Cleveland (2016), Toronto (2019), the Los Angeles Lakers (2020) and Milwaukee (2021). That compares to just eight winning 31 titles from 1980 through 2010. And it's the most parity since eight different teams won in nine years from 1971 through 1979.
* * *
Steve Aschburner has written about the NBA since 1980. You can e-mail him here, find his archive here and follow him on Twitter.
The views on this page do not necessarily represent the views of the NBA or its clubs.