Jason Williams stared back at me incredulously.
"For real?"
"Totally. You have a huge fan base in our country."
In front of us, on stage, NBA Commissioner Adam Silver was announcing how thrilled he was to be in India on this "historic occasion" of the first-ever NBA Games in "formerly Bombay, now Mumbai".
MORE: Talking points from Commission Adam Silver's press conference in Mumbai
Immediately ahead of us, blocking my view of the stage, was 6'8'' Trevor Ariza, the 2009 NBA Champion, recently signed by the Kings.
Two feet to our right, newly inducted Hall of Famer Vlade Divac was nonchalantly standing head and shoulders above the rest of us, listening intently as Kings' owner Vivek Ranadive concluded his speech with a 'Jai Ho'.
A little distance away on our left, 2011 NBA Champion and one of its all-time great outside shooters, Peja Stojakovic was immersed in conversation with fellow senior executives from the Kings' front office.
Behind us, Pacers' anchor Myles Turner - looking dapper in a well-fitted navy blue suit and white-rimmed glasses - was being guided through a photo exhibition documenting some of India's unique basketball communities- from the historic Nagpada neighbourhood of Mumbai, the inspiring 'Girls of Gangyap' in the East, the baller monks of Dharamshala up north, the lost-in-time Periyakulam town down south, and the hugely inspiring specially-abled youth basketball players of the Amar Jyoti Charitable Trust in Delhi.
MORE: NBA's milestones in India that led to the NBA India Games
Throughout that evening, over two dozen players, coaching staff and senior executives from the visiting Sacramento Kings and Indiana Pacers were getting their first taste of 'Incredible India', at the meet and greet ahead of the inaugural NBA India Games.
**
Two nights later, I was seated inside the aptly named Dome, watching the Kings and Pacers in the midst of the second of their back to back preseason battles.
During a timeout, the giant screens switched to visuals of an impassive Larry Bird seated along one of the sidelines. Throughout the stadium, people began pointing upwards, as murmurs of recognition escalated into a wildfire of screams and chants. But just as the noise was reaching a crescendo, fighting for a hint of reaction from Bird, the camera shifted to the opposite sideline onto actor Priyanka Chopra. Chopra stood up to answer the courtside reporter's questions, but the shouts of "LARRY LARRY" only grew louder. The camera switched back to Bird, who was finally forced to drop his legendary guard and wave to the crowd, all of whom by now (me included) were giving him a standing ovation.
Behind me I could hear a full-grown man hollering, "Larry we still love you!"
Seconds later, the camera turned back to Chopra who was quick to acknowledge the moment with, something along the lines of, "it's a tough ask to follow Larry Bird."
It was my turn to wonder: Is this for real?
This is pure gold.

India (basketball community) values Larry Bird over Priyanka Chopra. https://t.co/BGG47JpZ4T

- Jonathan Rego (@jonathanrego) October 10, 2019
NBA Finally in India's backyard
It has often been said that outside of organized religion itself, there are two religions in India: cricket and movies. Bombay, India's entertainment capital - in fact, the very reason the Hindi Film Industry is colloquially called 'Bollywood' - had become, for this one brief moment, Larry's town. At the very least, at least inside the Dome, Bird was the star and not Bollywood.
Here was an approximately 4500+ sell-out 'basketball educated' audience that had gathered from across the country, and had patiently waited for years, if not decades, to finally pay first-hand tributes to its hardwood heroes.
It was 'our' time to idolize a Larry Bird, just like how cricket fans in India worship a Sachin Tendulkar, or movie fans venerate a Shah Rukh Khan.
MORE: Celebrities to attend the NBA India Games
It hit me then, more than ever, that basketball had well and truly arrived in India. That probably it had been here all along, but only now had the desi hoops community been belatedly served with an opportunity to congregate in the thousands at a single venue.
It was 'our' chance to finally make our collective voice heard.
***
In hindsight, the two pre-season games held on October 4th and 5th were just the satisfying cherries on top of a series of promotional events- each spectacular in its own right.
Basketball's West had finally come East and new, previously unimagined cross-cultural associations were being formed. The iconic Gateway of India in Mumbai - one of India's most identifiable landmarks after the Taj Mahal in Agra and the India Gate, New Delhi - had suddenly come alive, dancing in the flickering lights of NBA's blue, white and red logo colours, constantly interspersed with motion graphics of players dribbling and dunking.
Mobile phones flashed out, as hundreds of Mumbaikers witnessed this extraordinary basketball takeover of a cricket city…
Brobdingnagian proportioned billboards - of Kings and Pacers players dwarfing the city's many heritage buildings - popped up at busy junctions, while strategically placed posters and banners at high visibility bus shelters, metro stations, pillars and airport arrival lounges announced the upcoming Games.
Even the Arabian Sea - the soothing balm to a city that never sleeps - wasn't immune to NBA fever, buoyantly carrying India's first-ever floating basketball court.
Coming Face to Face with NBA/WNBA Stars
Stunned silence greeted Williams as he showcased his signature elbow-pass to a group of wide eyed prospects attending the NBA Academy India Women's Camp.
The once-shy kid from the tiny rural town of Belle, West Virginia would have never imagined that almost 20 years later and 8000 miles away, his cult playmaking skills would continue to command respect, that too in India.
Both Williams and the young female campers shared a similar level of disbelief, but for very different reasons.
MORE: Story of Harsimran Kaur - Dangal on the courts
For NBA stars like Williams, it was a growing awareness that they are international sporting icons, and not just well known within North America. For the Indian basketball community, the 2019 Games was a transformative occasion to finally evolve our long-held 2D perception of NBA players (acquired from watching them on TV), into the immersive 3D reality of witnessing them live in person.
NBA.com reached out to five of these lucky fans who came face to face with their favourite NBA/WNBA stars:
Akshay Manwani- NBA Commentator & Analyst at Sony Pictures Network's 'Around the Hoop' Show
Who: Larry Bird
When & Where: Courtside, October 4th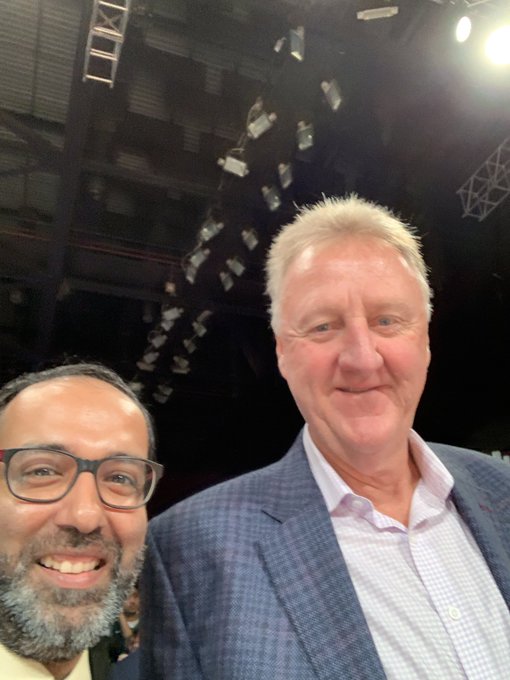 Having interviewed cricket stars and Hindi film personalities over the last decade, I'm not star-struck anymore. But when someone like Larry Bird comes into close proximity, it's hard even for me to let the opportunity pass. I went up to the 3-time NBA champ, Boston Celtics legend, Hall of Famer, member of the 1992 Dream Team, a true icon of the game of basketball and requested him for a photograph.
He agreed, stood up and smiled into my mobile camera. I. CAN. NOW. DIE. PEACEFULLY.
Thomas A. Drachkovitch, Creative Executive at Amazon Prime Video
Who: Vlade Divac (left, in pic) & Peja Stojakovic (centre)
When & Where: Courtside, October 4th
Growing up in LA as a Sac Kings fan during the Shaq/Kobe era was tough, and having to explain 'why' was even tougher. Basically I had to go with my dad's logic that "they're Serbian, we're Serbian, so we root for them." As a Serbian kid, these guys were Gods to me.
Kids would yell "Kobe!" I'd be yelling "Peja!" Kids practiced their Shaq slams, I'd practice my Vlade hook. Meeting these two legends was truly a special moment, and in India nonetheless! In my opinion, the Kings vs Lakers rivalry from the early 2000s was the last great rivalry in the NBA!!
Pavita Bhardwaj, Guest Coach at NBA Academy India Women's Camp
Who: WNBA stars Tammy Sutton-Brown (left, in pic) and Ebony Hoffman (centre)
When & Where: Courtside, October 5th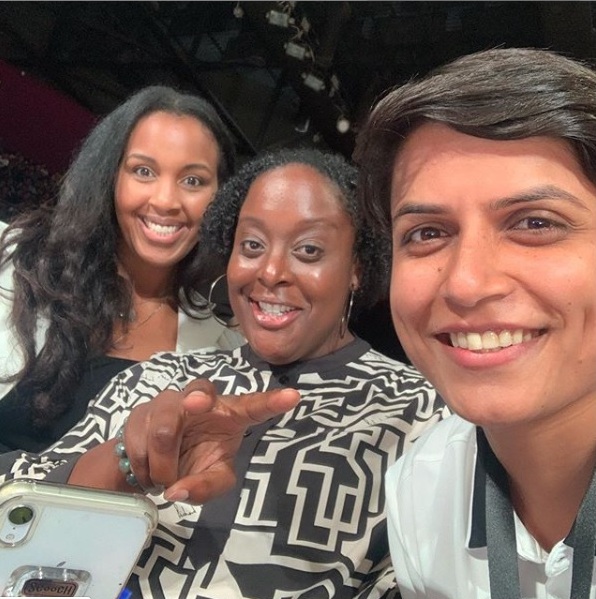 I was sitting courtside, and at halftime Ebony Hoffman asked me to click a picture of her and Tammy. So I took that opportunity to ask if they don't mind having a picture with me too, to which they were really welcoming! I had bumped into Tammy earlier in the morning during the Girls Academy practice but couldn't get a chance to talk.
So in the evening, I made sure to ask both of them how it felt to be here in India. They said- "it's incredible to be a part of such an amazing event. Bringing NBA games to India will surely boost the game of basketball in the country."
But the most memorable moment for me was greeting the legendary Larry Bird (which I never ever thought would happen) when he walked by, and him acknowledging me with a smile.
Ashok Anjara, Basketball Agent
Who: Jason Williams
When & Where: Meet & Greet at Palladium Social, October 3rd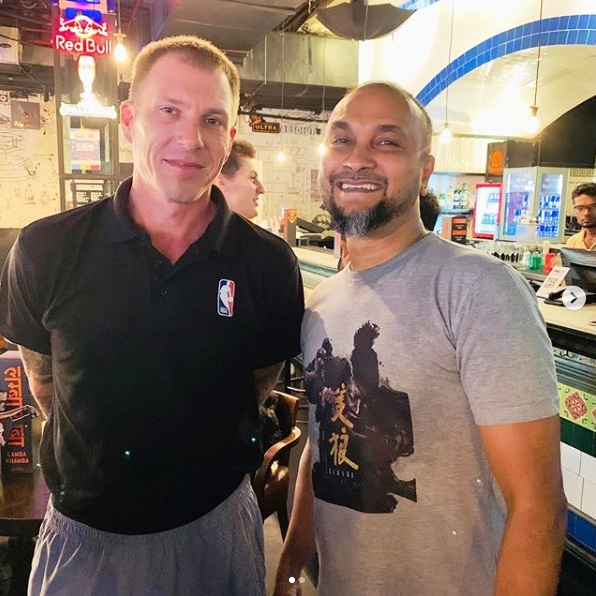 J Will aka "White Chocolate" was probably the most exciting ball-handler in the post-Jordan era! I had a great chat and asked him:
Q: Who do you think is the greatest player having played in both eras?
A: LeBron because he's simply too strong and is a better passer! Not Jordan because he had three Hall of Famers in his team.
Q: Raef LaFrentz probably robbed you of the greatest assist ever (elbow pass)…
A: Raef was fouled, but anybody else would have dunked it.
Q: What did Gary Payton say to you after you pulled THAT move on him?
A: Nothing! Though he talked a lot of c**p before the game.
Nakul Yadav, Creative Producer, NBA India Games 2019
Who: Dikembe Mutombo, Detlef Schrempf, Jason Williams, Myles Turner (in pic), Marvin Bagley III, Justin and Aaron Holiday
When & Where: Across Mumbai, October 1st to 5th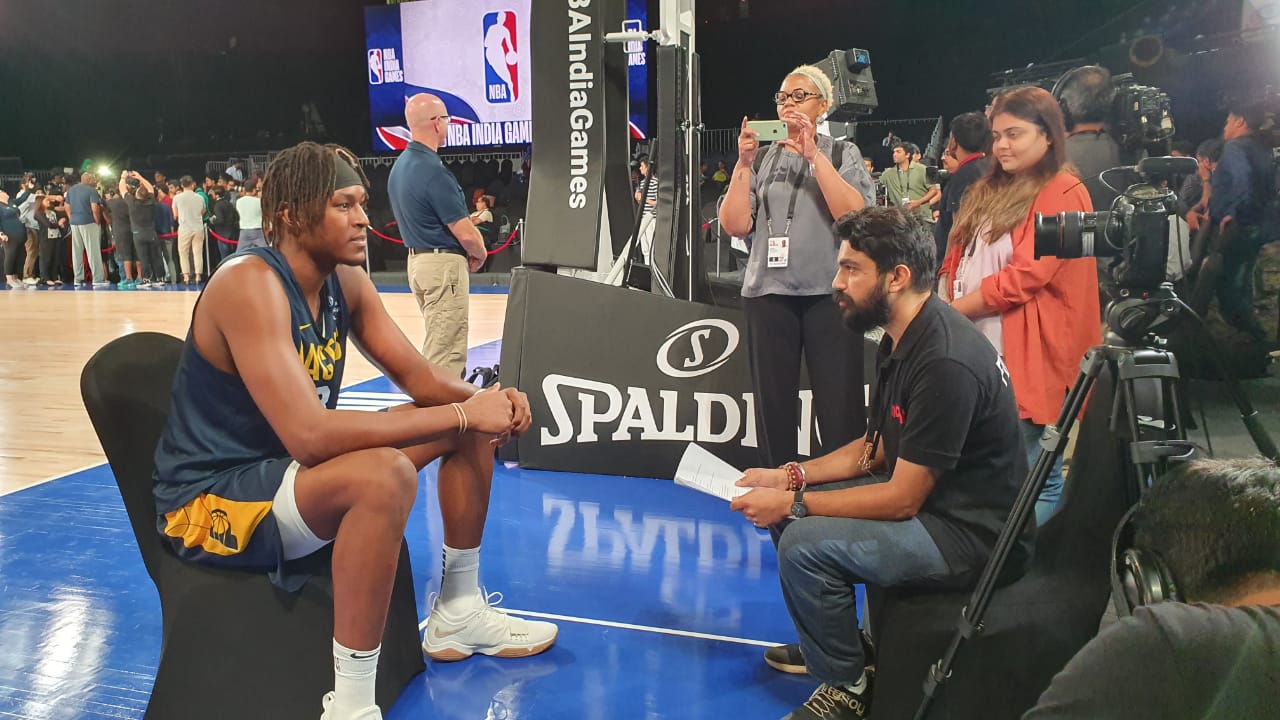 I was lucky enough to meet three legends as well as some of the players featuring on the two teams. Legends wise, I got to meet Dikembe Mutombo, Jason Williams and Detlef Schrempf over the course of various events that I shot with them.
While the players were super busy and tied up with a lot of obligations, I eventually got access to them for some NBA India shoots. Marvin Bagley III, the Holiday brothers- Justin and Aaron, Myles Turner and Harrison Barnes were all superb to meet with. Turner and Bagley (he's promised to give Indian ballers a shout-out in his next song) in particular, were quite fun to work with.
Interacting with Jason Williams was such a dream-come-true! It's just something about him that simultaneously makes you nervous and yet makes you want to really interact with him at the same time. He was the coolest person in town for the NBA India Games by far.
On a side note, I photobombed Larry 'The Legend' Bird and that is my fondest memory of the Games.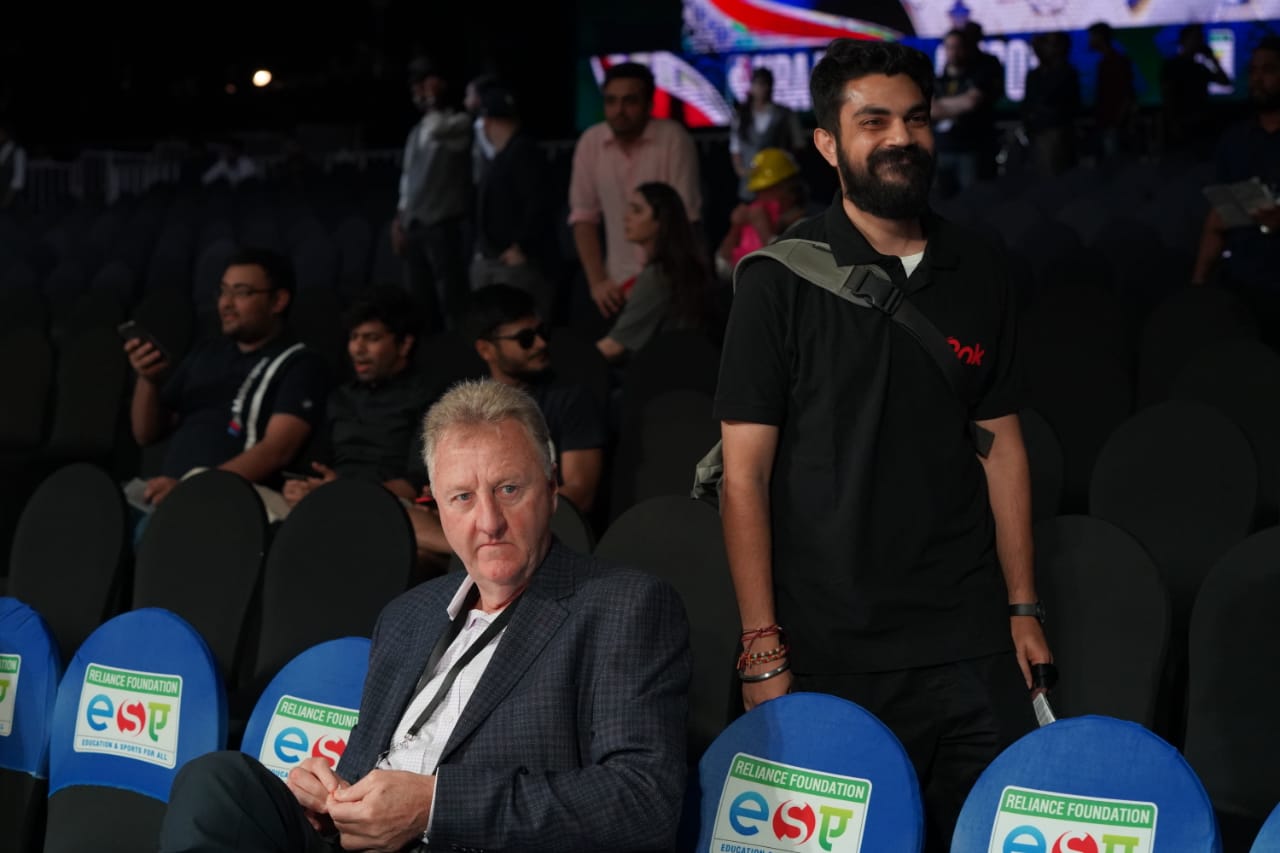 ***
Considering these were only the first-ever NBA India Games, we can expect many more such unforgettable fan interactions in India in the years to come, with legends and stars from other visiting franchises.
In the larger sense, the 2019 India Games may well have signaled the dawn of a new era-where NBA players arrive en masse at India's doorsteps, rather than Indians having to make costly pilgrimages to the mecca of world basketball.
That said, what wouldn't I give to attend a Lakers vs Celtics game in India, with LeBron & Co on the floor, and Bill Russell, Bob Cousy, Larry Bird, Kareem, Magic, Shaq, Kobe and Paul Pierce et al, gracing the sidelines!