Towards the end of last week, on Thursday (Apr. 9), the FIBA Executive Committee met, via video conference, to discuss the impact of the current COVID-19 pandemic to the FIBA calendar.
As of March 13th, all FIBA competitions were suspended until further notice.
However, after this meeting of the Executive Committee, the changes to the FIBA Calendar were announced.
Here's a look at all the new dates, including the Tokyo Olympics, over the next two years: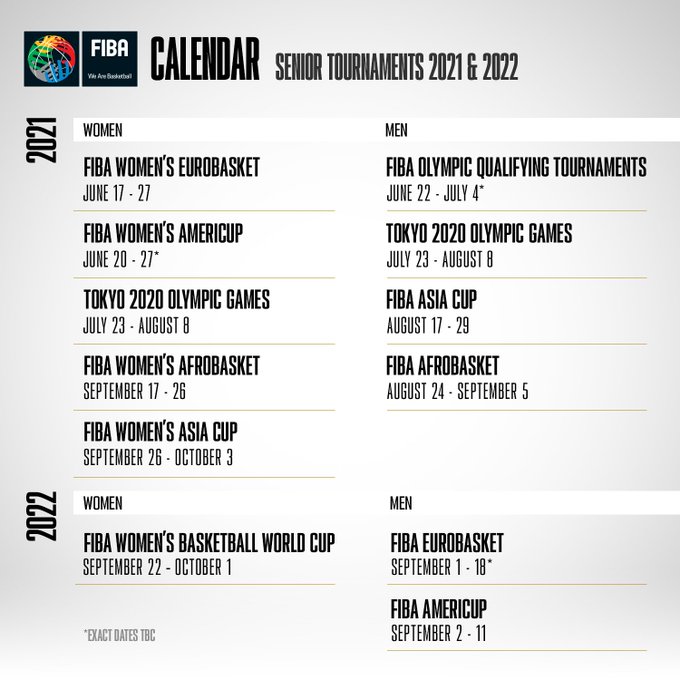 As per the FIBA release, the FIBA Asia Cup (Men's) was rescheduled by two weeks to accommodate the new dates of the 2021 Tokyo Olympics.
FIBA Secretary General Andreas Zagklis said: "I'm very pleased that, in a very challenging period, FIBA has been able to conduct an internal consultation process so fast and confirm an updated calendar for our senior tournaments within almost 2 weeks from the IOC's announcement of the new dates for the Olympic Games. The President and I are grateful to our National Federations, our Zones and all other stakeholders for their swift collaboration. In addition to the senior tournaments shown in the image above, the FIBA U17 World Cup 2020 was also postponed to month of August.
Barring all of these tournaments, the release further stated, "all other FIBA Senior Tournaments at world and continental level, as well as their Qualifiers, for the period 2020 - 2023 remain without change."
The views on this page do not necessarily reflect the views of the NBA or its clubs.