While in Grade 5, he was taller than some of the kids in Grade 8.
If it wasn't for Harshwardhan Tomar literally standing out from the crowd in his school days, he might have been lost to India's most popular sport - cricket.
Instead, now a 6-foot-7 forward, he became the fifth NBA Academy India male student-athlete to commit to a high school or college basketball program in the United States, the NBA announced last week.
By signing with KEBA Preparatory School, a Christian basketball academy based out of Cincinnati, OH, Tomar joins the likes of Jagshaanbir Singh (Golden State Prep, Point Park University), Pranav Prince (First Love Christian Academy), Amaan Sandhu (First Love Christian Academy), and Riyanshu Negi (DME Sports Academy).
Second generation baller
Despite his early love for cricket, Basketball was probably in Tomar's genes.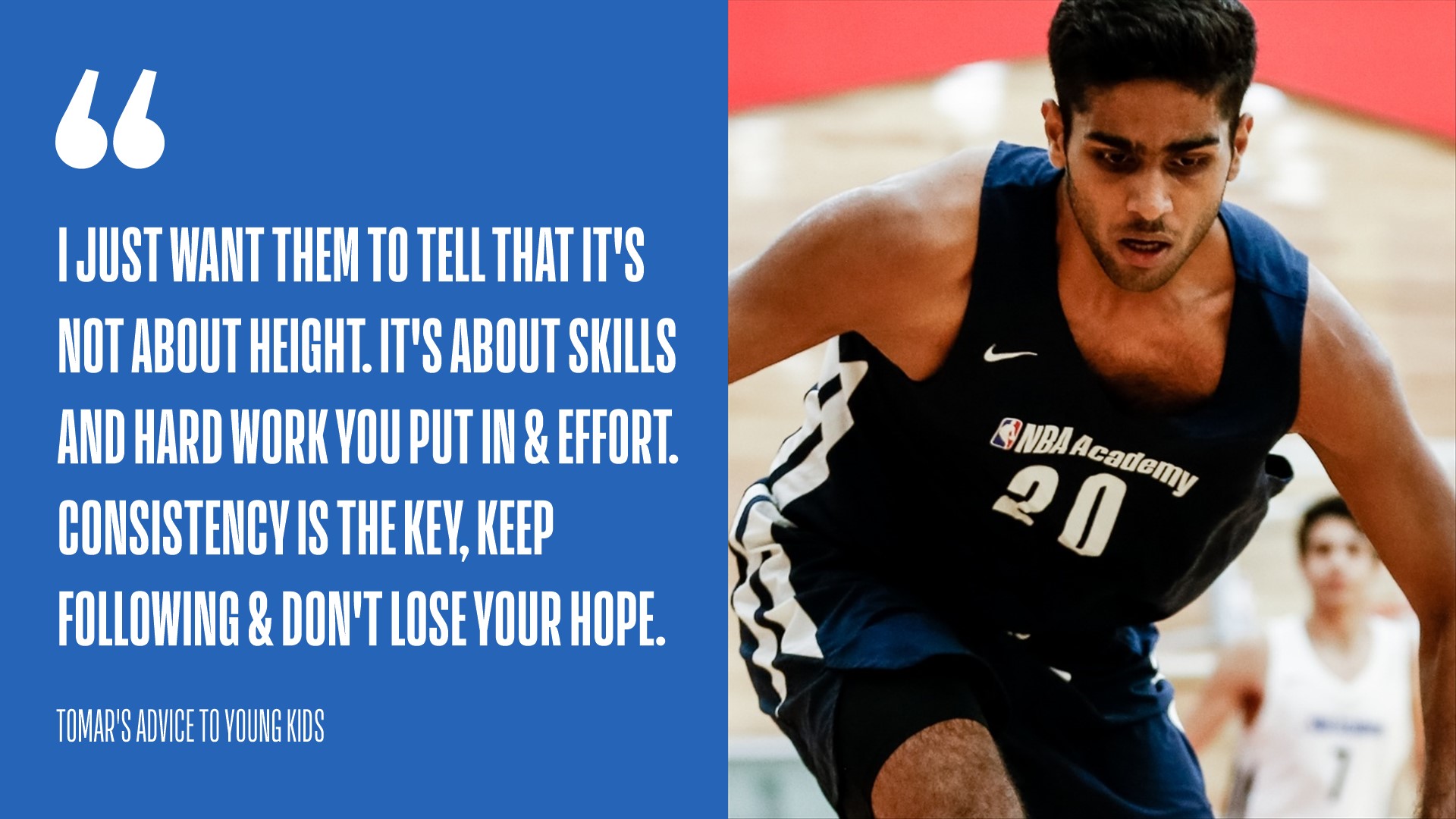 His mother also played the sport and competed at the national level in her time, which would explain her teary reaction to the news of her son signing with a school in the US.
"She was really happy when I told her on call," Tomar shared in his media availability last week. "She just started shouting at home that 'Harsh got selected and he's assigned a scholarship'."
When he was first pulled away from cricket, Tomar wasn't very interested to pick up the sport but began playing it on his mother's insistence, support, and desire for her son to complete her unfulfilled dream of playing for the nation.
Young, yet experienced
He might only be 20 but the forward born in Gwalior, Madhya Pradesh, has years of exposure to foreign leagues and international development camps under him to fall back on.
In 2015, he participated in the Reliance Foundation Jr. NBA program - a development initiative Tomar credits for providing state-of-the-art facilities and coaching to young aspiring ballers.
Later that year, he made headlines when as a 14-year-old, he was selected for a three-month tryout period by the Rome-based 'Stellazzurra Basketball Academy', one of the multiple academies and schools from China, Barcelona, and Japan that offered him an invitation.
MORE: NBA Academy India male prospects currently studying abroad
The academy in the following year announced how Tomar had landed the scholarship - a stint that gave him the opportunity to witness first-hand the play of Sergio Llull and Luka Doncic in the Turkish Airlines EuroLeague.
"I was on the roster but I didn't get much play time. But I've been with them. And I saw them playing in front of me. So that's, that's really cool," Tomar recounted watching Doncic and Llull. "And there are some players who are in the national team, Turkish national team and the Serbian national team who were in the academy with me in Stellazzurra Basketball Academy."
A year after his return to India, he joined the NBA Academy at the Jaypee Greens Integrated Sports Complex in Delhi National Capital Region (NCR), as one of the eight winners of the ACG-NBA Jump program in 2018 - the second-batch of student-athletes to join the Academy.
Less than a year in, he caught the eyes of the coaches at the Academy and was selected as one of two Indians (the only male) to participate in the Basketball Without Borders Global Camp in Charlotte during the 2019 All-Star Weekend.
These past experiences over the last few years have prepared Tomar for the upcoming challenge.
"I'm sure it's not going to be really tough for me, because I already went to (the) U.S.," Tomar believes. "I already know how it works there because coach Kennedy (coach at KEBA Prep) explained me every single thing, so I'm already prepared for it mentally."
If that wasn't enough, input shared from his mates also comes in handy.
"I just asked them [Pranav, Amaan, Riyanshu] how they are feeling there, about the game and what's the difference," Tomar said."And [Riyanshu] Negi is a really good friend of mine. And so are Amaan and [Pranav] Prince but Negi is like a senior and we have been on a lot of teams together."
Stepping stone to the ultimate dream
The 20-year-old was initially contemplating playing in a European or Australian league but decided to go the college route after consultation with his coaches.
"My actual dream, the ultimate goal is obviously to play in a good league and to promote India," Tomar said. "There are a lot of players who just need a platform. So I'll just try to build up a platform for them."
"So it is the first step to my dream because I'll be taking kind of drop year and then I'll go for a college. After that, I'll see European League, Australian league, or any big league."
In spite of the recent exodus of NBA Academy India alums to prep schools or academies in the US, Tomar stands out as the first from the state of Madhya Pradesh. And although height was what set him apart early on, he was keen to share that it isn't everything.
"I just want them to tell that it's not about height," Tomar shared when asked for his advice to the youngsters. "It's about skills and hard work you put in and effort. Consistency is the key, keep following and don't lose your hope."
The views on this page do not necessarily represent the views of the NBA or its clubs.