In October 2013, Jeena Skaria-then a promising, teenage forward from Kerala-made a major breakthrough. She was named for the first time to India's senior women's squad to take part in the most prestigious event in Asian hoops: the FIBA Asia Basketball Championship for Women (ABC) in Thailand. This was a transition year for Indian women's basketball, where the old guard was being phased out to give space to a talented crew of young players, and 19-year-old Skaria was among the four teenagers in Team India, hungry to prove they belonged at the biggest stage.
But before she could prove her value to her opponents, there was a legend in Skaria's own camp-Geethu Anna Rahul (formerly Geethu Anna Jose)-that she would have to win over first. Skaria's first FIBA ABC happened to be the last one for Rahul, who, after a career filled with record-breaking performances and historic leaps forward, would be bowing out of the national squad at age 28. If Skaria was among the youth brigade, Rahul was on the other end, as one of the four eldest players in the team, providing experience and leadership to help propel the team into a new era.
For Skaria-as for many other young players of her generation-Rahul has been a true basketball icon, perhaps the greatest player that the country has ever produced. Originally from Kerala's Kottayam region, Rahul got her start with Kerala's state teams before moving on to Southern Railways in neighbouring Tamil Nadu. While Skaria was just a child, Rahul began to dominate India's women's basketball. From 2004-05 onwards, Rahul made the Indian Railways team into an unstoppable machine, winning the Senior National championship for nine consecutive years until 2013.
The Ringwood Lady Hawks have announced the signing of India's national team Captain Jeena Scaria PS to their Elite league team for 2019. Read more at https://t.co/JpMOd27FqI pic.twitter.com/6G1rBdt0yi

- Ringwood Hawks (@RingwoodHawks) January 16, 2019
She found unprecedented international success, too, becoming the captain and centerpiece of India's senior team and dominated with top-scoring performances in crucial international events like the 2006 Commonwealth Games and the 2009 FIBA ABC.
She became the first Indian to play professionally in Australia, representing Melbourne's Ringwood Hawks for two years, where she won MVP of the Big V division. In 2011, she made history by receiving invitations to try-out for three WNBA teams. She and her Indian Railways teammate Anitha Paul Durai also played a season professionally in Thailand.
Meanwhile, born in the mountainous Wayanad region just a few hours away from Rahul in Kerala, Skaria was beginning to make a name for herself. Her performances in junior domestic nationals had already singled her out for future greatness. Quickly, she became the best young player in the country and enjoyed a major breakthrough at the FIBA U18 ABC in Malaysia in 2012, finishing top two in both scoring and rebounds in all of Asia.
So, by the time the autumn of 2013 rolled around, and Skaria got her call to make the senior team debut, she was thrust straight into the firepit. Led by Spaniard coach Francisco Garcia, Skaria found herself in the team's starting five, lining up in the frontcourt close to her idol and predecessor, Rahul. Previously in this tournament, India had finished sixth (out of six teams) in Level 1, a standing it had never bettered in decades of Asian basketball history.
More: Jeena Skaria to play professional basketball in Australia
The result of this intriguing mix of youth and experience? Garcia's team made history, winning for the first time a game in Level 1 (against Kazakhstan) and finishing at a best-ever (to date) fifth place in Asia. Rahul, as expected, ended up as the team's leading scorer and rebounder in the tournament. But young Skaria rose to the occasion, too, finishing third in the team in scoring and second in rebounds. In the team's final playoff game against Malaysia-a convincing 74-59 win-Skaria led all scorers with 24, while Rahul added 21. The torch was officially passed.
Rahul never played at the highest level again. The team's captainship was passed to her long-time teammate Paul Durai, and when she had accumulated enough experience, to Skaria. At the 2015 FIBA ABC, Skaria led the team in points (fifth-best in all of Asia) and rebounds. She was the unofficial MVP of the 2017 Senior Nationals in Puducherry where she led Kerala to their first national championship in 23 years.
At the 2017 FIBA ABC at home in Bengaluru, India played from Level II and went undefeated to qualify for the higher level again. Skaria's fingerprints were all over this team's successful run, including team-high 20-point outings in the crucial semi-final and final victories.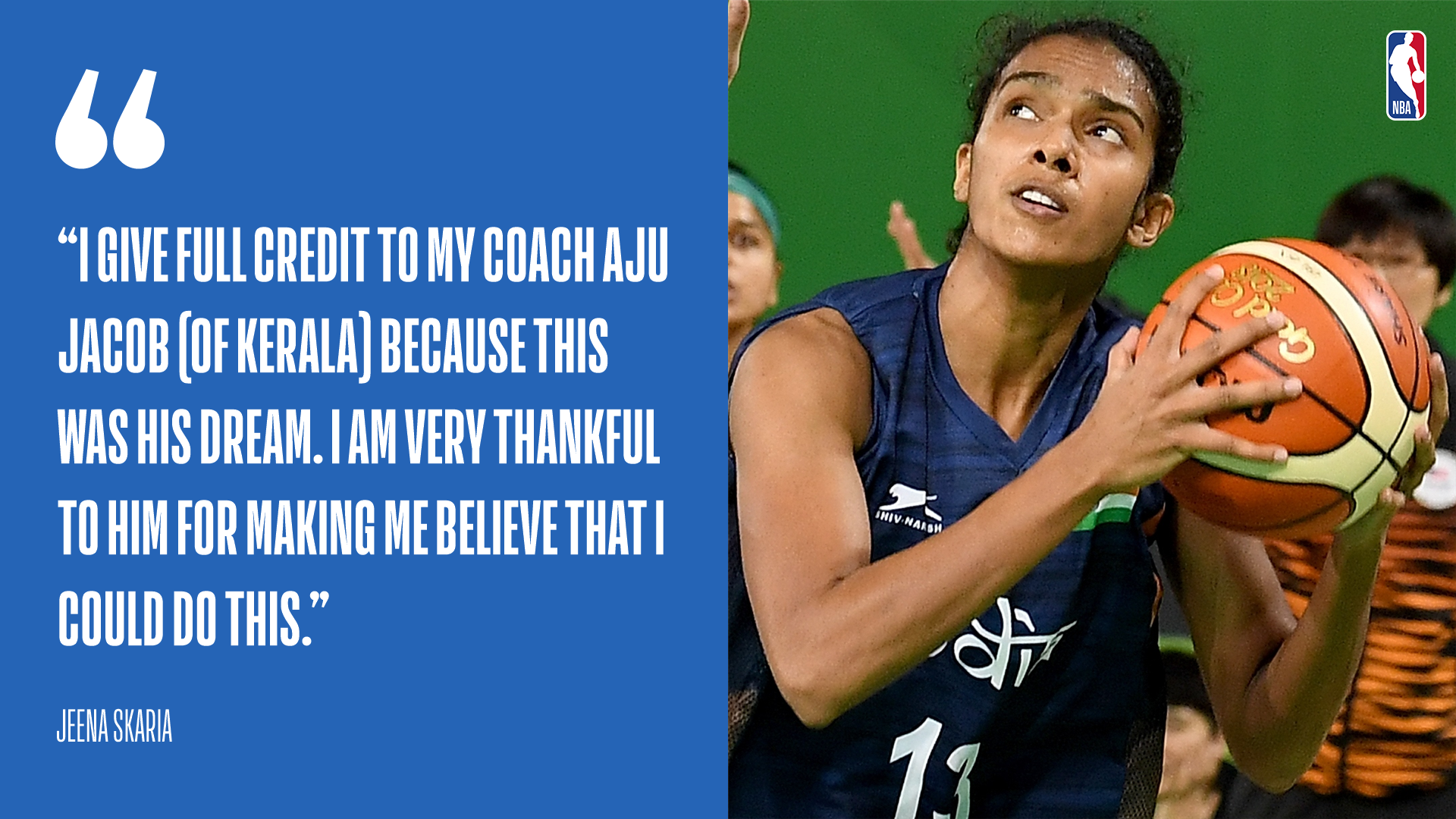 Rahul left big shoes to fill; in 2014, she became only the second woman to win the Arjuna Award for basketball. But Skaria was slowly charting her own to become the country's best current player.
And earlier this week, Skaria took another historic step forward in Rahul's footsteps. Now 25, Skaria has been signed by the Ringwood Hawks in Melbourne, the same team of Australia's "Big V" league where Rahul played and flourished over a decade ago. With this move, Skaria will become only the second Indian woman-after Rahul-to play professionally in Australia.
The Hawks had shown interest in Skaria ever since their Kerala tour, during the 'International Hoopathon' event, in late 2017, where she impressed the coaches and management. Skaria said, "When they asked me if I would be interested in playing in Australia, I didn't even think twice-I just said yes!"
"I give full credit to my coach Aju Jacob (of Kerala) because this was his dream. He really wanted his players to go abroad and play. I am very thankful to him for making me believe that I could do this."
Skaria flew to Melbourne over the weekend. She has signed a seven-month contract with the Hawks. There will be a two-month training camp before the season begins-which will last till August this year.
The Hawks play in Australia's "Big V" basketball league, a senior basketball league in the state of Victoria that encompasses 145 semi-professional sides from 47 associations in 12 competitions in both genders and several levels of youth and senior league competition.
"For me, this is an opportunity to gain experience," said Skaria. "I don't mind how many minutes the coach plays me. I just want to learn new things and improve."
The Hawks' coach, Tim Mottin, was also eager to share his excitement for Skaria joining the squad.
"She is a good player with the potential talent and ability to develop further," Mottin told me. "Whilst playing our exhibition series against Kerala in 2017, Jeena played hard with a great attitude and a team leader-I was impressed by these qualities."
"I believe Jeena will bring that same attitude and characteristics to Ringwood," Mottin added. "These qualities will assist the team in training and in games. I expect her to be a valuable contributor to the team."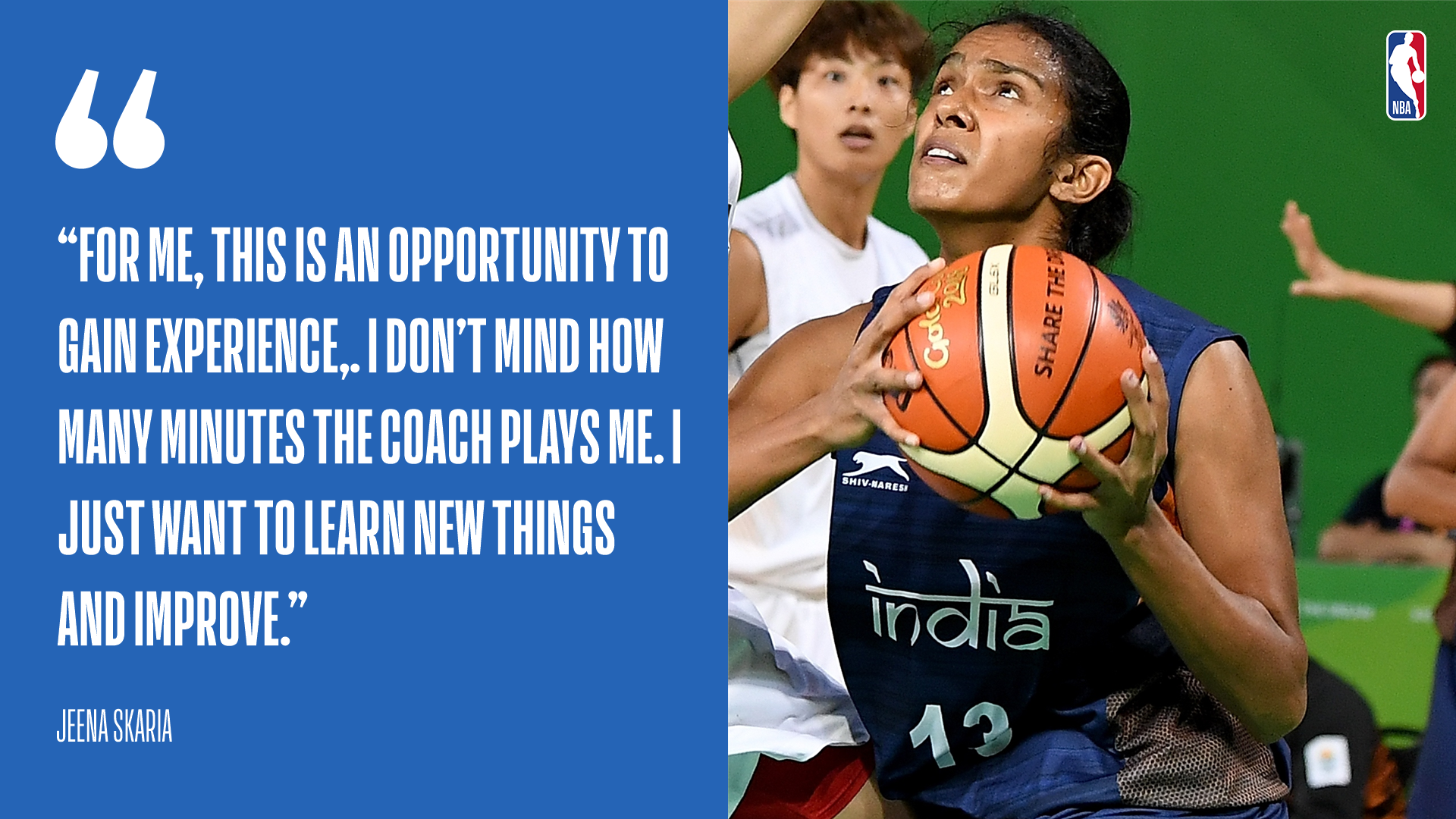 "Ringwood Hawks have a long history with India basketball and I am strongly in support of sharing techniques and training for the benefit of all."
That history, of course, stretches back to the original desi Hawk, the former MVP of the Big V Championship, the great Geethu Anna Rahul. After having forged the way, Rahul was excited that Skaria had become the first to follow her path.
"I was so happy to hear the news," Rahul said. "I was waiting for some player after me to play in a pro league abroad. It had been 12 years and nothing happened. I always used to say that we need to send our players to leagues outside of India… It will improve the entire game of basketball in India. If the top five Indian players play abroad, it will help our national team."
The history of professional basketball opportunities for Indian women is almost non-existent. Domestically, only a small handful of units, like the Railways, provide semi-professional opportunities for Women (as compared to dozens for Men). Smaller professional leagues like the UBA or the Mizoram Super League have never had a women's division.
Indian women have had to seek opportunities in international waters, where only two women have played pro: Rahul in Australia and Thailand, and Paul Durai by Rahul's side in their brief Thai sojourn. Skaria will have a chance to bring some spotlight once again on India's women cagers.
Rahul also expressed confidence in Skaria's all-around basketball abilities. "Jeena is a very good shooter, good defensive player, and rebounds well, too. She has to focus on implementing her strengths when she's with the Hawks. I really hope and wish that she can play well there-I'm sure she will!"
Skaria's senior international career only fell in-synch with Rahul's once, back in the 2013 FIBA ABCs, where the two were part of a magical team effort that helped India to a historic finish in Thailand. The younger Skaria has been on Rahul's toes, from their starts in Kerala, their success at the domestic nationals, their captaincy and excellence for the national team, and now, all the way to the same professional team in Australia.
"From my school days itself, Geethu chechi (elder sister) has been my role model, and now, I am going to play her role in Australia," Skaria said. "So I am really excited and I will try my best to do justice to this call."
"To be frank, for me this a wildest dream come true," said Skaria. "I am super excited. I just want to give my best there, and I think this will help young ballers of India to dream big and realise that nothing is impossible!"