A then 20-year-old rapper Kunal Pandagle aka 'Kaam Bhaari' had never travelled outside his home state of Maharashtra.
So the Ludhiana Basketball Academy in Punjab made for a very lopsided first taste of the rest of India. With an average male height of 5ft 6.4'', Punjab is India's tallest State. And only the tallest among these Punjabis find a home at 'LBA'.
Bhaari, at a modest 5ft 4'', ought to have felt out of place inside the Guru Nanak Stadium, surrounded by the current and future stars of Indian basketball.
But the reality was far from it.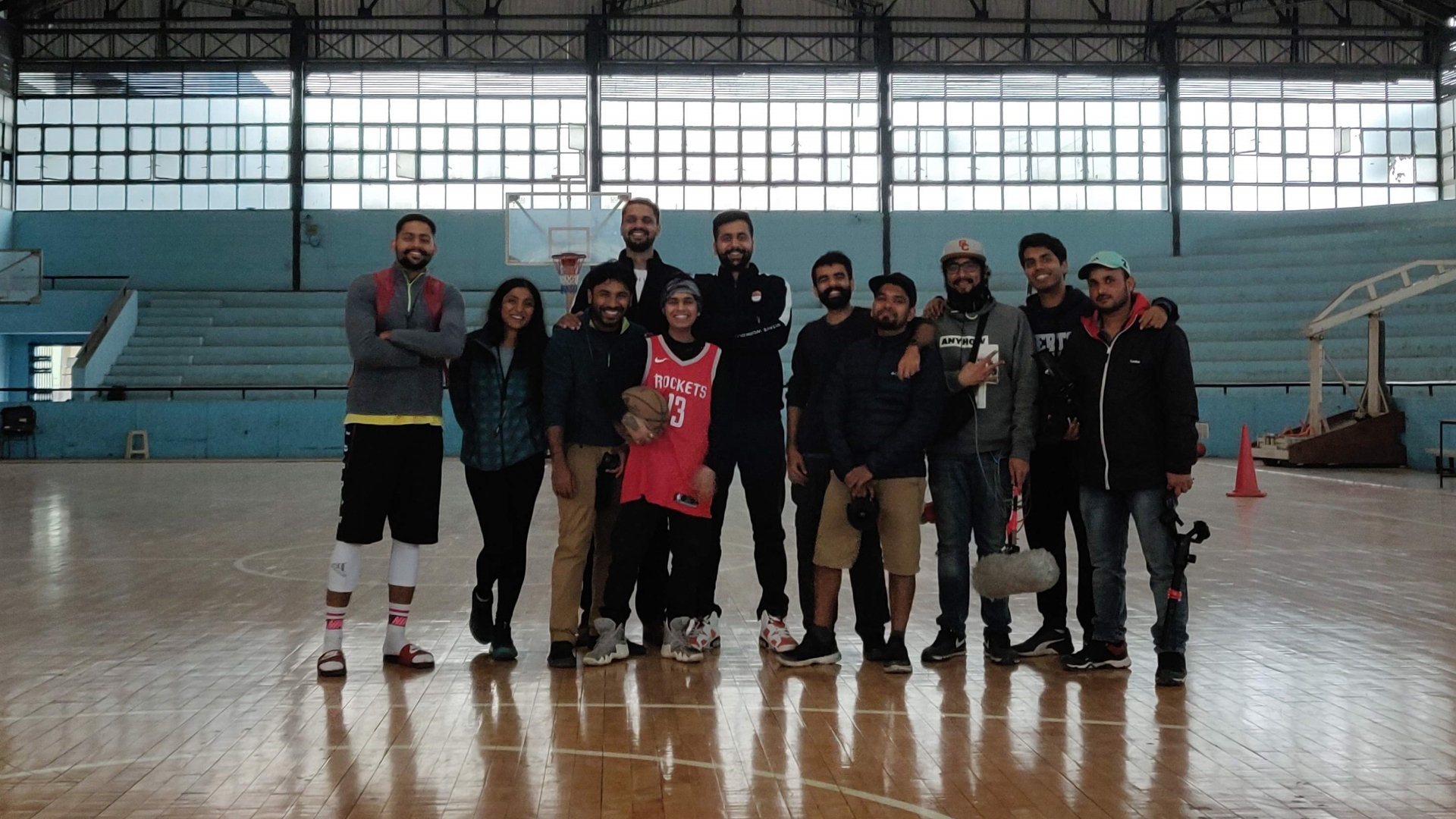 Image above: Kaam Bhaari at LBA. Image courtesy Arshpreet Bhullar.
"Strength wise I was feeling feeble in front of them [as] they were very tall and good athletes. [But] I think I got [the] strength of words," says the Mumbai based vernacular rapper who gained popularity after his appearance as himself in 2019's hit Hindi movie Gully Boy.
Last December, Bhaari had released a single 'Yeh Raasta' (loosely translated as 'The Way Ahead'), dedicated to the outsized contributions of LBA towards churning out international basketball players from India.
#NBAHoopNation Ep. 4 takes its inspiration from Kaam Bhaari's 'Yeh Raasta'!
'LBA Se NBA,' is about the luster of the legends of Ludhiana which is meant to last forever.#MoveForward @Uber_India

Watch the 4-part lyrical documentary series here: https://t.co/NJNmTNOPwW pic.twitter.com/IX1kSsujvS

- NBAIndia (@NBAIndia) December 12, 2019
Fast forward five months, and the track has raked in over a million views and counting, a milestone unheard of for any video featuring Indian basketball.
"LBA has always been popular, but after the release [of the track] a lot of people did get to know about LBA and its players and coaches," says Arshpreet Bhullar, an Indian national team guard who trained at the Academy, and went on to become the reigning Senior National Championship MVP. One of Bhullar's quotes "bade se bhi seekho aur chote se bhi seekho" (learn from both seniors and juniors) features in the song.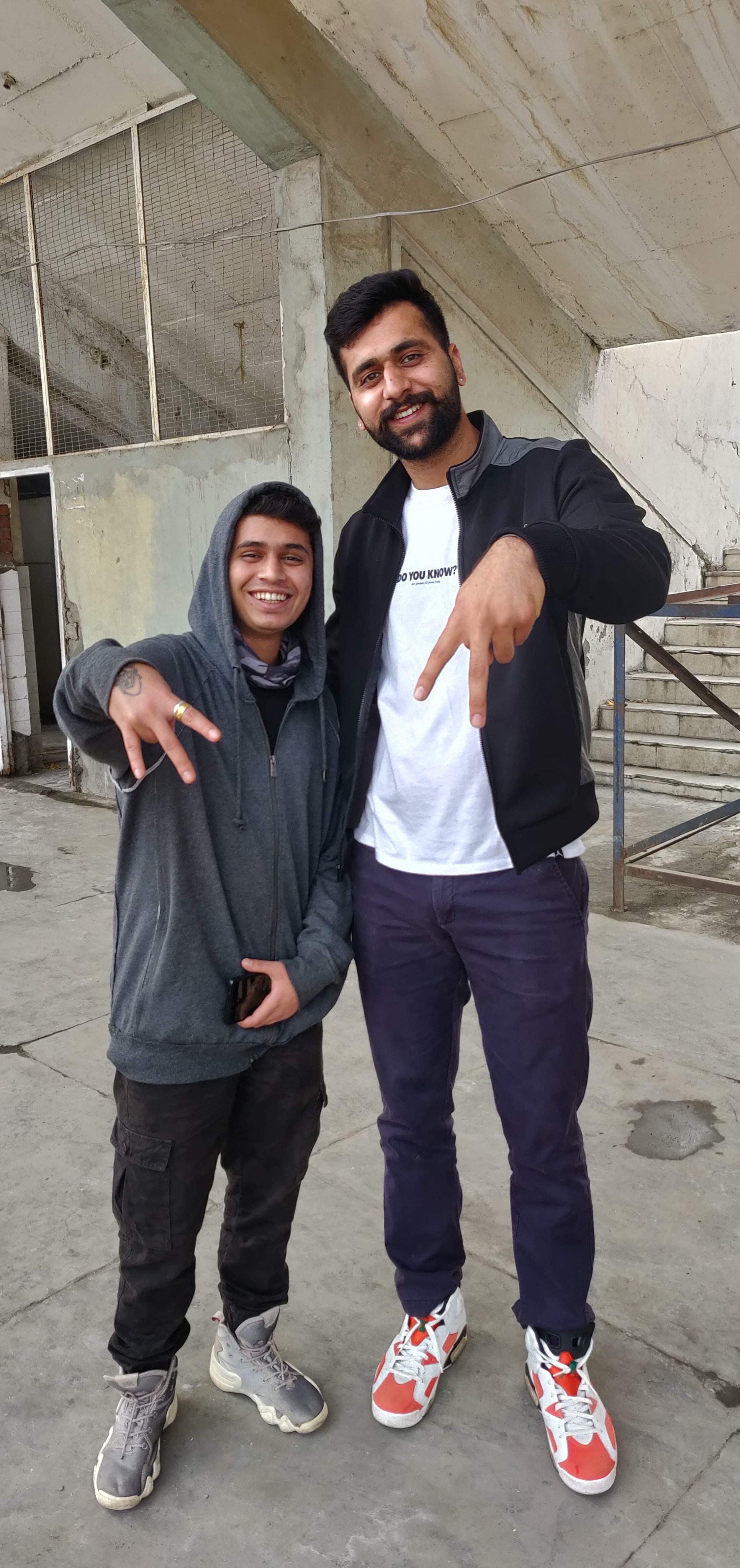 Image above: Kaam Bhaari with Indian national team guard Arshpreet Bhullar.
Yeh Raasta's scorching success is something Bhaari couldn't have predicted. After all, he became a basketball fan only after his trip to Ludhiana.
And as he'd soon find out, Bhaari and the players he met were kindred spirits.
Ready tera bhai jaise LeBron James
"I spent my time talking to the players [about] what was common between us and wrote the song in four days."
One of the song's most memorable lines, "Ready tera bhai jaise LeBron James" (Your brother is ready just like LeBron James), stemmed from these interactions.
"Wahape sablog LeBron James ke baare mai baat kar rahe the," (everyone there was talking about LeBron James), "toh I started Googling and getting more inspired by him. I learnt that he's a great man, opening the I Promise School in Akron. We even share the same birth month!"
Being from the inner city projects of a bustling megapolis, Bhaari could appreciate the positive impact of LeBron James's foundation work that is benefiting at-risk children.
The young rapper also came to realize the close bond between basketball and hip-hop.
MORE: Apna Time Aayega: Indian basketball finally finds its voice through hip-hop
"When you tap a basketball, it creates [a] beat. Hip-hop is all about beats. I also discovered many basketball players who have a love for hip-hop culture and they support that culture very much," Bhaari says.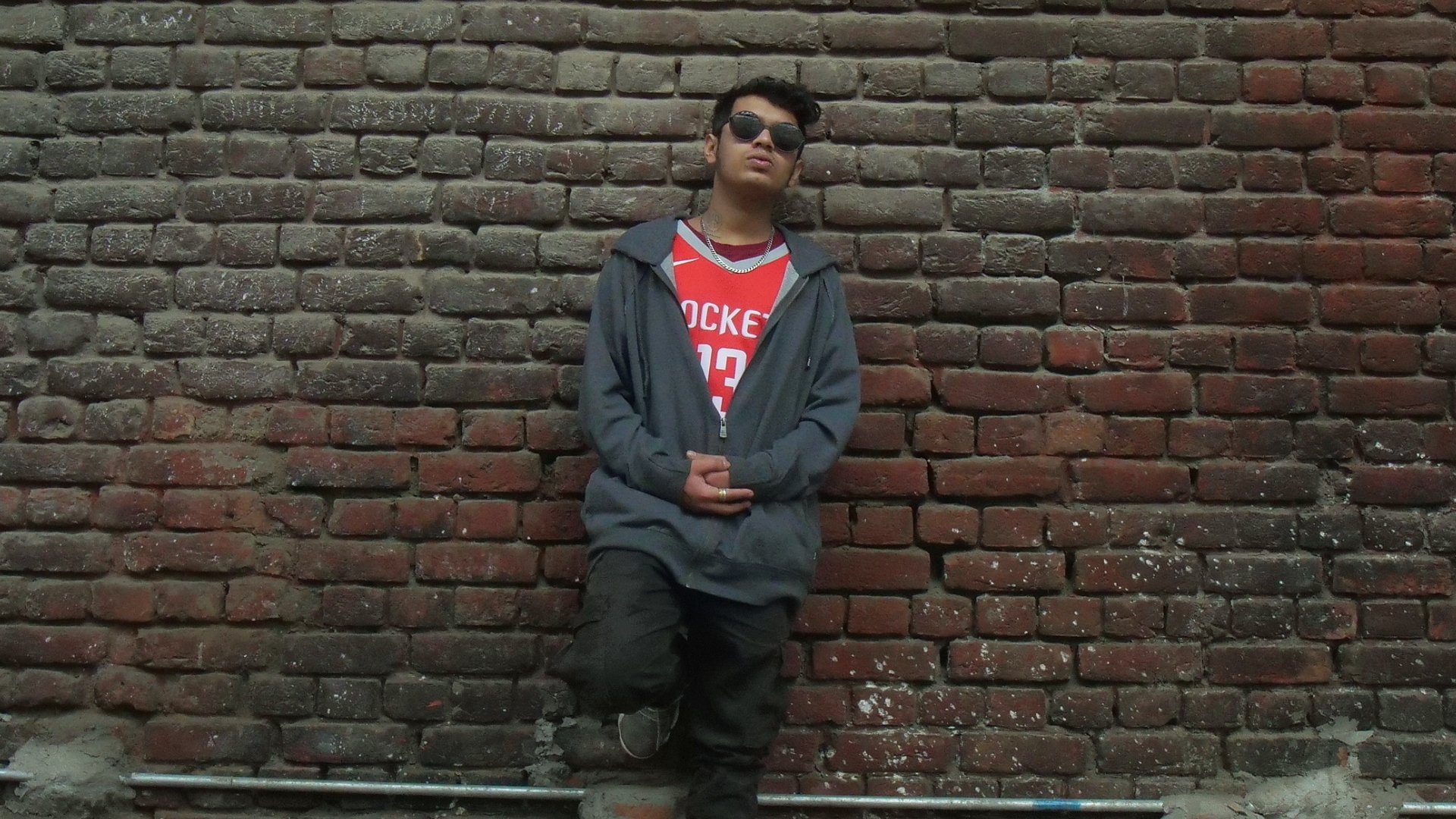 From LBA to NBA
Another striking bar is "Mera sapna hai LBA se NBA tak pahuch ne ka", which translates into English as "My dream is to reach the NBA from the LBA".
The line couldn't be more accurate. Ever since the LBA was established in 2002, with the simple yet telling motto of scouting "tall and talented" players, Academy recruits have dominated the state and national team.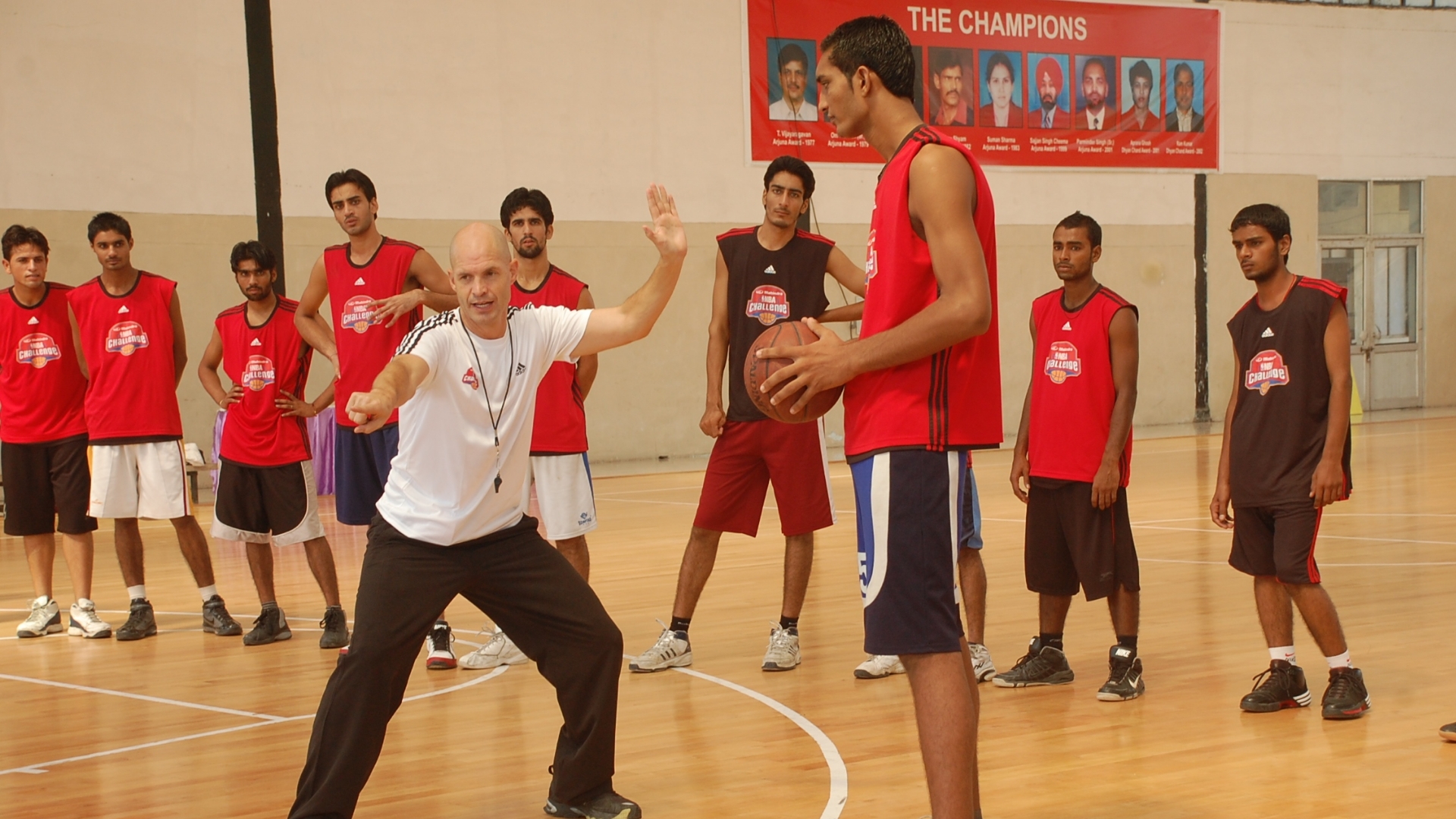 Image above: An NBA led training session underway at LBA. Seen here is Troy Justice, then NBA's India's first Senior Director of Basketball Operations, with Amritpal Singh, who went on to become the first and only Indian national to play in Australia's National Basketball League (NBL).
In 2004, two players, Jagdeep Singh and Yadwinder Singh - from the Academy's first batch of trainees under its legendary head coach, the Late Dr. Sankaran Subramanian - were selected to the Junior (U18) Indian squad. There has been no looking back since. The current Indian men's teams across age groups regularly boast half a dozen or so players from the State that comprises just a little over 2% of the total national population.
At the international level, the only three Indian players to come close to making it to the NBA - Satnam Singh (selected by the Dallas Mavericks from the 2015 NBA Draft), Amjyot Singh (two seasons in the NBA G League) and Palpreet Singh (initially selected by NBA G League franchise Long Island Nets in 2016 before being waived) - are all products of this singular Academy.
Remarkably, despite these already heady accomplishments, the potential of basketball talent in Punjab isn't even close to being fulfilled.
MORE: Amjyot Singh Gill - A Career Interrupted
"Even now there is around 30% untapped talent, especially in villages. We are talking to schools and colleges to explain to them about the [career] prospects in basketball. Many schools still don't even have basketball grounds," says Rajinder Singh, a senior coach at LBA.
The worldwide Punjabi diaspora
It may be pertinent to note here that besides homegrown talent from Punjab, significant populations of the Punjabi diaspora, comprising around 125 million people in total, are spread out across 14 countries in both the Eastern and Western hemispheres.
The only Indian origin player to set foot in the NBA, Gursimran 'Sim' Bhullar, a 7ft 5'' giant who briefly played for the Sacramento Kings in 2015, is ethnically Punjabi.
While Bhullar was born in Toronto, Canada, his parents had emigrated from Punjab in the late '80s. And while Bhullar is the most well-known player of Punjab descent, there are many others who have successfully competed at the elite NCAA D1 collegiate circuit, or else graduated from various respected high school programs.
"I feel like there are more second and third generation Sikh-Canadians that have grown-up watching the NBA and the Toronto Raptors," says Indo-Canadian baller Bikramjit Singh Gill, who was last seen playing professionally in India at the 3x3 Pro Basketball League. "The Sikh youth has understood the importance of NCAA and possible scholarships that lead to a free education. Drugs and gangs are unfortunately growing issues in our Sikh community and parents look to basketball as a promising outlet. With more Sikhs that have gone to the NCAA and oversees to play professionally - myself included, people see it more as a viable dream."
It's not just players who have made a name for themselves. In 2020, Punjabi origin Canadian, Nav Bhatia, a lifetime supporter of the Toronto Raptors, became the first honoree in Naismith Memorial Basketball Hall of Fame's 'Superfan' gallery.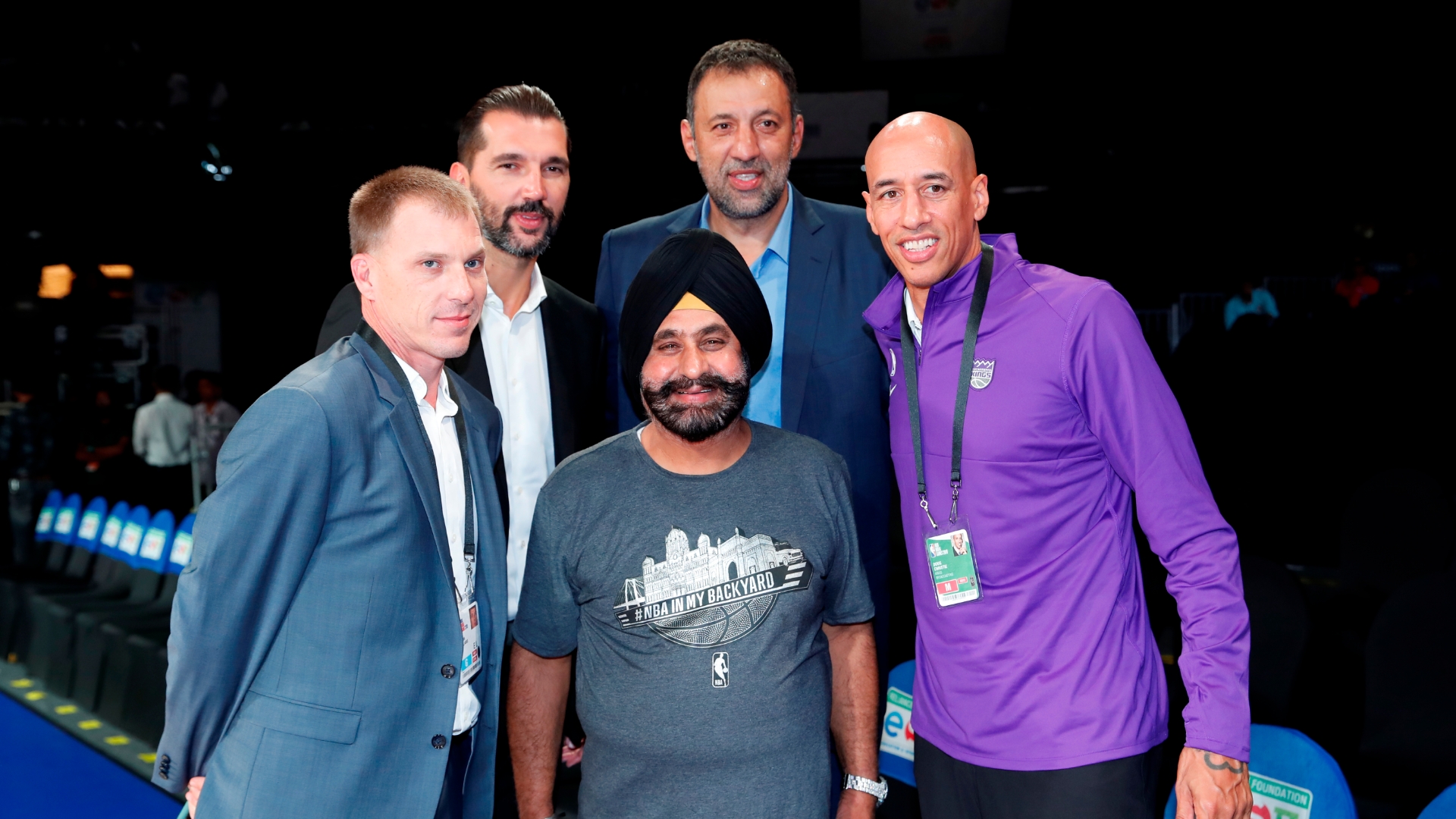 Image above: Nav Bhatia (center) at the NBA India Games
Waiting for India's 'Singh-sanity' moment
While players like Sim and Satnam may be considered the equivalent of a Wang Zhizhi - China's first export to the NBA - India's still waiting for a breakout star in the world's most popular league.
With Yao Ming in the 2000s and Jeremy Lin in the 2010s, the Chinese mainland and expat community finally had their 'own' idols to emulate and root for.
And whatever be the first name of India's pioneering NBA player, one thing is fairly certain, his last name will, in most probability, be 'Singh,' the near-ubiquitous surname of male members of the Punjabi Sikh community.
MORE: The Indian G.O.A.T Debate
Add to that, the fact that Punjabis - whether in Punjab or its diaspora - love hoops, the stage appears well and truly set for a future 'Singh Sanity' craze to sweep the basketball world.
"Punjab basketball represents the people and culture of Punjab. When the top Punjabi players had a big game, Guru Nanak Stadium was packed! Basketball fans from all over Punjab would travel in for the big games. Punjab basketball players are highly competitive, play with great creativity and a bit of swag," says Troy Justice, currently NBA's Head of International Basketball Development.
Justice spent a memorable few years as NBA India's first Senior Director of Basketball Operations, criss-crossing the country from 2010 to 2015 in search of talented basketball players. "When I arrived in India in February 2010 I asked the Late Harish Sharma, Secretary-General of the Basketball Federation of India (BFI) where I should go…He told me I must visit the Ludhiana Basketball Academy. A week later, I was on the night train to Ludhiana. Some of the talented players that were training there during my first visit included Satnam Singh, Amjyot Singh, Amritpal Singh and Palpreet Singh Brar."
Justice's unforgettable experiences included being greeted at the Railway Station by a line of basketball players ranging from 6ft 6'' to 7ft+, and an award ceremony being interrupted by an impromptu bhangra dance party. (See below)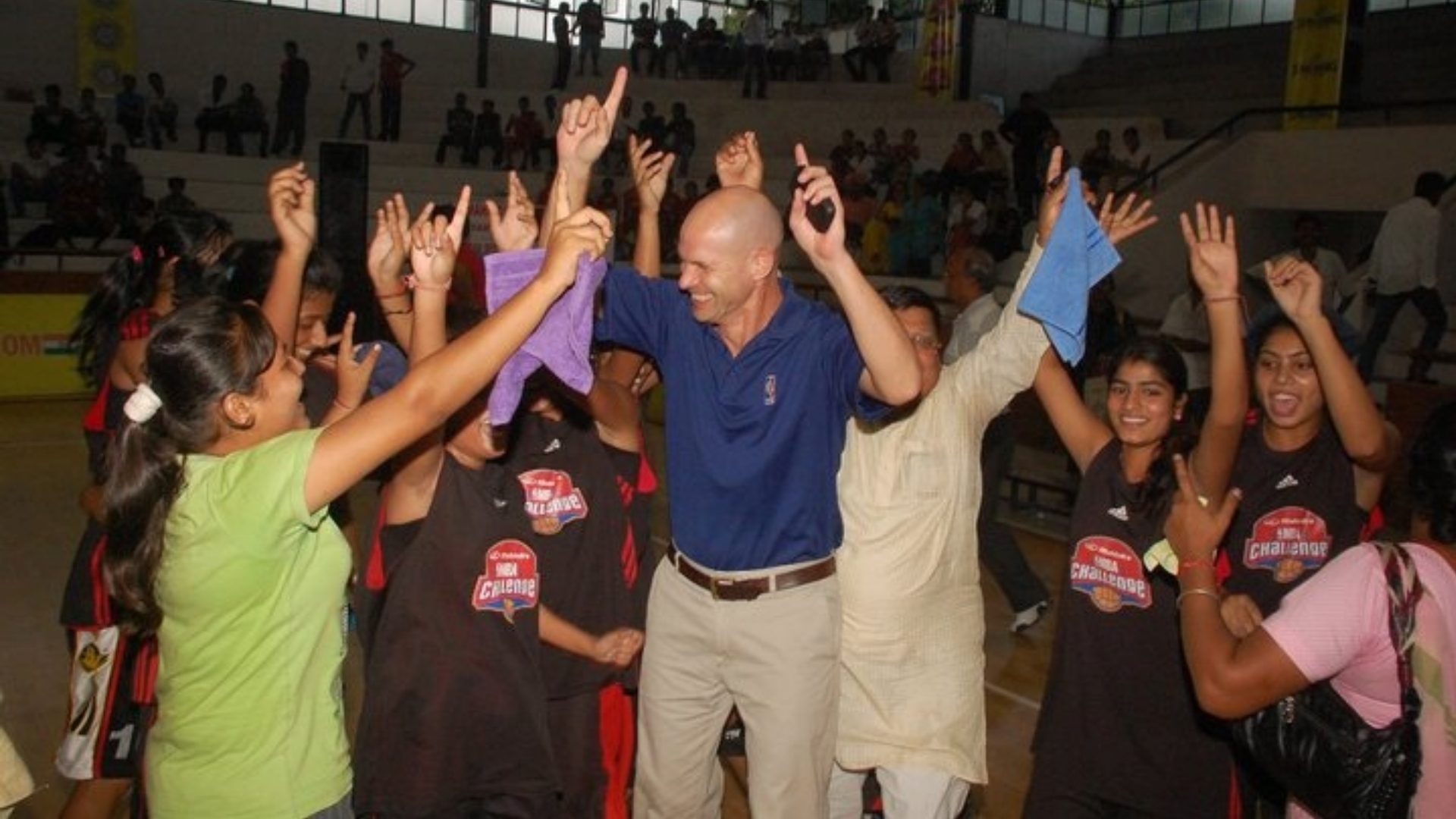 "We know there will be an NBA player from India. As I have said with confidence since 2010 'it's not a matter of if, but when.' One thing I know for sure is that when it happens we will all be there cheering for his success along with all of India. It's hard to predict what [Indian] State an NBA player will come from, but we know that the players from Punjab have a tremendous chance because of their love for the game, competitive drive and fighting spirit," Justice says.
After Justice moved back to the US in December 2015, having discovered the likes of Satnam Singh and also facilitating WNBA tryouts for arguably India's greatest women's basketball player Geethu Anna Rahul, the NBA has continued its push to scout and develop talent from India.
The NBA Academy India
In 2017, the NBA established the country's first and only elite residential basketball centre - 'The NBA Academy India' - in Greater Noida. The Academy provides full scholarships to around two dozen of India's best teenage male basketball players. Here too, a number of its players are from Punjab.
"In India, many of the taller players come from the Punjab area," says Scott Flemming, NBA Academy India's Technical Director who formerly coached the Indian men's national team to its historic maiden win against China at the 2014 FIBA Asia Cup. "[But] There are some very good young players from all parts of India that we are seeing year on year. I think having 'The NBA Academy India' working with players at a younger age will increase the chances of producing a high-level player with NBA potential."
Some of the exciting prospects from Punjab that the NBA Academy has brought through its ranks include the 6ft 10'' Princepal Singh (currently on the roster of The NBA Global Academy in Canberra, Australia), Jagshaanbir Singh (a seven-footer recently committed to Point Park University, Pittsburgh which is part of the NAIA conference) and Amaan Sandhu (a 6ft 11'' 17-year-old who has already made his first Senior India team selection).
"The NBA Academy India is a pathway for aspiring talent and not the end goal, where prospects are scouted through the ACG-NBA Jump program. The scouting program covers the length and breadth of the country providing an equal opportunity to everyone. While the physical characteristics are important, they are not the be-all and end-all for scouting," says Marc Pulles, the Team Leader of NBA India's Basketball Operations. "Having said that, yes, we have players from Punjab who are relatively taller and stronger. However, when they come for the tryouts, everyone is evaluated on uniform parameters."
Only time will tell who and when India's first NBA player of reckoning will be. But for now, all eyes will be on the tantalizing journey from LBA se NBA.
The views on this page do not necessarily reflect the views of the NBA or its clubs.