This piece was published in Jan 2020, just a couple of months after the historic NBA India Games 2019
Andrew Suting was poised and ready. Like a panther about to pounce down on unsuspecting prey from a tree in the dead of the night.
"I had pre-registered and knew I needed to click on 'buy' asap," Suting tells NBA.com. The 'clicking' Suting is referring to was on BookMyShow.com, and the 'buying' was for tickets to the first-ever NBA India Games.
"I've been following the NBA since the nineties when one had wake up in the middle of the night to hopefully catch a game on cable, which was a luxury at the time," Suting says, in one long winding nonstop sentence.
For die-hard NBA fans like Suting, Darwinian laws of survival came into effect at noon on August 13th. "I booked my tickets [first and] then tried to convince my friends to come along. If I had waited I might have not made the trip."
The six-hour journey by road and air from Shillong, in India's distant northeast, to Mumbai was a no brainer for the 35-year-old development officer with the All India Football Federation.
"I looked at it in a simple way: 'What if this would be the only [NBA] game to ever happen in the country?'"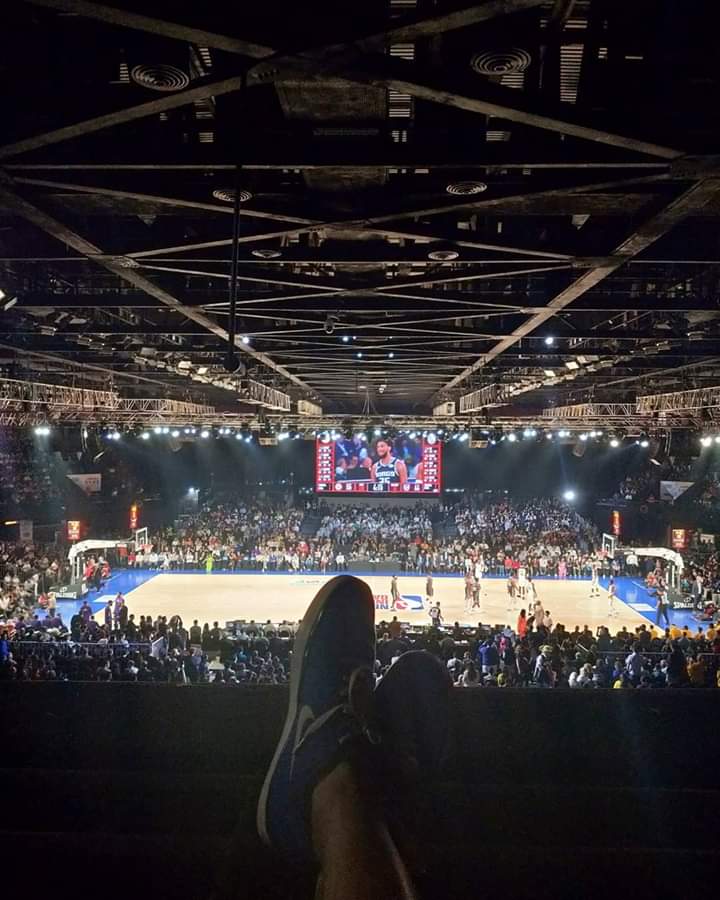 Image above: The view from Suting's seat in the Red Stand
Outstation spectators like Suting, who bought lower price category tickets, spent approximately INR 25000/- (USD 350/-) for the entire round trip. This is no small expense by Indian standards. Had Suting stayed in a hotel, his costs would have been higher. "Luckily I have family in Mumbai."
Across India, around 4000 other fans were making similar Shakespearean calls: To go or not to go?
NBA India Games: A long-awaited dream
When the NBA opened office in India back in 2011, almost immediately, rumours began on when India would host its first-ever exhibition game.
The League, under its late Commissioner David Stern, and now under Adam Silver, continues to prioritize global expansion. Since 1984, 73 Pre-season and 30 regular-season games had already been held across Europe, Asia and Americas.
So when it was finally announced that October 4th and 5th of 2019 would be the dates of the first-ever NBA India Games, the buzz was immediate and exciting. The 'Dome' at the National Sports Club of India (NSCI), along the scenic sea facing Lala Lajpatrai Marg, would be the venue.
MORE: NBA India Games - Fans come face-to-face with their idols
A flurry of promotional activities began, and word of the Games spread among basketball fans throughout the country.
Up north in the Garhwal Himalayas, two teenage girls from the basketball team of Woodstock School, Mussoorie, were scrolling down their Instagram feeds, when they saw 'THE' announcement.
Immediately, they informed their coach Steve Luukkonen. Within two days, 90% of the trip had been planned.
"When I handed them their tickets some of them cried a little because of the overwhelming feelings of excitement and joy!" Luukkonen says. "There were 17 of us in total, including my wife and six-year-old daughter."
The 14 Woodstock girls squad members at the Games comprised seven Indians, two Americans, two Bhutanese, and one each from Nepal, Spain and Canada.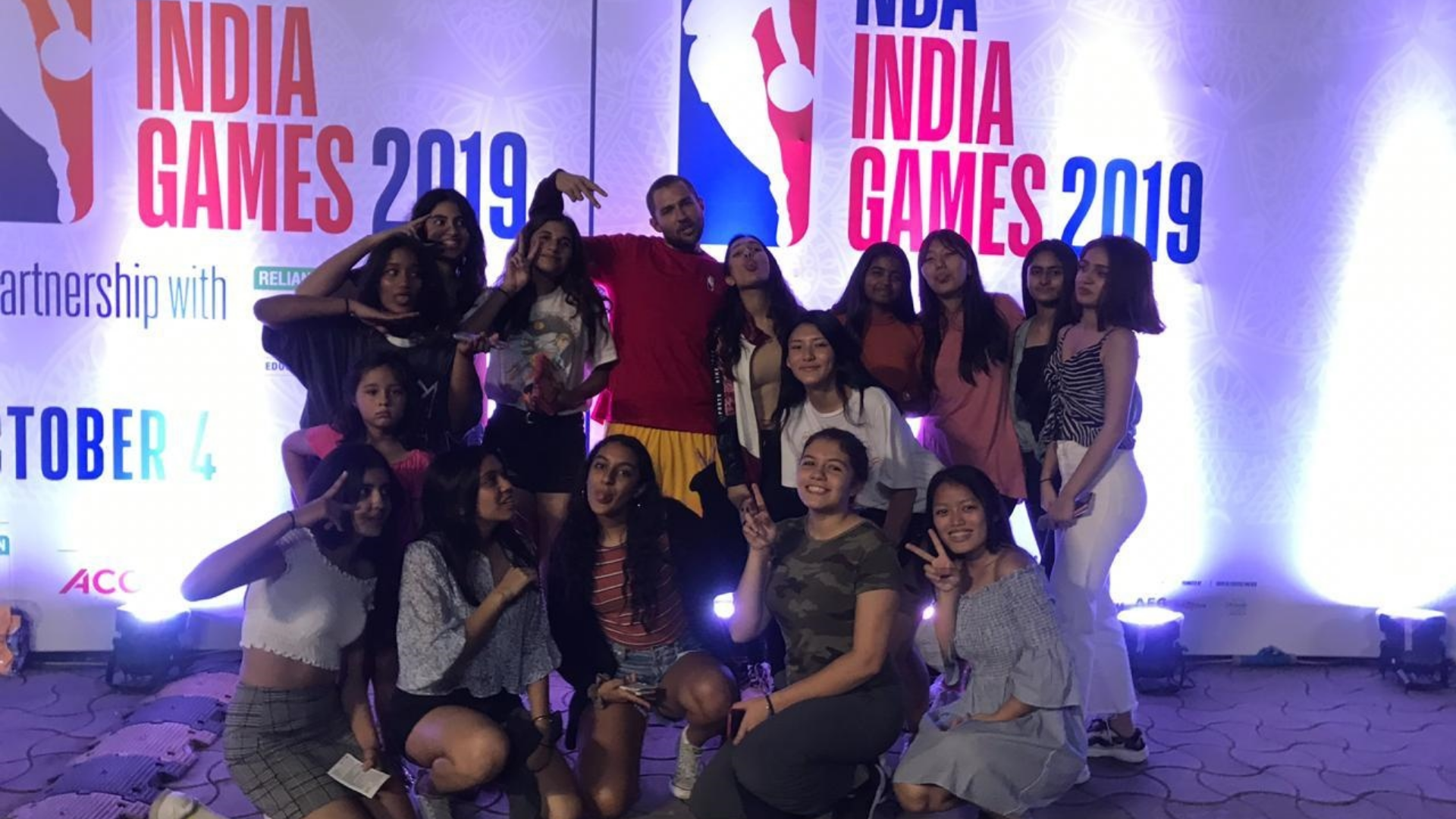 Image above: Woodstock Girls Basketball Team. Image courtesy: Steve Luukkonen
The number could have been even higher.
"When I found out about this opportunity I had emailed our boys coach and we tried to get them to come along too. But most of his players are seniors and the SAT was that same weekend! This was also the reason three of my varsity players couldn't come!" Luukkonen says.
Across the Dome, on the opposite baseline from Luukkonen and the girls, was another eclectic group of spectators: the Indian origin trio of Inderbir Singh Gill, Bikramjit Gill and Kiran Shastri.
The Punjab born Inderbir and Shastri are US citizens, while Bikramjit is Canadian. The three have played professionally in Japan, and have since made India their home, competing in privately organized national 5x5 and 3x3 leagues. "At first, we weren't sure if we would've been able to attend the Games. But once our schedule opened up, all tickets were sold out," Inderbir says. Luckily for them, they were "hooked up" with tickets in the Lower Bowl thanks to the NBA loving celebrity couple of entrepreneur Anand Ahuja and actor Sonam Kapoor.
View this post on Instagram
A few rows behind Inderbir & Co., in the Purple Stand, two exceptionally fit young men from Bengaluru had already taken their seats, thirty minutes prior to tip off.
Former national-level collegiate ballers, A K Narasimhan, 25 and Sankrit Harimohan, 24 had both quit stable corporate jobs to become full-time strength and conditioning ('S&C') coaches.
For them, pregame warm-ups were as exciting as the actual game itself.
"Fox loved to rev up transition play. So they were working on him bringing the ball up from half-court and setting an early pick to get the offense moving quick," Narasimhan says. "We know Buddy [Hield] is a catch and shoot guy, so they were running him with some off-the-ball pick and roll action, to get him some quick-release threes."
Harimohan meanwhile, had eyes on another Kings' guard. "We saw Bogdanovic shoot like a million shots coming off screens cutting to the corners, but all of it in a manner which emulates the game."
MORE: India Games - the NBA, presented with extra masala
As Hield finished his warm-up routine and headed to the locker room, a 5ft 3'' girl in an outsized white NBA Academy t-shirt was taking her place in the 'blue box' under the stanchion.
Her shoulder-length hair tied into an easy-to-manage high bun, 13-year-old Muskan Singh was all set to go to work.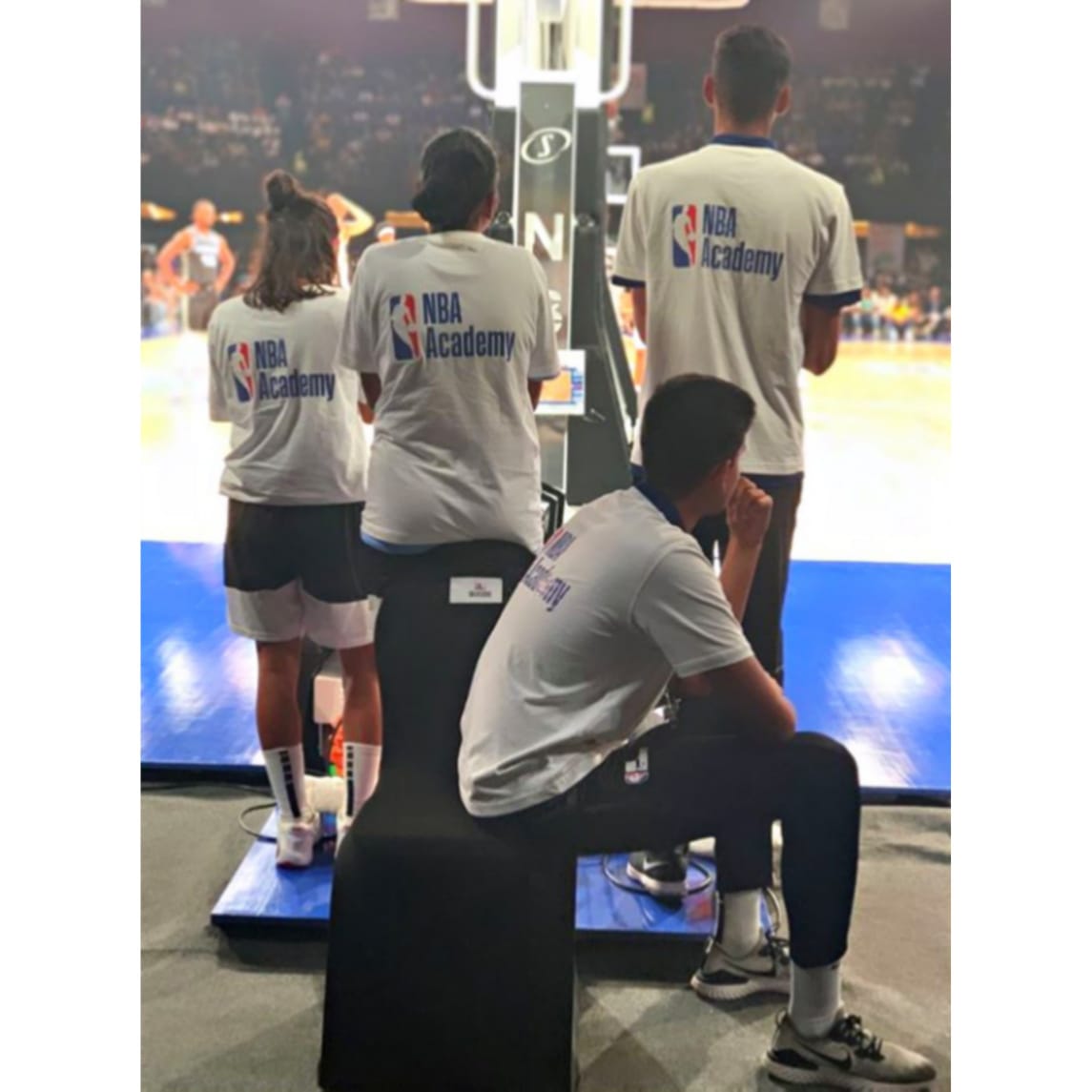 Image above: Muskan Singh (standing left)
Singh, along with 39 other girls and boys from the NBA Academy India, had been tasked with 'responsibilities' ranging from folding players' clothes, picking up players' clothes during substitutions and ensuring timely refills of water and drinks.
Singh was one of the eight 'floor wipers' for the October 5th game.
Hailing from a 'non-basketball' state like Bihar, Singh, the daughter of a head police constable father and homemaker mother, knew she had to make the most of every opportunity coming her way.
She felt confident, after having already won the 'Mutombo Challenge', a day earlier.
"Floor wiping is not as easy as it seems. Timing really matters. My heartbeat was so fast that I used to sprint off the court thinking that the players were coming, when in fact, they were still on the frontcourt! Once, I was wiping the sideline and then the referee came at exactly the same time. So had I not put my hands back quickly then he would have definitely tripped."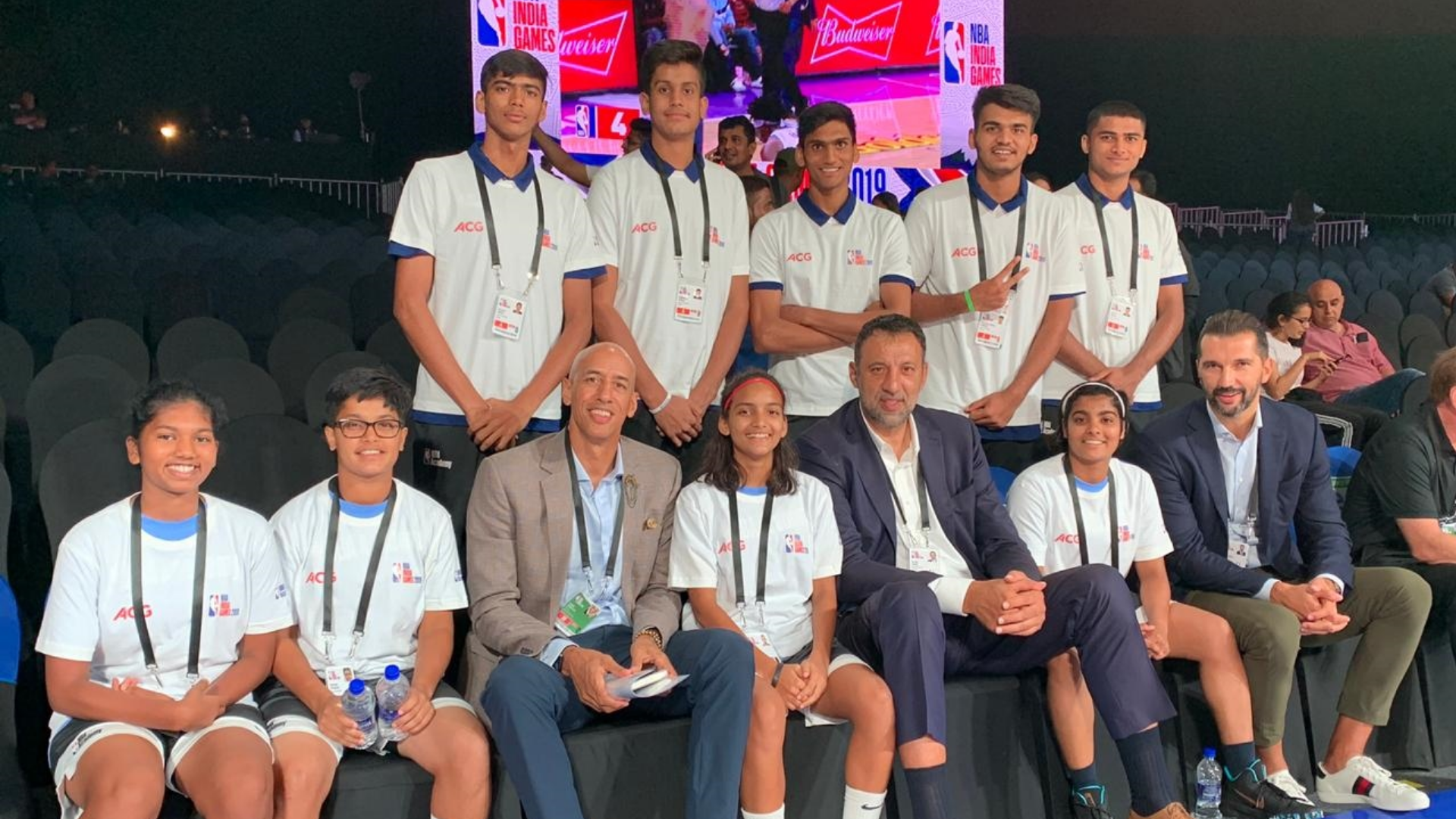 Image above: Muskan Singh (sitting centre) during the NBA India Games 2019, with the rest of the NBA India Academy volunteers. On her left are Kings legends Vlade Divac and Peja Stojakovic
Beyond the dunks: NBA's "extreme" professionalism
As Singh diligently wiped the floor at halftime and the entertainers took centre stage, two of the Woodstock girls got lucky.
11th graders Gauri Pasbola and Singye Norbu managed to grab one of the souvenir Kings t-shirts and balls that were being thrown into the stands.
"My friends and I also got the attention of Myles Turner and Priyanka Chopra by shouting out that we love them!" says Norbu, one of the two Bhutanese girls in the Woodstock contingent. Pasbola adds, "I was impressed by how professional everything was, especially how they converted the Dome into such a beautiful basketball court. At every break there was a performance to keep us entertained."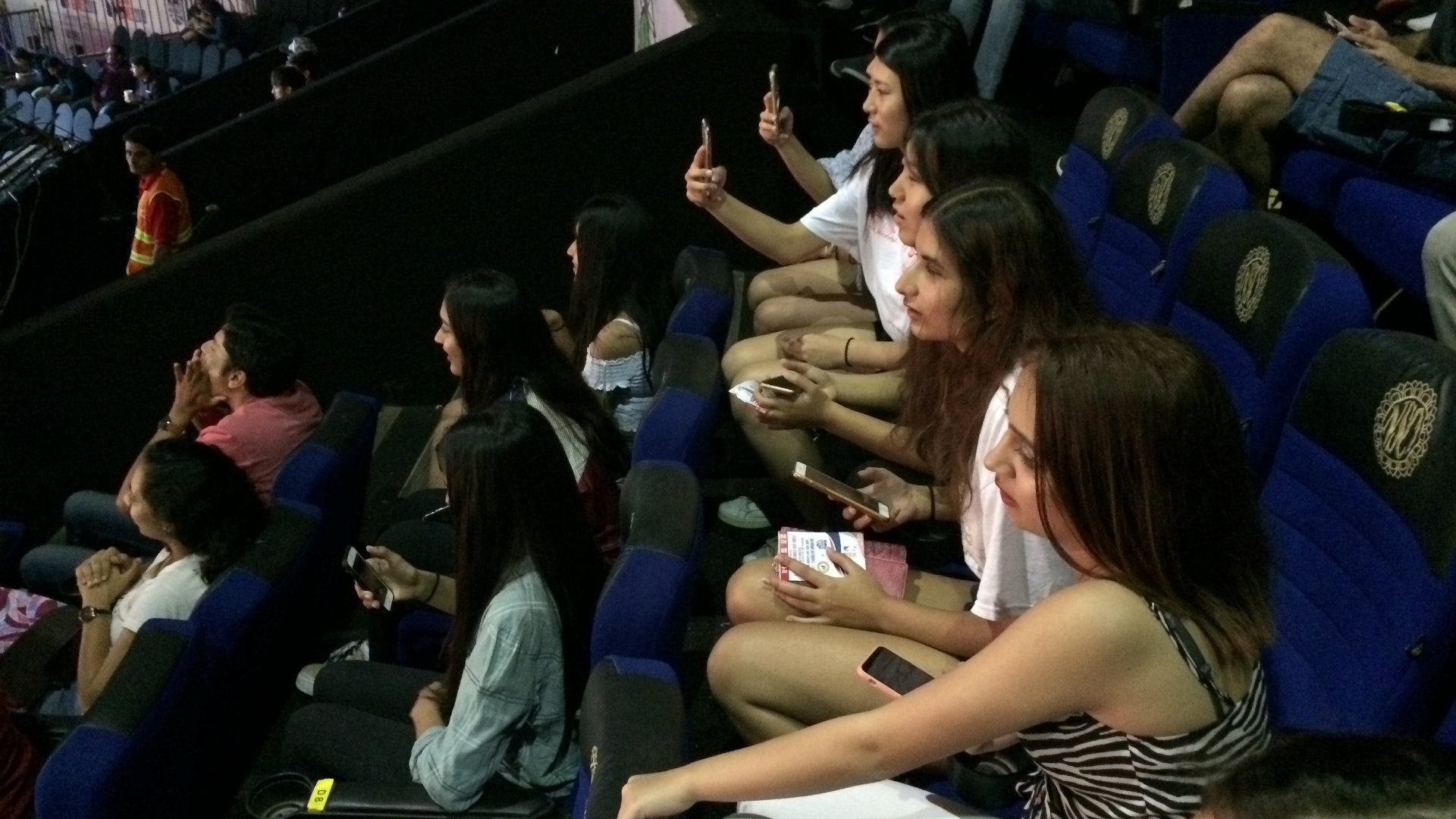 Image above: Woodstock School girls in attendance.
For their coach Luukkonen, this was also his rare chance to show his players up close and live, what basketball at the highest level actually was like. "They had no idea how fast paced the game truly was and how some of the players could run full court in a matter of eight to ten strides and four to six dribbles! No matter who started or substituted into the game, their level of play and intensity was 100% every single second! I think this really hit home for them, as they now realized what playing at 100% intensity truly meant, even during an exhibition like this!"
The constant player substitutions were also being monitored by Narasimhan and Harimohan, who were quick to notice the 'gap' between the NBA game versus how it is traditionally played in India.
MORE: NBA India Games - Exclusive with Vivek Ranadivé
"There is very little emphasis on player rotations in Indian basketball. We have the 'first five' play till they burn out and then send in the reserves, who, by then are ice cold from sitting that long. The amount of rotations we saw in the NBA India game was amazing. It ensures that the load is managed evenly. That again is an aspect of S&C even though it is implemented by the coach and not the S&C professional," Harimohan says.
Narasimhan agrees. "Considering the major factors: back-to-back game after an OT game the previous evening, playing in another country, and the fact that it was a pre-season game; it was interesting to see how the coaching staff made changes to the rotation to keep the players from being unnecessarily overworked this early on in the season. It just goes to show the extreme professionalism in the NBA."
NBA Games Experience lives on
"The NBA Games was a huge milestone but the most important thing is to continue the momentum that it has created. There needs to be more activities, whether it's with NBA or [our] own professional leagues, that keep the fans and players engaged," Inderbir says.
Three months on, the euphoria of attending the first-ever NBA Games is naturally dying down. It now comes down to 'invested' spectators like Luukkonen, Narasimhan, Harimohan, Suting and the rest to implement their experiential 'learnings' from the Games, in their respective spheres: be it coaching, S&C or event management.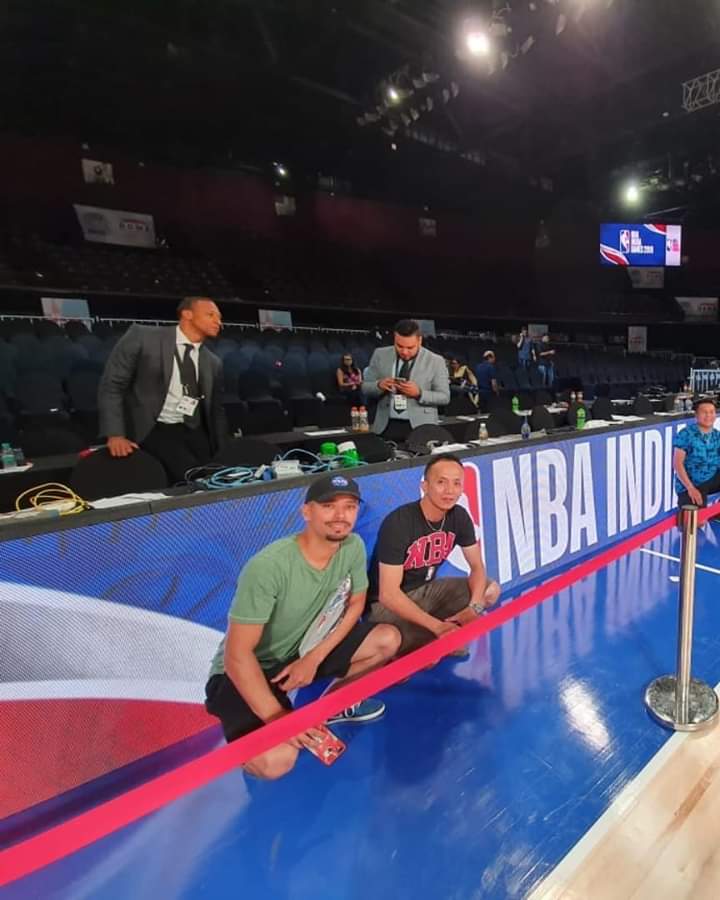 Image above: Andrew Suting (left) with his friend H Laldinsanga after the October 5th game. Mizoram's Laldinsanga is the only male player from the North East region to represent the senior Indian national team. The duo were also part of the NBA Coaches Clinic held a day prior to the October 4th - 5th Games.
"Having organised numerous football matches as well as basketball tournaments locally in Meghalaya, I was impressed obviously by the scale of operations involved and the huge number of moving parts that came together to get the game organised. For my next event, I'm ensuring that we have more fan engagement programmes and activities in addition to being more active on our social media platforms," Suting says.
"These [October] games couldn't have come at a better time, as our major tournament followed in November. So I noticed an increased intensity and focus in our practices! Even now, during our winter break, a lot of my players have been watching either collegiate or professional basketball, trying to learn the game more thoroughly!" Luukkonen says.
Narasimhan and Harimohan are keen to work with the next generation of Indian basketball talent, incorporating strength and conditioning to "build better athletes from the young ages".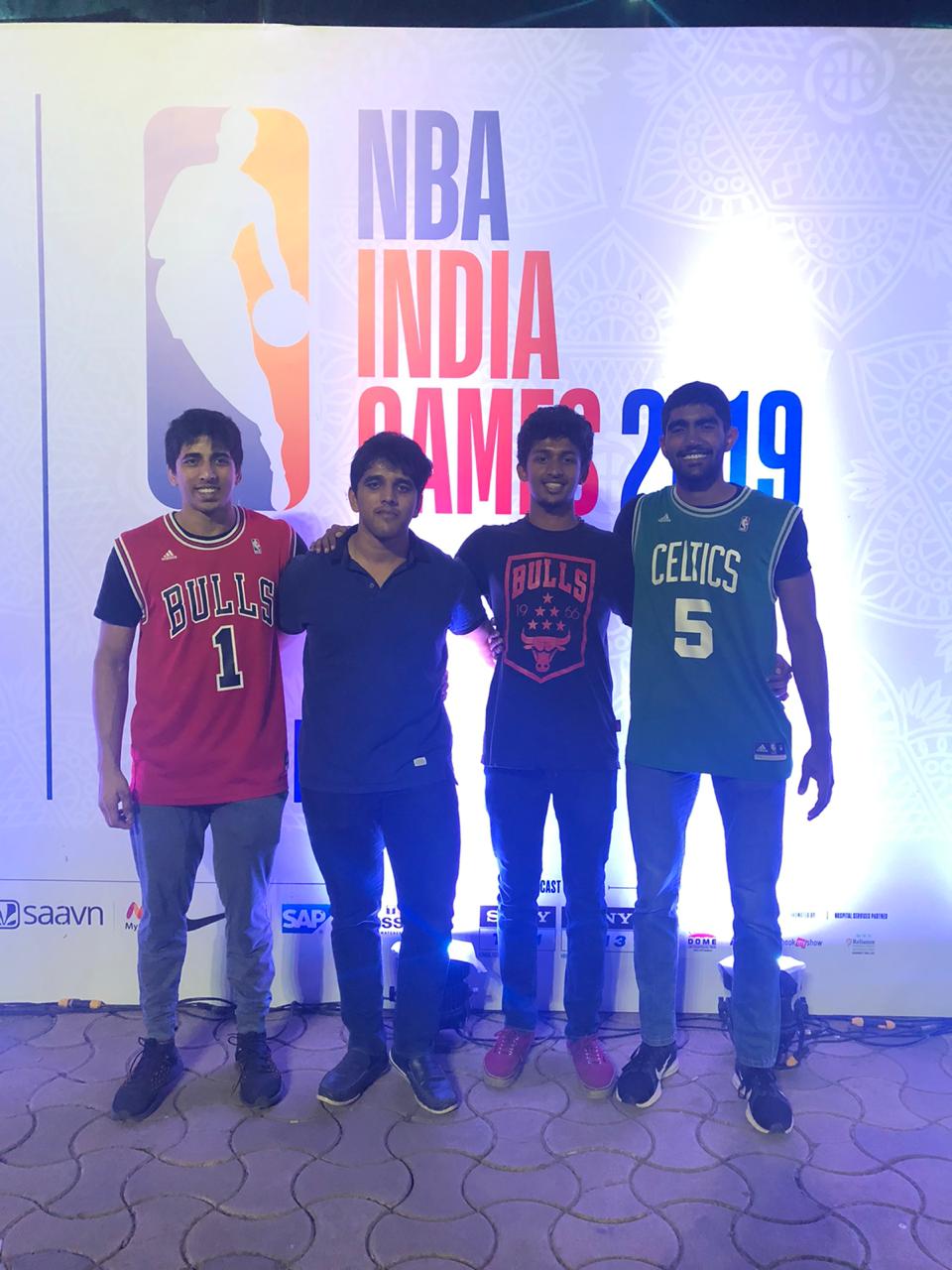 Image above: Bengaluru based S&C duo of A K Narasimhan (far right) and Sankrit Harimohan (far left)
The Kings and Pacers have long since returned to the US and are battling for playoff spots in their respective conferences.
It remains to be seen when India will get its next taste of live NBA action. But whenever it does happen, fans like Suting will again be poised and ready, cursor hovering over the 'buy tickets' link. "Given the opportunity, I would definitely be attending the next one. If my favourite teams or players do land up, it would just be an added bonus."
The views on this page do not necessarily reflect the views of the NBA or its clubs.