As shot after shot found its way into the basket, Muin Bek Hafeez found himself in a groove like he had never felt before. "There was no pressure from the coaches to do something special," he said. Playing with this sense of freedom, he silenced everything.
He silenced the opposing home crowd, fans in attendance to cheer for Iraq at Baghdad's Al Shaeb Hall.
He silenced the pressure on India to pick up an important victory in the second game of the opening window of the 2021 FIBA Asia Cup Qualifiers. Just days before this game in late February, India swallowed defeat from the jaws of victory, losing to Bahrain to a heart-breaking game-winner in the game's dying seconds.
View this post on Instagram
Hafeez silenced the fact that, that loss to Bahrain only extended one of India's worst international basketball stretches in history, where for nearly three years India hadn't won a single game in a major FIBA tournament.
And mostly, he muted the pressure he felt of his own basketball future, of the years he had spent in exile from the national team, of the loss of confidence, of the days he contemplated quitting the game, the days when he didn't think he would ever be at this stage again.
And with each passing minute, the shots kept on falling. They swished in from the three-point line, they rattled in from drives to the post, they banked in from fast-break lay-ups. Hafeez was playing the game of his life.
*
Most of the established players in India-including Hafeez's role models like Vishesh Bhriguvanshi, Amjyot Singh, or Aravind Annadurai-have a well-coursed path to the top. They show potential in their mid-teens, make it to the country's U16 or U18 teams, and finally graduate to become regulars in the senior squad.
MORE: Bahrain stun Indian on game-winning 3 in 2021 FIBA Asia Cup Qualifiers
The tale was a little different, however, for Hafeez. Hailing from Krishnagiri, a small town in Tamil Nadu close to the Karnataka border, Hafeez was disconnected from basketball's well-worn path. Still, the competitive bug was already within him in a number of different sports and activities.
"I didn't have much interest in basketball growing up," he said. "I used to pay more attention to cricket. I wanted to be a cricketer when I grew up. I played Kho-Kho or Martial Arts." While still in school, Hafeez competed in Judo at the divisional and throw-ball at the state-level.
"But one day, our school inaugurated a new basketball court-and in 12th standard, that is where we began to play," he said. "There was a hype of this 'new sport', and we used to play during all our free periods or play-time. That's how my interest grew.
MORE: India climb to 73rd in latest FIBA rankings
It was at the SAI Academy in Salem, about two hours' drive away from Krishnagiri, that Hafeez finally found the support system that made him choose basketball over all the other sports he had tried his hand in, where he found a coach to help build his game. He eventually found success representing his university, the Jepiaar Institute of Technology, with whom he won the IMG-Reliance College League National Finals. He was also selected for Tamil Nadu's U18 squad for the Junior Nationals in Kerala, and his performances earned him an invite to India's national camps in 2014-unfortunately, he wasn't selected.
*
Around college time, as a late bloomer, Hafeez was already at an age where the cream of the crop usually separates itself. He wasn't in the rotation for the national team-it seemed as if he would have to settle for the 'second' tier of basketball talents in India: good, but not good enough.
That changed in 2017. Hafeez got another opportunity to tryout for the national colours, and this time, he found his place. When he made his India debut at 21 for the South Asian Championship in Maldives, he achieved a rare feat, playing for the senior squad without priot U18 or U16 experience.
"It is everyone's dream to represent their country and wear the tri-colour jersey," Hafeez said. "But I didn't even expect to be selected. I didn't have any expectations before the selection camp in Delhi."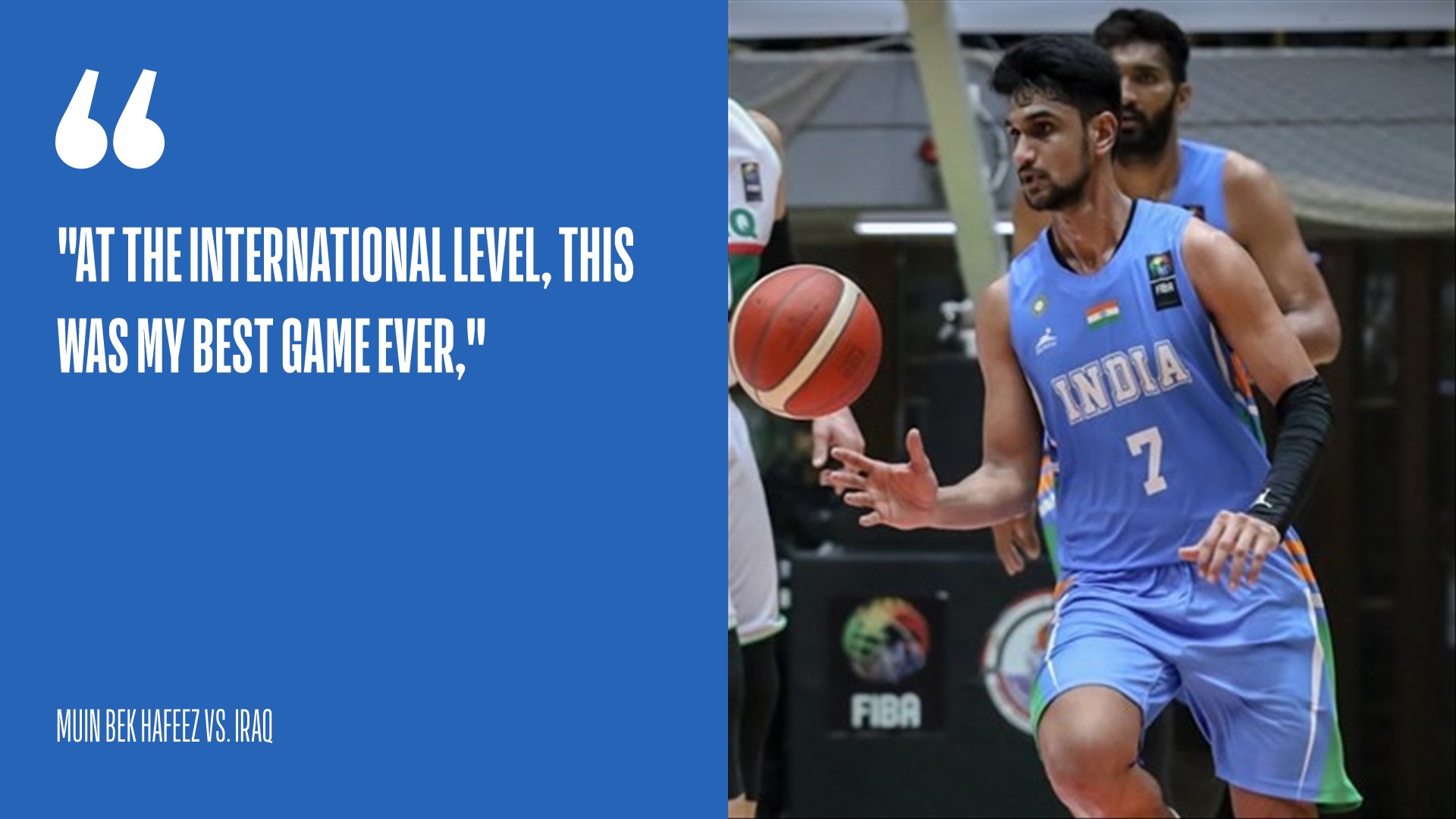 While Hafeez's personal dreams had come true, his debut ran parallel with one of the darkest phases in Indian basketball. Short on talent, unprepared, facing numerous injuries, and distracted by backroom turmoil in the federation, India's Men's teams began their infamous losing streak. Hafeez played for the team in three continuous tournaments that year-the BRICS Games in China, the William Jones Cup in Chinese Taipei, and the FIBA Asia Cup in Lebanon-and India lost every game they played in this stretch.
"We kept losing," he said. "And then, I didn't play again."
Thus, began Hafeez's two-year exile from the national team. He had gotten a taste of unexpected success, and, in the speed of a 24-second shot-clock, it was snatched away from him.
"A lot happens in a player's life, when you don't get selected," Hafeez said, recalling this difficult period. "A lot can go on in your head. I thought that my game had gone bad now. I was still in college then, playing in nationals finals, but people began to tell me that I was only a college-level player. That I wasn't improving."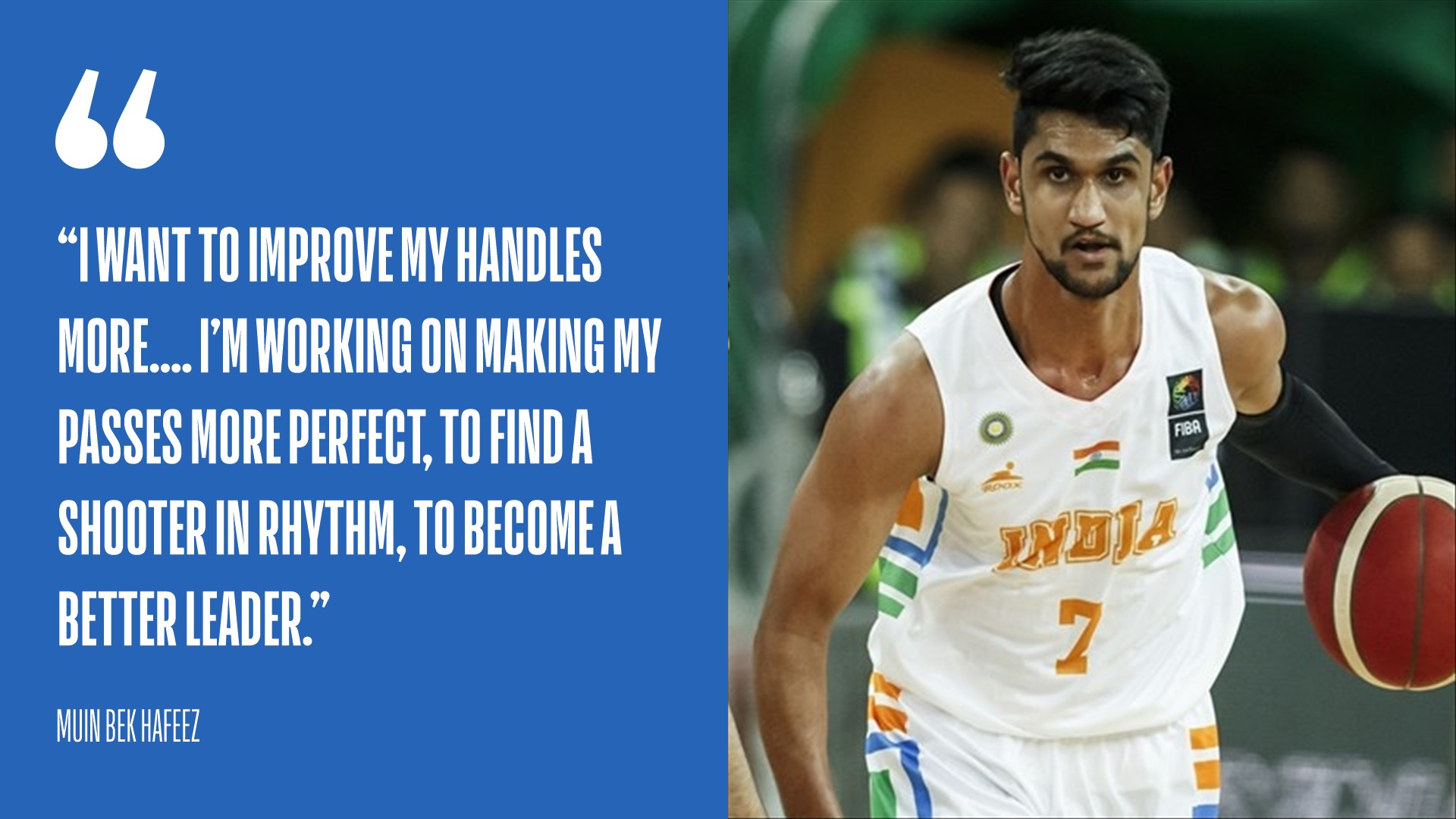 Slowly, Hafeez saw himself playing and performing against tougher competition, and raising his own game in the process again. He played for ONGC in the 2018 Federation Cup. In 2019, he joined a young Indian Bank squad that dominated through half a dozen invitational tournaments that year. With success, the love for the game returned.
"As we played, my interest in the game grew again. I found teammates who supported me, and my game improved."
"In July 2019, I was finally called back up to the national team."
*
In school, Hafeez was the tallest kid in class (6'3") and played the centre-position, in the post. It continued that way in Salem, being the big man in the middle. But when he went to college at JIT in Chennai, he met even taller players, and so moved down to the forward position. Years later, at the behest of India's new national coach, he took up the point guard role, under coach Veselin Matic who would go on to challenge him to expand his games in new ways.
MORE: The Indian G.O.A.T debate
In the basketball world, this drastic positional evolution-especially for someone playing at a high-level-is almost unheard of. Very rarely do athletes unlearn and learn the basic instincts of the game as Hafeez has had to.
"It was very difficult," Hafeez said about this process of changing positions. "First, I had to fight for rebounds in the post and focus on a specific type of footwork. When I started playing forward, I had to focus more on shooting and attacking inside. I had to change my footwork and spend a lot of time at practice-I would always arrive early to practice. Then, while playing forward in college, I began to love passing and handing out assists. So, when I made it to the India camp, coach [Matic] asked me to try the point-guard position for a few months. He liked my work there, and soon, handed me the PG role."
Hafeez's new role was an urgent necessity for the national team. While India has been blessed over the past decade with a number of excellent frontcourt players (Amjyot, Amritpal Singh, Satnam Singh, Palpreet Singh, Yadwinder Singh, etc.) the team has faced a critical shortage of reliable ball-handlers.
Often, in international situations, this deficit has exposed India against similarly-matched teams, who have been able to press us into careless turnovers or seen us go cold from the perimeter. Beyond the excellent Bhriguvanshi, India hasn't had a consistent floor general to marshal the offense-and this is where Hafeez hopes that his skills will come in useful over the long run.
*
During his first, less successful stint with Team India, the national team had faced-and lost to-an underdog Syrian squad at the 2017 FIBA Asia Cup. By the time Hafeez made his comeback, the man who had coached Syria to victory-Serbian head coach Veselin Matic-was now at the help of the Indian squad. And in Hafeez, Matic found a crucial component in his plans going forward.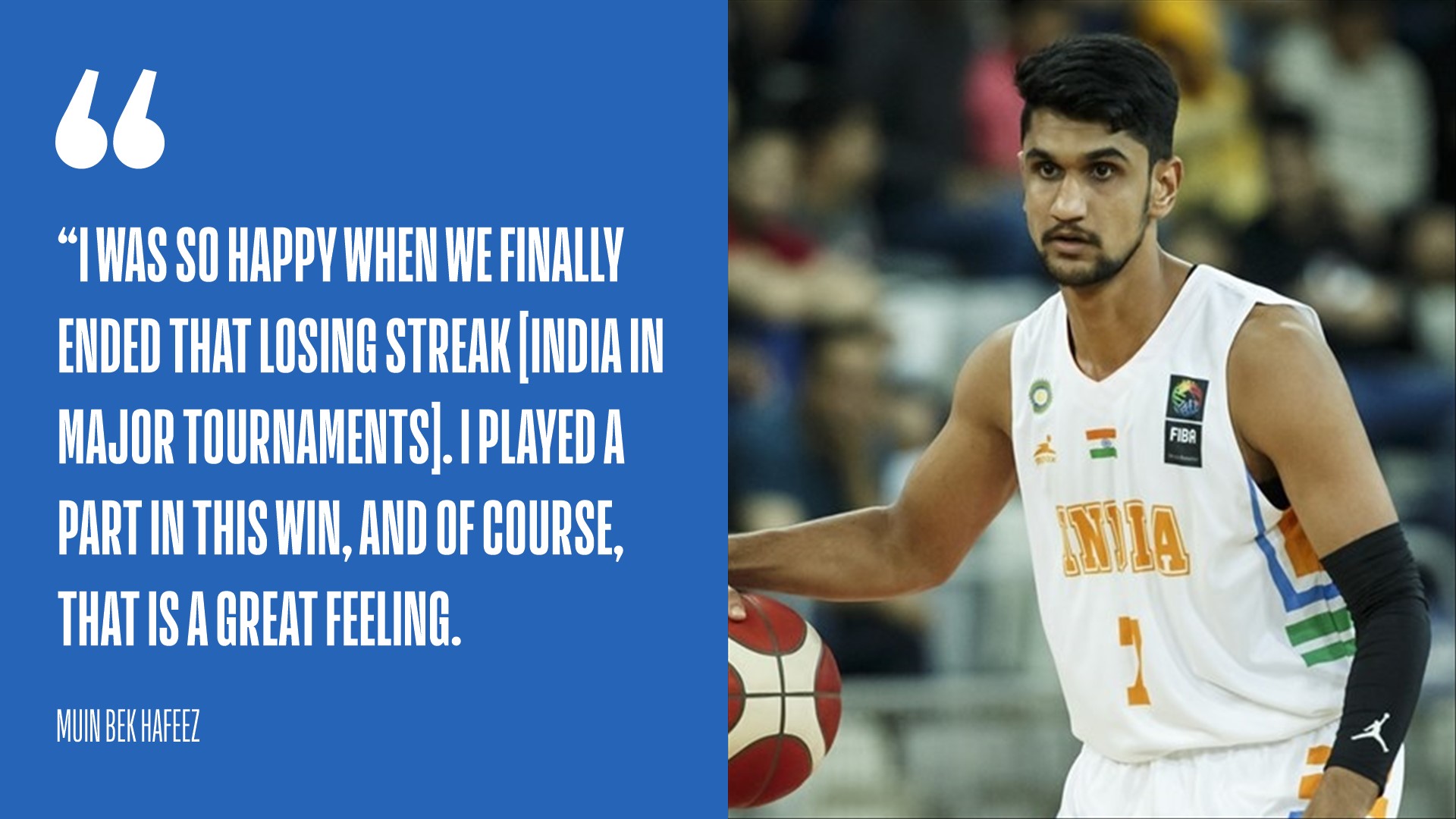 "With this coach, I've had a totally different experience," Hafeez said of Matic. "He had told me after Syria beat us that India has so much talent-Syria should not have been able to beat us. We needed to change the system and our practice habits. He made us all pay so much more attention to our fitness. It took us some time to adapt to his system, his expectation of ball-movement and positioning. He had to explain it to all of us, individually. It took six months before I think we were finally ready."
India, meanwhile, had continued to lose before Matic's arrival, in more qualifiers and international tournaments, underperforming game after game, and losing many of the nation's top stars in the process to injury or controversial suspensions.
The first test for Veselin-and for Hafeez in his return-were the 2019 South Asian Games late last year in Nepal. India were overwhelming favourites against weaker regional teams, and they delivered as per promised, winning gold in both 5x5 and 3x3 competitions. The tournament was seen as prep for the bigger forthcoming FIBA events-where India were still hunting for their elusive victory.
MORE: Recap of 13th South Asian Games 2019 - India win all basketball gold
But in Bahrain, with victory so close to their grasp, they lost again in the dying seconds, 68-67. Starting at the wing and playing nearly the whole game, Hafeez ended up with 13 points and 8 rebounds, and led the team in efficiency rating (13).
Affected by this bitter loss, but encouraged by his own performance, Hafeez once again started against Iraq three days later. He racked up four assists in the first quarter as India got off to a fast start. The offensive explosion began in the second period, and with steals and rebounds and more accurate passes, Hafeez had his hands all over this game.
"At the international level, this was my best game ever," he said. By the final buzzer, Hafeez had ended with a team-high 24 points, a game-high 8 assists, plus 8 rebounds and 3 steals, all while finishing with the highest efficiency in the game (32). India cruised to a 94-75 win. The losing streak was finally over.
"I was so happy when we finally ended that losing streak. I played a part in this win, and of course, that is a great feeling. I didn't have any expectations that I could ever play like this!"
*
There are no other top players from Krishnagiri, Hafeez's little Tamil town.
"When younger players go there now, they come to see me," he said. His performance has brought some sense of security to his life, ensuring that, after the late start, and the ups and downs, he may finally have a place in the national squad. Now, he can afford to look forward not just for himself but for the national team-India's next window of qualifying games isn't till late November, where the country will host Lebanon and Bahrain.
A number of players that Hafeez looked up to while learning the game are now his contemporaries, his teammates. He named the likes of Amjyot Singh, Amritpal Singh, fellow Tamil Aravind Annadurai, and India's lead guard for the past decade, Vishesh Bhriguvanshi.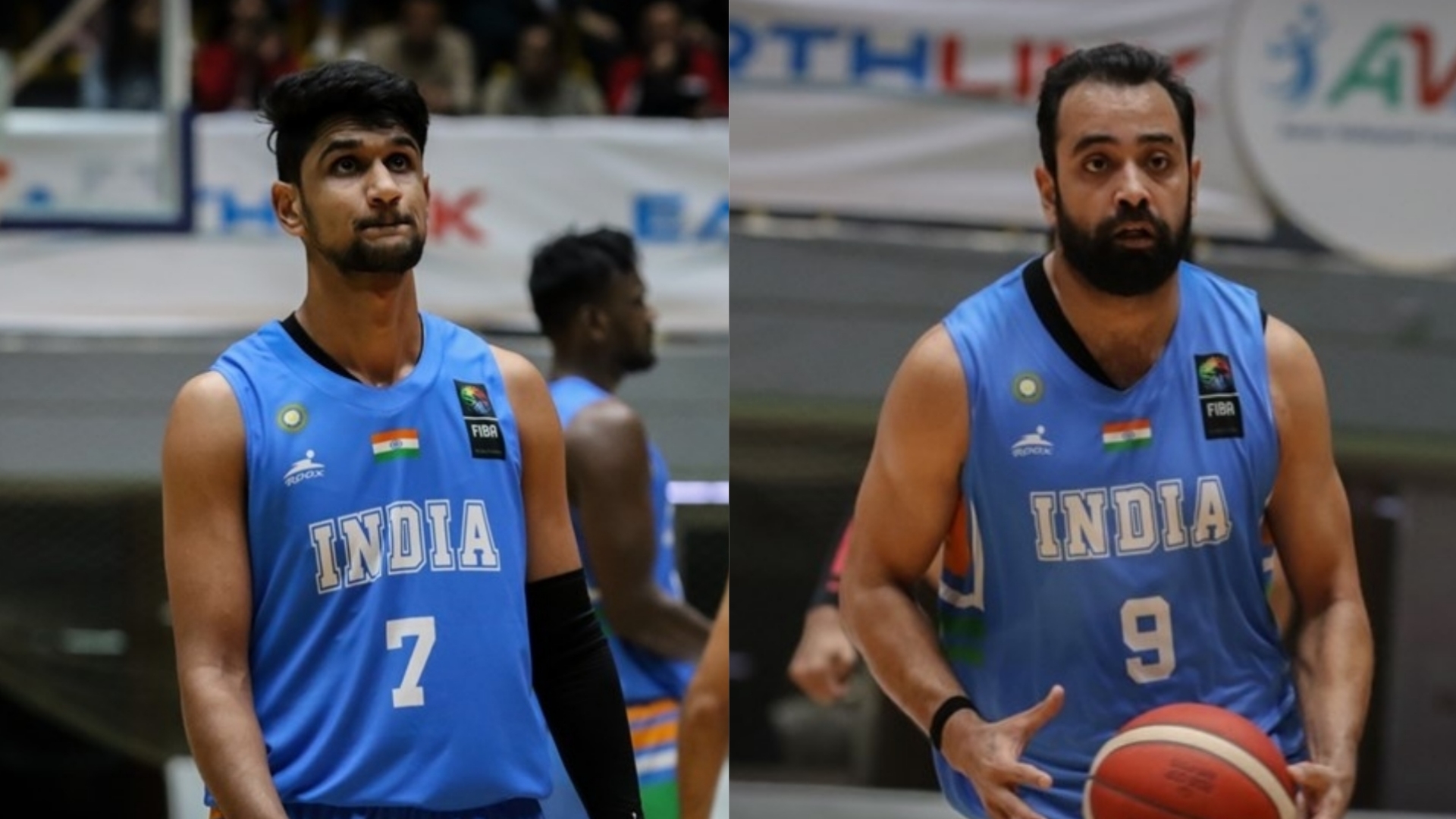 Image above: Muin Bek Hafeez (left) Vishesh Bhriguvanshi (right).
"I have always wanted to be a team leader like Vishesh," Hafeez said. "Be calm, be easy. His game is always different. I have played with him in Indian and in ONGC. I want to play like him-he doesn't take too much tension."
Moving forward, Hafeez aims to continue adopting that 'tension-free' mentality to hopefully become one of the guards to succeed Bhriguvanshi. It was an unlikely set of circumstances that see him playing the position he does now-and for Hafeez, that is just the way he wants it.
"I want to improve my handles more. I want to be able to keep myself stress-free in pressure situations in the international games. I'm working on making my passes more perfect, to find a shooter in rhythm, to become a better leader."
"I've always dreamt of being a point guard. I had spent three months in the IMG Academy in Florida with my college team and I saw that the PG got the most importance. The height didn't matter-even seven-footers could do it."
"I wanted that responsibility-and now that I have the chance, I want to do even better."
The views expressed here do not represent those of the NBA or its clubs.