In May of 2021, one of the greatest classes of all time was inducted into the Naismith Memorial Basketball Hall of Fame.
The class of 2020, headlined by the superstar trio of Kevin Garnett, Tim Duncan and the late Kobe Bryant, also included Eddie Sutton, Rudy Tomjanovich, Tamika Catchings, Kim Mulkey, Barbara Stevens and Patrick Baumann.
The enshrinement ceremony, which was postponed to 2021 because of the COVID-19 pandemic, also handed out media awards and recognitions throughout the weekend, but this enshrinement was unique for another reason, in particular.
Nav Bhatia, better known as the Raptors Superfan, became the first fan ever to be inducted into the Hall of Fame. Along with the honour, he also received his own custom ring.
I have absolutely no issues in making this a regular occurrence lol.

Honoured and humbled to receive this ring from @baronchampionshiprings and @hoophall

I wear this with immense pride and responsibility to carry on spreading the game I love. pic.twitter.com/FmisroHpII

- Nav Bhatia Superfan (@superfan_nav) May 17, 2021
"I started tearing up when I saw my championship turban," Superfan Nav Bhatia said while discussing the Hall of Fame weekend in an exclusive chat with NBA.com India.
"That's the turban I used during the Golden State run, the white turban with the red and here it was, installed forever in Hall of Fame along with a video being playing for 10 minutes showing my highlights on my basketball super fan life."
MORE: How Nav Bhatia became the NBA's biggest superfan
Given his beliefs, it's clear what the significance of his turban means in his life. Born in India, Bhatia moved to Canada in the early 1980s. However, the turban, along with its beliefs, remained with him.
I made a promise as a kid to my mom i would never remove my turban. Today it is in the Hall of Fame. Embrace what makes you different. It is your superpower. This is the crown I wear each day. Thank you mom. pic.twitter.com/s6cCjxbdhR

- Nav Bhatia Superfan (@superfan_nav) May 19, 2021
"Then, few feet you go away, it's Kobe Bryant's gallery," Bhatia continued.
"So, you know how crazy it could be, going in the same year and being honored in the same year as Kobe Bryant, Tim Duncan and Kevin Garnett. It's just crazy. It's unbelievable because fans don't have the right to dream to be in the Hall of Fame."
Bhatia earned his recognition of 'Superfan' for his loyalty, fandom and passion for the Raptors - the team he immediately purchased season tickets for when they were introduced in 1995 as an expansion franchise.
No conversation with Bhatia is complete without discussing his love for that team.
Toronto Raptors
The Raptors concluded the 2020-21 season with a 27-45 record, their worst since 2012. It snapped their seven-consecutive playoff appearances, which was the second-longest active streak in the NBA.
While the team was far from their best and sub-par by the standards they had set for themselves for the better part of the last decade, Bhatia has a theory that does have some truth to it.
"Our Raptors had to play in Tampa Bay," Bhatia began sharing his opinion. "They didn't play in front of their fans in Toronto and that affected them because [the] Raptors team feeds off the fans.
"COVID-19 (and health and safety protocols) stopped a lot of players to play. We had an epidemic with our team where a few times we only had six or seven players dressed up. So it affected us in a big way, but I'm hoping that the next season, which starts in October 2021, we are back in the arena in some shape or form."
Our home away from home. #WeTheNorth pic.twitter.com/23T9wjUtzv

- Toronto Raptors (@Raptors) December 15, 2020
As the 2020-21 NBA season approached, the 2019 champions were forced to relocate after they were denied permission to start their season at home in Toronto.
"The Raptors worked diligently with public health officials at the local, provincial and federal level to secure a plan that would permit us to play our 2020-21 season on home soil and on our home court at Scotiabank Arena. These conversations were productive, and we found strong support for the protocols we put forward. Ultimately, the current public health situation facing Canadians, combined with the urgent need to determine where we will play means that we will begin our 2020-21 season in Tampa, Florida," team president Masai Ujiri said in a statement confirming the franchise's temporary change in address.
The relocation snapped - or possibly only paused - Bhatia's streak of sitting courtside for every Raptors' home game.
"Well, like any other fan, I miss them, also because everybody knows that I go to every game," Bhatia said.
"So I did miss it, but COVID-19 pandemic is a killer, and I was offered to go to Tampa Bay to watch the game. But I decided not to take that chance. It's not good for the safety of the players and their family and it's not good for my safety."
India Games memories and his "Bucket List"
Although he moved to Canada nearly four decades ago, Bhatia still keeps close ties with India.
In 2019, he had visited the country twice. First, to promote the historic NBA India Games over the summer, and then to witness it courtside - the first-ever preseason games on Indian soil - later that October.
"It was an amazing experience I had in India," Bhatia reminisces about his trip. "I can't wait to come back again in 2023 or 2024 and be a part of another game."
Bhatia doesn't want the 2019 NBA India Games to just be a one-time event.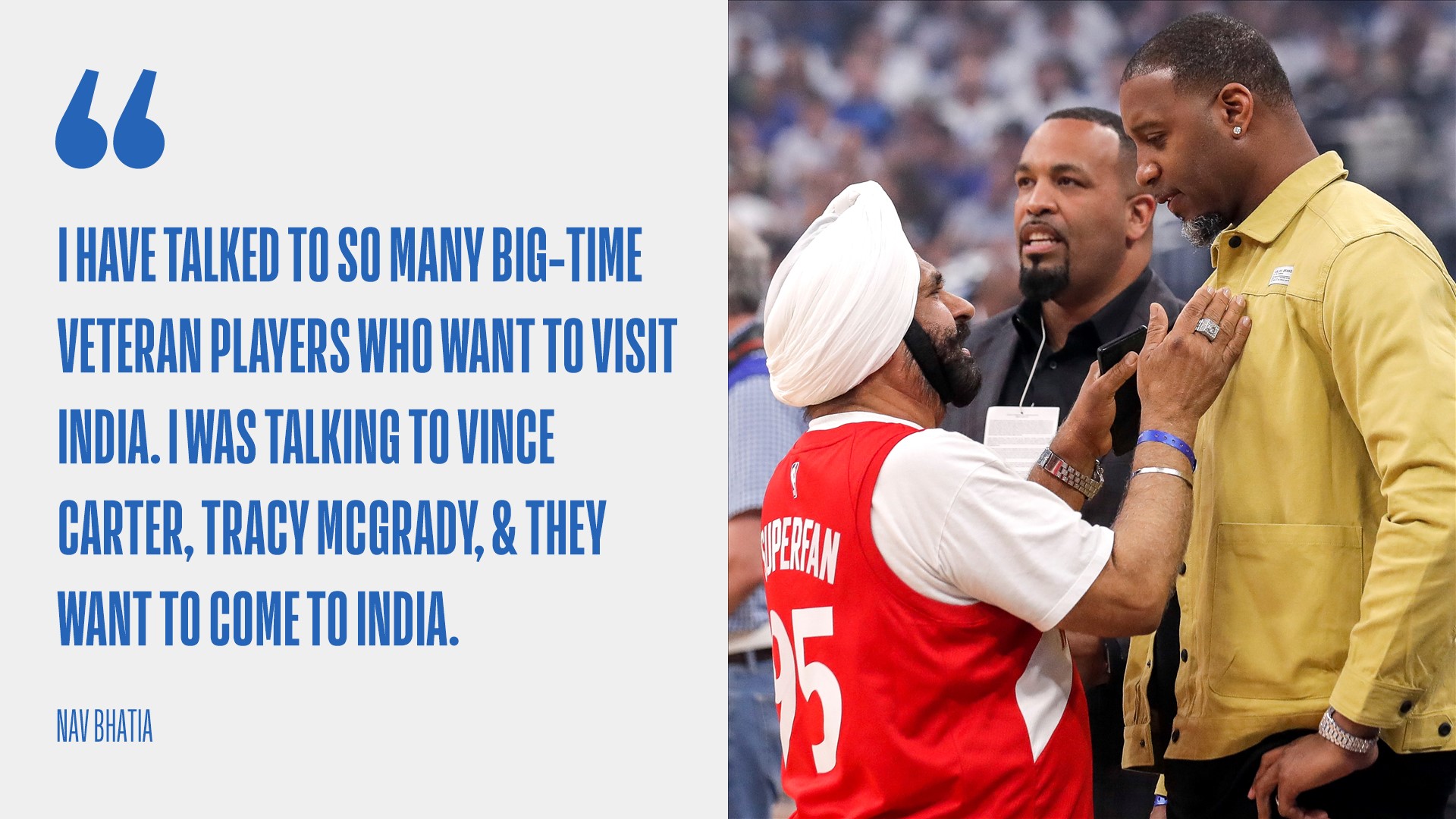 "I have talked to so many big-time veteran players who want to visit India. I was talking to Vince Carter, Tracy McGrady, and they want to come to India to visit there. And I'm telling you that, mark my words, very soon, God willingly, we will be there with some of the superstars to spread the word of basketball."
MORE: Lookback at Kevin Durant's trip to India in 2017
He calls basketball the best sport in the world and is keen for the standard of the sport to rise in his motherland.
"One day, my dream is to, from India, have a superstar and All-Star in the NBA," Bhatia said.
"That's (on) my bucket list. I want to have a guy of Indian origin, who is going to be an All-Star in the NBA and let me tell you, let me know whatever I can do in order to make that happen. I am there."
Superfan Foundation
Sports tends to bring people from different races, communities, religions, geographies and demographics together. Bhatia isn't just a product of that but it's also the message he believes in and continues to spread.
Through his Superfan Foundation, a non-profit that he started to achieve his goal of bringing communities together through the game of basketball, Bhatia is committed to building and resurfacing basketball courts in Canada with the first scheduled to come in Malton - a community where he first started his journey in Canada.
"We are building basketball courts here in the Malton, Toronto area, so that the kids don't waste the time on the drugs and energy in the groups and gangs. So they can go and play basketball and get displayed."
When the pandemic hit, his foundation stuck to his goal and adapted. Bhatia bought a food truck and served hot meals to the people on the frontlines.
"I started serving hot meals to the frontline nurses, doctors and police officers, firefighters and all those people. So I ended up, with God's grace, delivering 15,000 hot meals to the frontline workers during the pandemic.
Sticking with his goal, the Sikh has been making a change halfway across the way world in India as well, as an ambassador of World Vision.
Today on #NationalPhilanthropyDay we are so appreciative of our generous supporters, like @superfan_nav, whose partnership is helping more than 5,000 girls in India get an education - building washroom facilities so they can stay in school. More here https://t.co/nMU5PWm8cg pic.twitter.com/gvxeibS0f0

- World Vision Canada (@worldvisioncan) November 15, 2020
"We had built 135 washrooms through our foundation and World Vision in Faridkot, India," Bhatia shared. "Now, we are going to be starting another project in Alwar in Rajasthan, India where we are going to be donating half a million dollars for 200 washrooms."
Washrooms are of acute shortage in rural parts of North India and Bhatia seems to have not just found one of the right issues to solve in rural India, but is also addressing the matter from another hemisphere.
Clearly, there's more to the Raptors Superfan than his passion on the sidelines of his favourite team's games.
The views on this page do not necessarily reflect the views of the NBA or its clubs.