The name on everyone's lips, from visiting coaches to the small group of media-persons, to other young athletes invited to the camp, is Sanjana Ramesh. She's the model success story of the NBA India Academy's women's programme in Greater Noida. She's the player who turned cliché Instagram-motivational captions into exciting reality, who grabbed opportunity by the horns and took a life-altering basketball leap.
She's back here at the camp, back at the state-of-the-art basketball facilities at the Jaypee Greens Integrated Sports Complex in the suburbs of New Delhi. She's back to the NBA India Academy, which is holding their second-ever women's programme near the end of January, after the rousing success of the first one last summer. At six feet, she's one of the tallest women at this camp, towering over her colleagues, easily visible on and off the court. She speaks eloquently about her early influence on other women at the camp, gives advice about off-court logistics, and is vocal on the court. International and domestic coaches gush about her, and the other players watch her every move, hoping to follow in her footsteps.
Already, she has a great weight to bear on those thin shoulders, heftier than the opponents she has to box out when fighting for a rebound under the basket. She's a role model.
She's also only 17-years-old.
Sanjana Ramesh, MVP of #NBAAcademy India Women's Camp, is making India proud by becoming the second Indian-born player to play at NCAA D-1 basketball! pic.twitter.com/PCkmE5bP0V

- NBAIndia (@NBAIndia) November 15, 2018
The NBA in India launched their elite basketball Academy for a few dozen of the best young male players in the country nearly two years ago, with the aim to train and guide these top prospects to make the jump to the next basketball level. The Academy resides, trains, and educates these young men all year round, but last summer-for a brief week-long sojourn-they invited the top young female players, too, for a first-of-its-kind women's programme. These women, mostly 16-and-under, came from all across the country, chosen for their impressive accomplishments at the state and national level in youth competitions.
For most of these girls, the Academy courts were the best facilities they had ever played at, under some of the best coaching they had ever gotten, led by Hall of famer Jennifer Azzi, Blair Hardeik, and more. Once the ball was tipped up at midcourt, all the other distractions were left off the compound. It was time for hoops.
Ramesh, who is from Bengaluru, and Uttar Pradesh's Vaishnavi Yadav, rose above the rest of the competition last year to win the MVP awards. Then, a few days later, at the Basketball Without Borders Asia camp at the same location, Ramesh doubled up to win MVP among Asia's top players.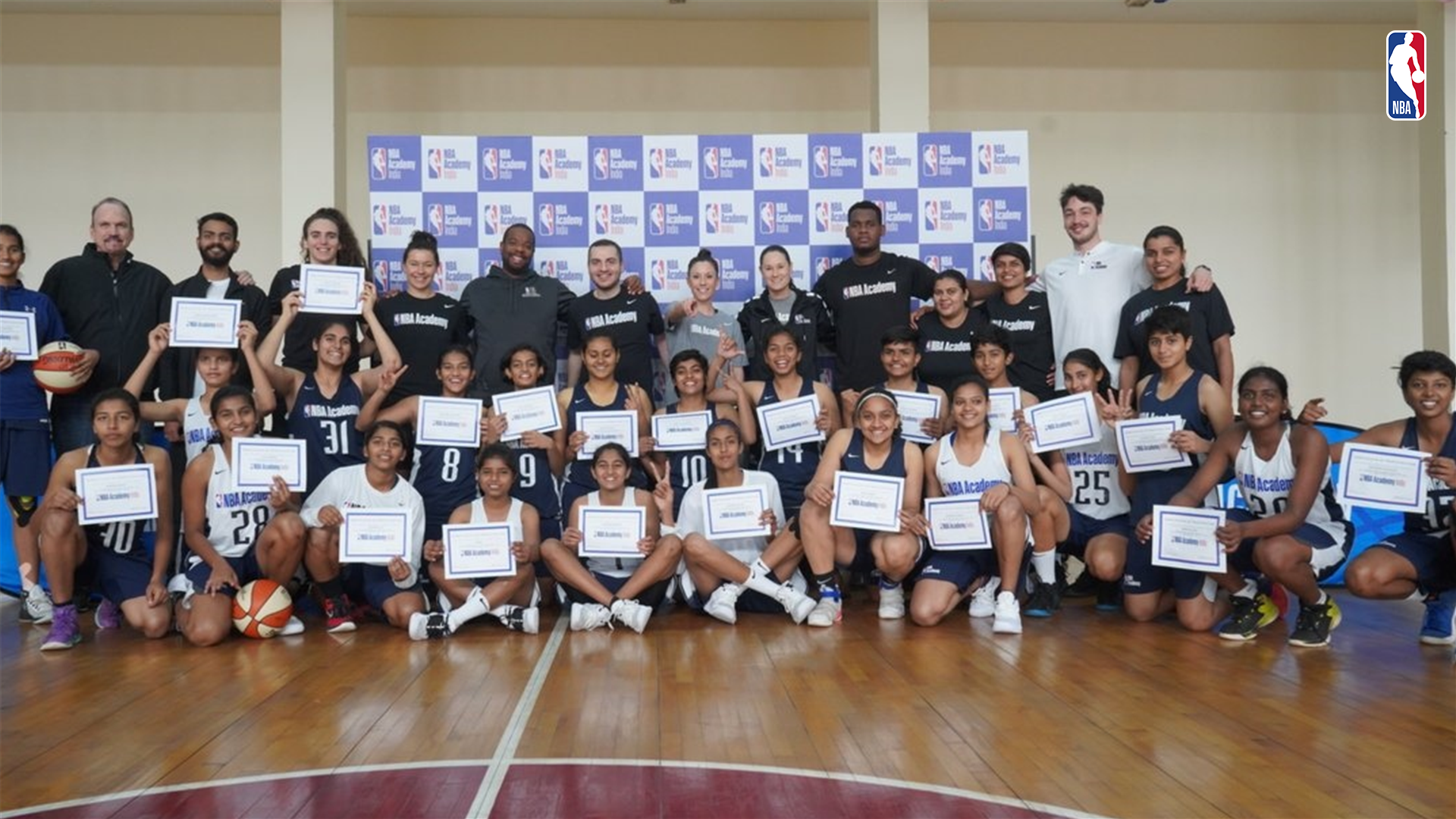 Ramesh had played for India's U16 team and briefly flirted with the senior team camp, but it was her exposure at the Women's academy that suddenly opened up new avenues for her. Just a few months after her camp performance, she received an offer from Northern Arizona University in the United States to join them on a full scholarship after she finishes Class 12th in India. This was a breakthrough offer, making Ramesh only the second Indian-after Kavita Akula at Grand Canyon University-to get a full NCAA Division 1 scholarship.
A flurry of attention from the media and adoration from the Indian basketball community followed. Ramesh had opened new doors for young Indian women, made it possible for them to believe in a future where basketball could provide them a quality American education and a possible career path in sport ahead. So, when the second programme tipped off in January, the coaches turned to her for advice, and the players, for inspiration.
"It's important to spread awareness about this opportunity," Ramesh said, regarding the Women's programme. "The NBA Academy is not the only way you can go to NCAA. They're just teaching you the ways. You can be at home now, and sign into this website, and contact colleges yourself, and you can aim for an NCAA division 1."
"I'm helping as many people as I can. This year, almost all the girls have already registered for the NCAA, and a handful of them are looking really good… I'm pretty sure we'll have 10-20 [Indians] in next year's NCAA!"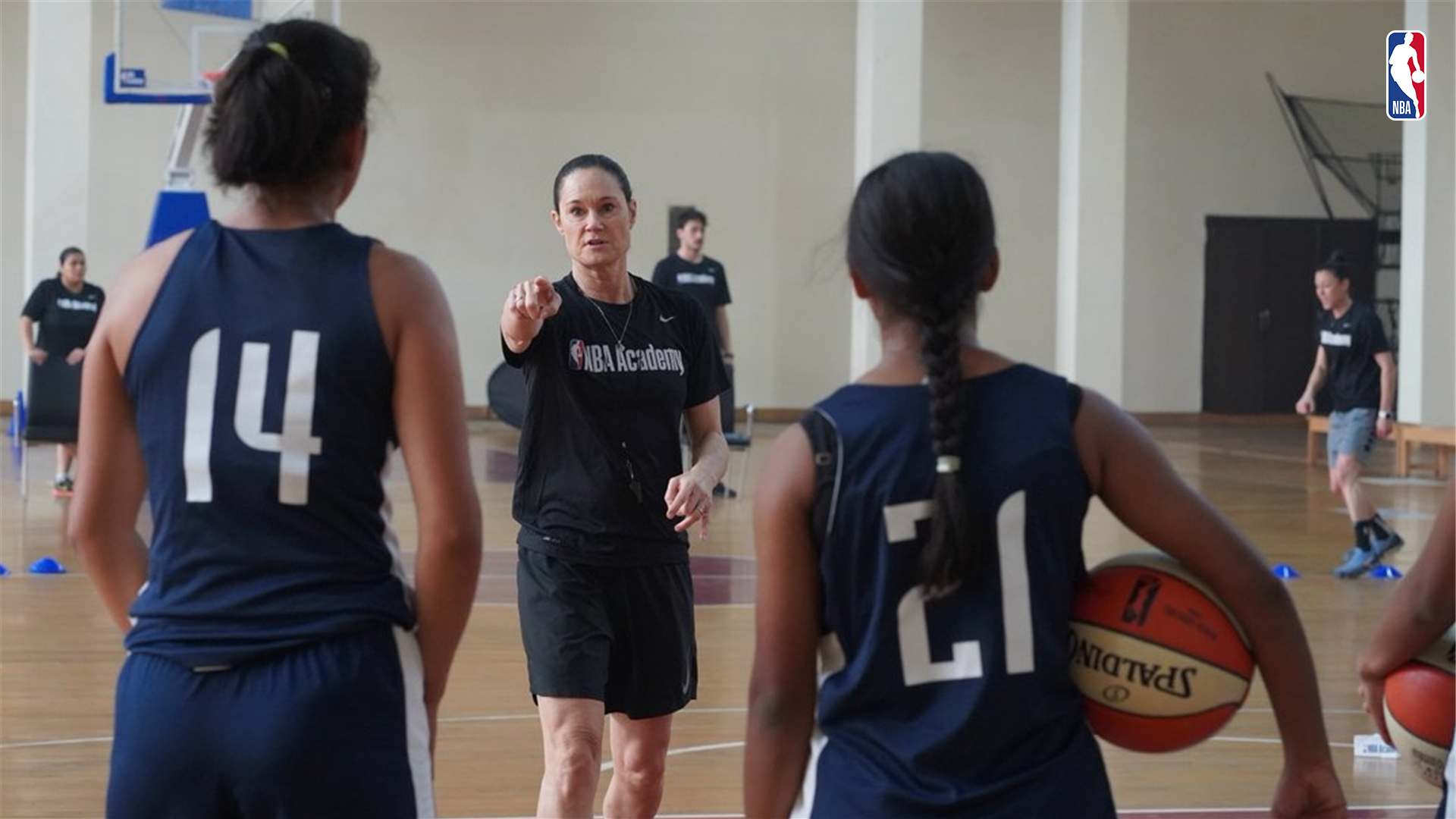 "To see a player like Sanjana Ramesh get a scholarship to play in a top university in the United States-it's a pretty huge success," said Jennifer Azzi, the head coach at the programme and a global technical director for women's programming across all of the NBA's seven academies across the world. "If players in India want that as a potential, that is great. If they wanna stay in India, that's fantastic as well. It's truly just about elite development and growing the game."
Azzi, a Basketball Hall of Famer who has enjoyed a glittering career in college basketball, professional hoops in Europe, the WNBA, and back to college as a head coach, made her return to India after last year's programme. She and other coaches at the programme have been able to find specific strengths that the young Indians come armed with even before they step on to the Academy floor.
"If anything, it's the mindset and coachability," Azzi added. "To get good at basketball, you get out of it what you put into it. Look at a player like Steph Curry in the NBA, not the biggest or the best athlete, but he put the time in. So, dealing with young women here in India, I think the sky's the limit because they're willing to work and willing to learn."
Vanja Cernivec, one of NBA's basketball operations coaches who has experience in the league's Europe/Middle East/East Africa regions as well as the international Basketball Without Borders programmes, sees a similar "coachability" advantage among the Indian players.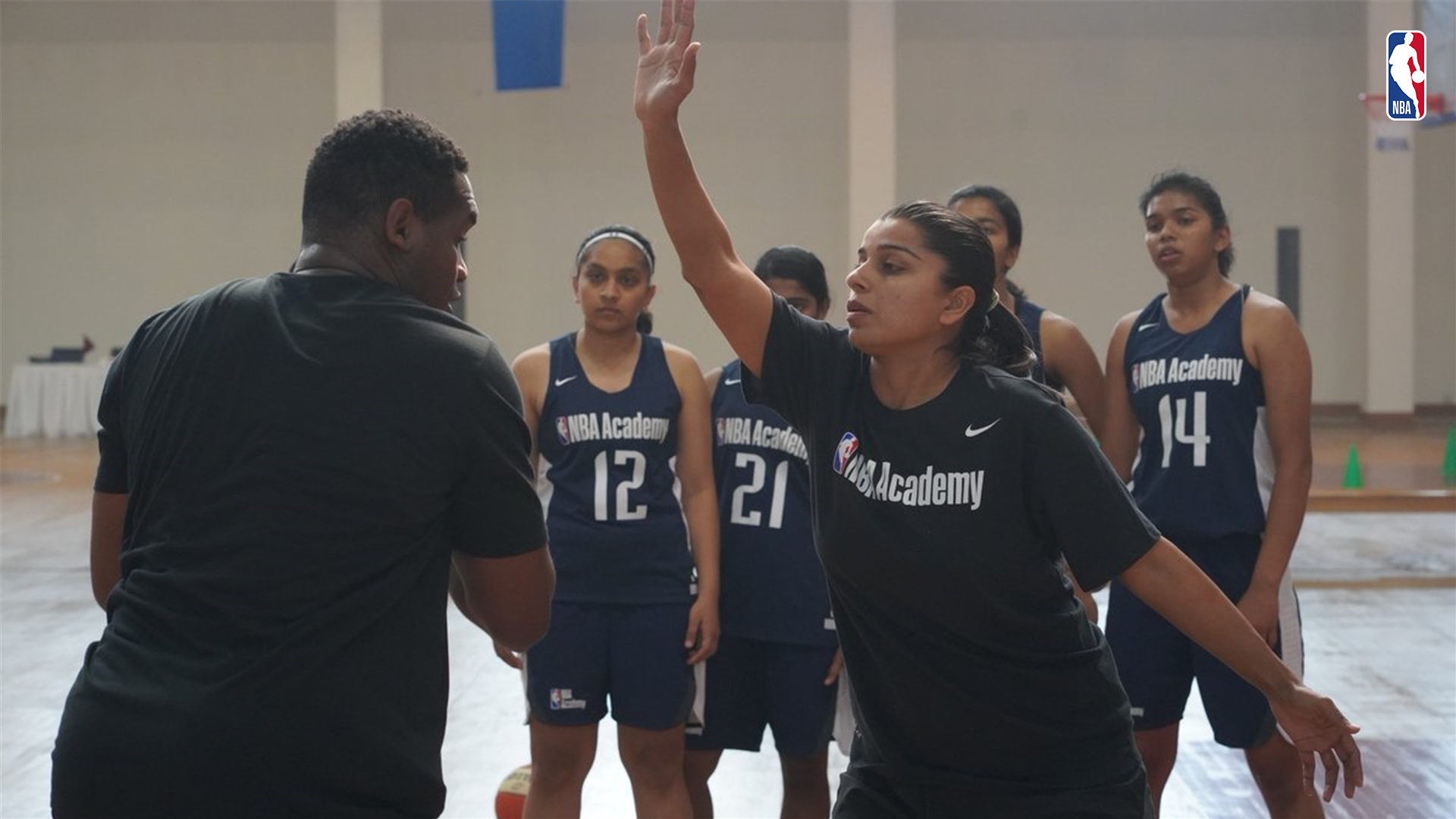 "What I've noticed here is that the girls are super attentive," Cernivec said. "They listen. You only need to tell them once and they get it. Even if their English might not be perfect, all their attention is focused. It's amazing for the coaches."
Apart from Ramesh and Yadav, both of whom were invited back for the second year, there were a host of newcomers from around the country that piqued everyone's attention from day one. These included Punjab's six-footer Gursimran Kaur, who had the rare combination of size and skills, Bengaluru's point guard Grishma Niranjan, Kerala's frontcourt players Ann Mary Zacariah and Sreekala Rani, and Maharashtra's guard Khushi Dongre. At the end of the four-day camp, many of these names lived up to their promise: Kaur was declared the programme's "best defender" this year, Zacariah the Most Improved Player, Dongre won the Coaches award and Maharashtra's Siya Deodhar the "best teammate" honour.
The top accolade of the camp, however, was saved for the most valuable player Niranjan, who secured that, after Ramesh, the MVP trophy stayed among the Bengalurians.
Niranjan was the "Best Shooter" of last year's programme and had played for India's U16 team at the 2017 FIBA Asia U16 Championship for Women. She was only a backup in that tournament, playing bit minutes while gaining experience. Two years later, she has fully exploded as a young force to be reckoned with in Indian women's basketball.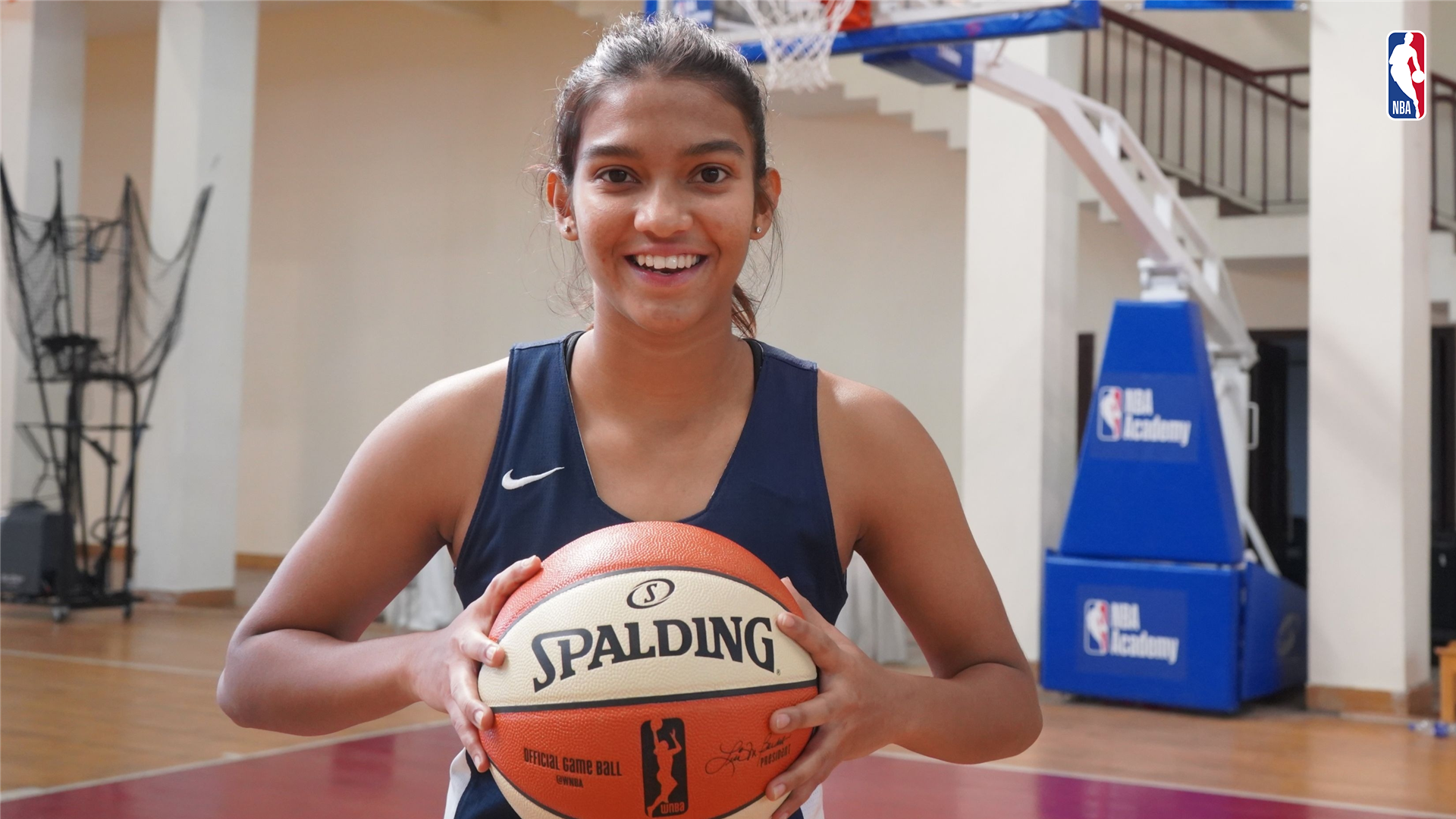 Niranjan (17), has known Ramesh for the past few years and says that the two have been by each other's side pushing for the same goals-whether its playing for the country or going abroad. Like Ramesh, she also hopes to use the women's programme success for greater things ahead.
"I have to write my SAT exam now, and then submit my game-tape to coaches," said Niranjan after bagging the second camp's MVP award. "Next year, I hope to play in the States."
"These camps change the perspective of the players, how we see the game, and how we should practice. The coaches were different here: they push you to the limit and make sure each and every player is improving."
Unlike a lot of other sports, basketball has been better at gender-neutrality in India, and the domestic federation has attempted to provide equal resources to both. But in terms of professional opportunities, women in Indian basketball have lagged behind: leagues like the former UBA, 3BL, and Mizoram Super League haven't yet women's tournaments, and only a few domestic units (like Railways, MTNL) recruit women basketball players for jobs, unlike dozens in the men's division. Women play in fewer domestic and foreign events than the others, and very few of them are able to afford a long-term career in basketball.
Even the NBA Academy, so far, has been primarily focused on the men, most of whom practiced besides the women invited for the camp last week. Many of these male players have gone on to represent the country, play in NBA Academies abroad, as well as get a run at international tournaments for scouts in higher leagues around the world.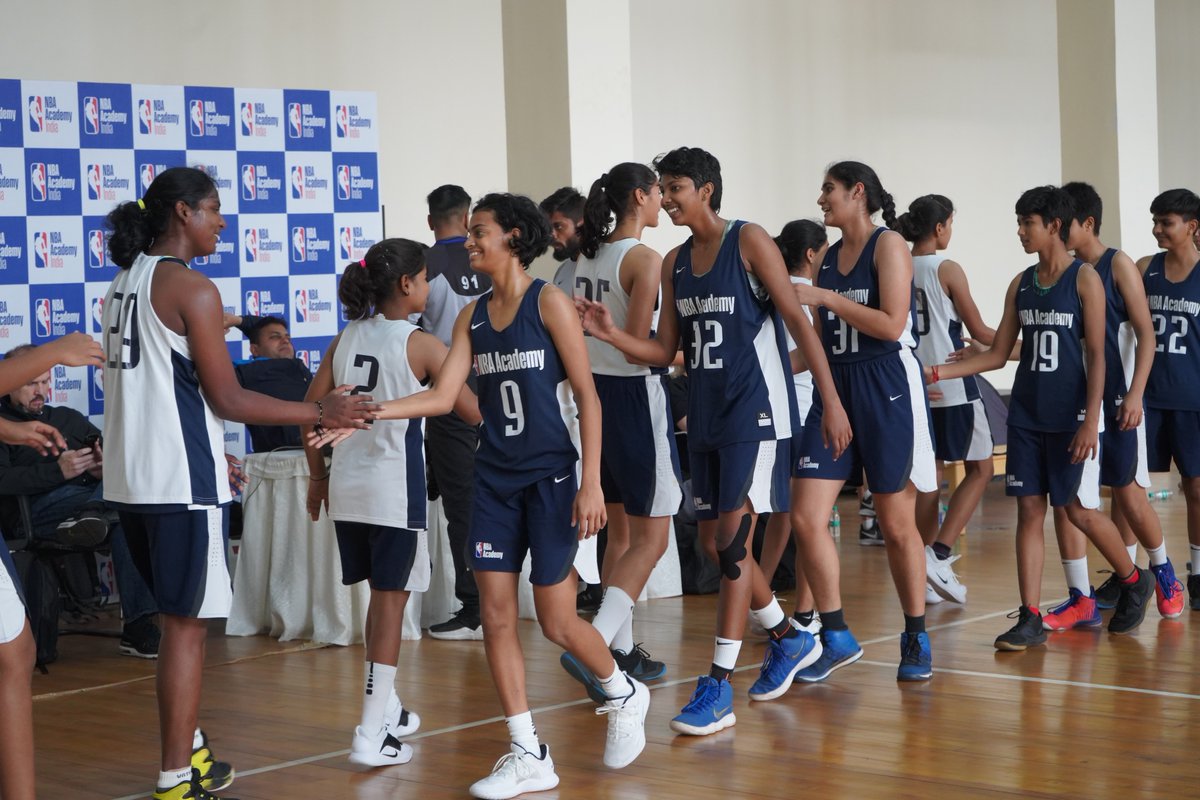 While the many of these young men-such as Punjab's Princepal Singh-have garnered attention for their rising stock, Ramesh and company hope that the tide can turn to shift some of the spotlight towards the women, too.
"Both are equal," said Ramesh, regarding the status of men and women in Indian basketball. "Sadly, in India, one is given more advantage than the other. But in recent years, we have been able to show that women can achieve something at the international level."
One of the most familiar faces at the women's programme is of Scott Flemming, the American who formerly coached India's men's senior team and then returned to the country as the Senior Director of Basketball Operations for NBA India. He has overseen all of the NBA Academies programmes and much of the NBA's grassroots push in India. At the women's programme, he believed that the camp returned stronger and more focused after the lessons from last year.
"We wanna give these women an opportunity to train with the NBA's coaches," said Flemming. "And this is a springboard to give them opportunities to play beyond. Everything we do is to promote basketball one and promote the NBA second. I could see many girls coming out of this camp and getting that opportunity to play college ball in the US."
More: 19 things to watch out for in Indian Basketball in 2019
"Another goal of [the programme] is to make them better for their state and national teams," Flemming added. "It's only a week, but they're getting a lot of good instructions that they could take home and use on their own. Everything that the NBA does I hope can help Indian basketball, and to help the BFI [Basketball Federation of India] to have strong teams."
The ultimate goal for any such endeavour is two-fold: personal glory and national pride. The top performers at the Academy will ideally be aiming for both, to use basketball to further their careers and to help India improve their own status in the game.
"I want to go to the States and improve my game," said Niranjan. "And then I hope to come back-if they call me-if there's anything I can do to help basketball in India, I would love to."
"It was impressive to all of us to see the talent that potential that is in India," said Azzi. "I think, being able to expose young girls and boys at a young and earlier age, the potential is limitless!"