In this edition of NBA India All-Access, we welcome Blair Hardiek.
Blair Hardiek is currently the Global Technical Director of the NBA Academy Women's Program. Joining the program in early 2017, she has nearly a decade's worth of experience in coaching at the collegiate level in the United States - Intern at Stanford Women's Basketball (2007-08), Assistant Women's Basketball Coach at San Francisco State University (2009-10), Associate Head Women's Basketball Coach at University of San Francisco (2010-16).
As her title suggests, Hardiek has been a key member of the previous NBA Academy Women's camp organised in India - May 2018 and January 2019 - both of which were organised at the NBA Academy India premises - Jaypee Greens Integrated Sports Complex in Delhi National Capital Region (NCR).
She was in Mumbai last week during the week of first-ever NBA India Games for the third NBA Academy India Women's Camp.
This camp was hosted by Jenniffer Azzi, Hardiek and other coaches which included WNBA legend Ebony Hoffman. It brought together 18 of the best female prospects from around the country to the American School of Bombay.
At the end of the camp, coach Hardiek took out some time to speak to NBA.com/India. Here's how the conversation went:
Yash Matange: This was the third NBA Academy Women's Camp in India and you have been there for all. You also have nearly a decade's worth of experience of coaching at college in the United States. As the coaches that come down here for the camp, where do you believe you help these promising student-athletes the most?
Blair Hardiek: Well, a big success story of the NBA Academy Women's program is that we have five players from India in the United States whether that's prep school, junior college or Division I. It's amazing to see them come through camp and if they have dreams to come to the United States, I definitely want to help them achieve their goals.
It's already a great thing that people in India value education. So, they are already a step ahead but with the NBA Academy, we want them to know we are not here just to teach them basketball. We are here to create a pathway to the United States for college basketball and the WNBA.
YM: We spoke to Sanjana Ramesh and Vaishnavi Yadav earlier this year. Both mentioned you educating them on the entire SAT process playing a key role in them landing admissions in the United States. How often do these student-athletes contact you after the camp for any type of guidance?
BH: So, every camp we do what's called a "Pathway to the NCAA and WNBA" presentation. It lays out every step you need to take in order to be a qualifier. After camp ends, right away, I'm getting Whatsapp messages, emails, Instagram messages, you name it. They [the student-athletes] are very proactive.
I've actually developed a great relationship with those players after camp through the process of getting them situated with the NCAA. Beyond that now, even though Sanjana is in a great place at NAU, I would call her my friend because she is someone I check in with quite a bit just to see how her day was and how she's doing.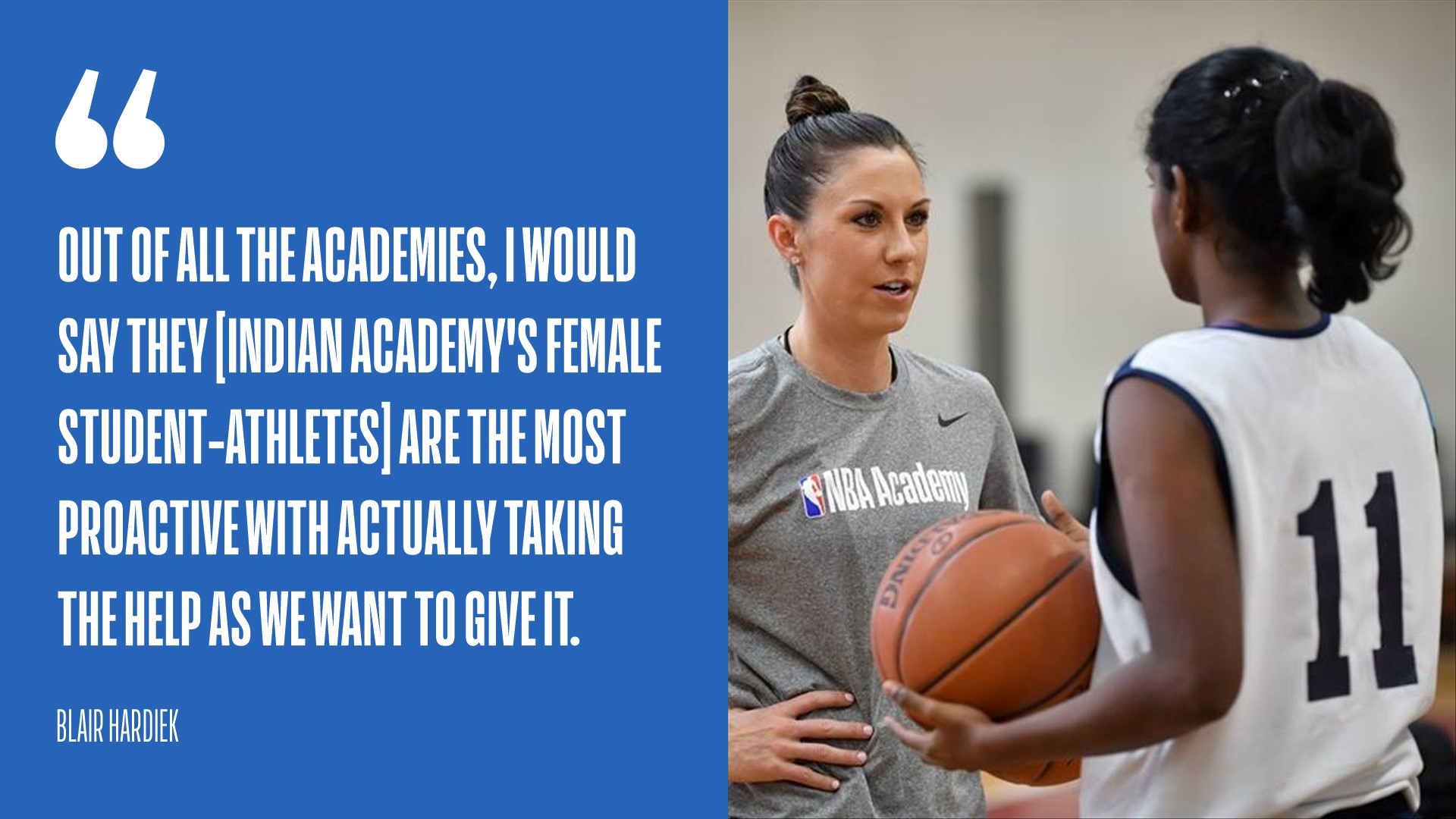 One thing I've noticed too is that now even though I'm not their coach here at the NBA Academy, that I'm their mentor for any questions that they might have in regard to excelling at the next level.
YM: Do you think that's what these student-athletes look for in yourself and the rest of the coaching staff at these camps - someone who knows what they are talking to provide them with guidance, someone to encourage them to work on their craft?
BH: I think so. I think our job as coaches here at the NBA Academy is to be motivators and it's to help them achieve their dreams. So, one thing I love is that even though our camp is only 4-5 days that the actual relationship is deepened off the court.
One thing I love as well is that they feel so comfortable with us as coaches to reach out. So many times as players, you are fearful of having the coaches actually help you but that's our job and I think as a coach, that's one of the most fulfilling things you can do is help someone get to whatever is the next level they want to be at.
YM: You've had these Women's camps across various countries for various regions. You think, as Indians, they are initially hesitant or shy or nothing like that?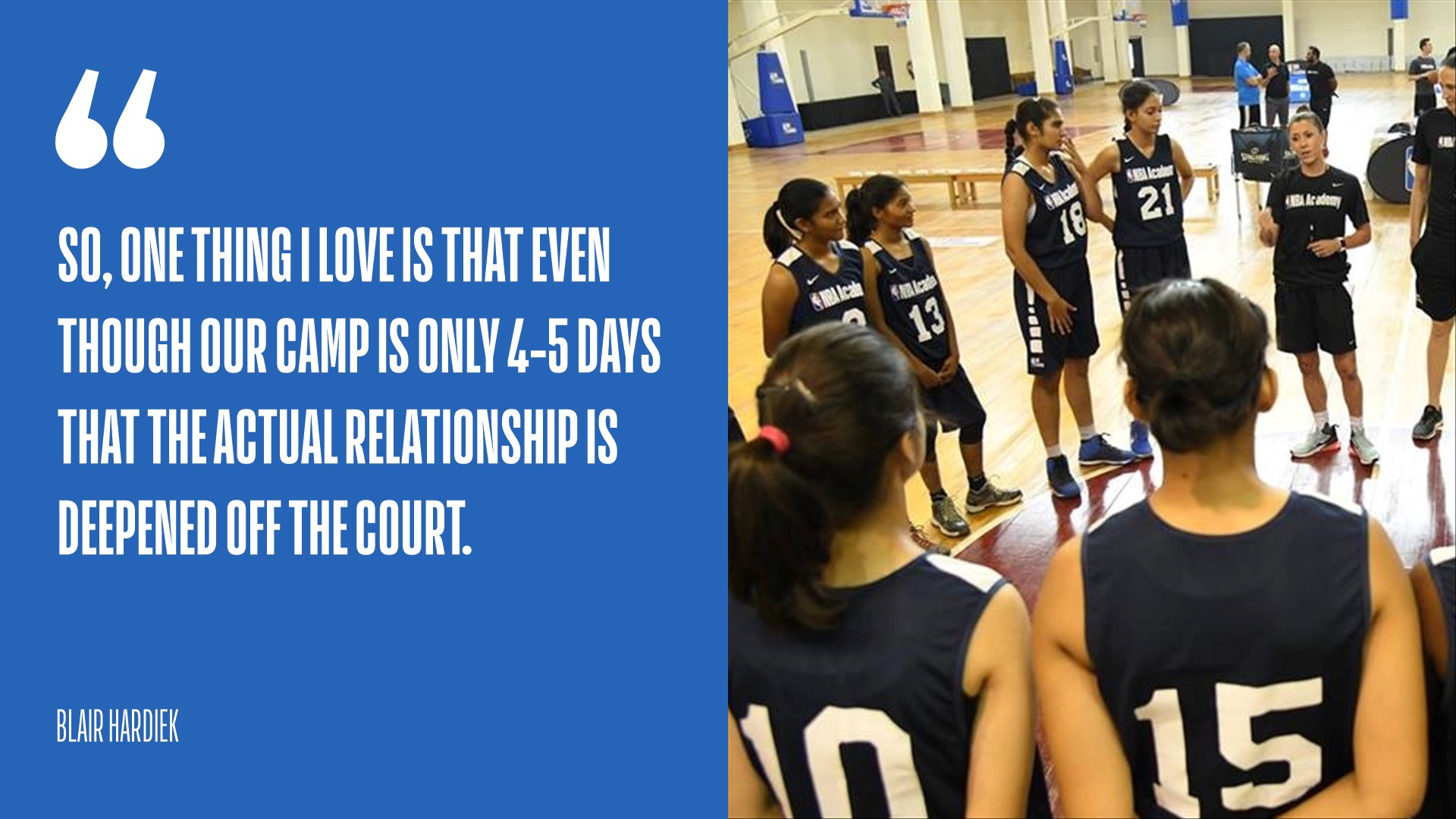 BH: I think culturally, the players that are here, I have noticed are a tad bit shy but once they see that all the coaches here are very open to helping, like I said, they value education and they are smart, so they take full advantage.
Out of all the Academies, I would say they are the most proactive with actually taking the help as we want to give it.
YM: All the three camps in India so far have been 4-5 day camps. How do you generally break down the schedule to include everything you want to teach?
BH: That's a great question. So, now that we have had continuity with the same staff coming into the camps, one thing we try to do is base the schedule around the needs of the region. So, in India, I would say physicality is something we need to address.
It's very different. So, in each region, each camp has strengths and weaknesses, and now that I know India better, I can tailor my camp schedule to the needs of the region. Like here in India, we really need to focus on strength and conditioning, we need to get stronger because when they play at the next level, players are faster and stronger.
So, strength is one thing and also I would say, change in direction and change in speed. I really tailor the schedules to help improve the weaknesses.
YM: From these kids here [kids assembled for the Crossover Academy's Hoops for Hope camp] to the student-athletes at the Academy to the NBA India Games being played in front of 3,000 boys and girls from more than 70 schools under the Reliance Foundation Jr. NBA program. Do you think all of these events happening in the same city during the same week is ultimately helping the youth of this country embrace basketball, embrace sports more?
BH: Even if you have a love for the game, once you see other people and you have really good role modeling, it's in you to then be like them, learn from them. That's one thing I love about our players is that they know the WNBA and they know the NBA.
Now, that they have seen it, the excitement that they should have for the game should be like never before.