The NBA is quick to celebrate two primary categories of accomplishments, those that have the most (most points, rebounds, assists, etc.) and those that are the first to accomplish a feat. India may not have as many resources for basketball as other countries but it recently invested in a program that should lay a foundation for generations to come.
In April 2017, the NBA Basketball School was launched in Mumbai, India as part of a multiyear agreement with India On Track.
Congratulations to all three NBA Basketball School, Ramagya School, Noida students who were awarded as #PlayerOfTheMonth for the month of December.#LearnToPlayTheNBAWay #YoungBallers 🏀⛹‍♀⛹‍♂ pic.twitter.com/c2GKRGkGhW

- India On Track (@IndiaOnTrack) January 3, 2019
The programs are designed to provide children ranging in ages 6-18 with an opportunity to learn the nuances of the game of basketball. There are now 26 centers for the NBA Basketball School across India and over 10,000 students have participated in some capacity.
The schools don't require students to stay overnight at the academy, instead, there are sessions that take place at training facilities and tend to last about an hour. The NBA Basketball School aims to have one coach for every fifteen students in an atmosphere designed to develop technical skills and focus on holistic growth.
Sometimes the coaches have a little extra star power, take for example Kevin Durant who led a group of eager students through some drills and exercises. The NBA Basketball School was ecstatic to have him as he stressed basic fundamentals and motivated students to work hard on the basics.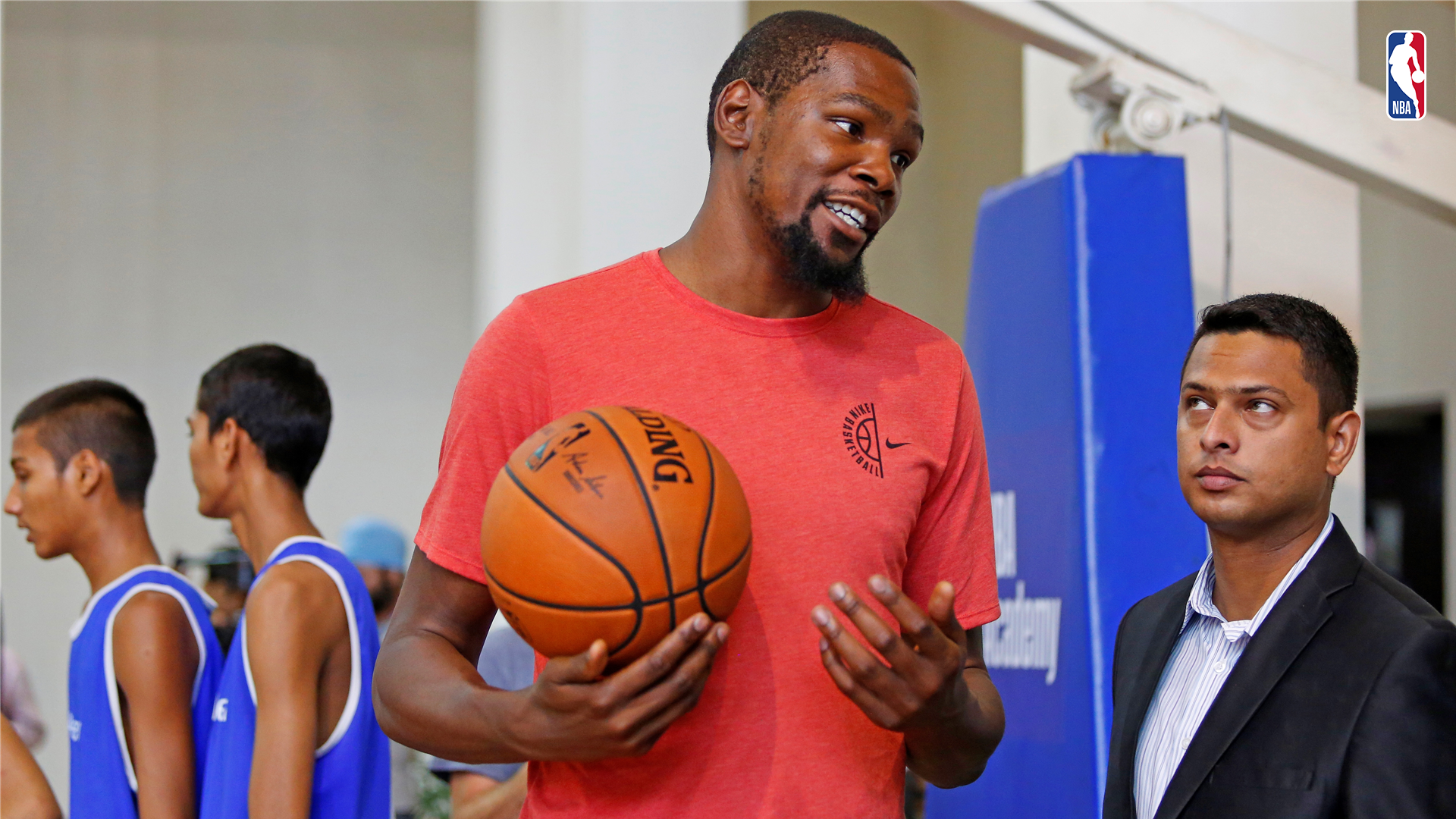 Durant is not the only star to take an interest in India's youth, just recently Dwyane Wade spent some time with India's NBA Academy prospects after a game in Madison Square Garden.
The excitement for the NBA's youth is only building as the upcoming preseason includes NBA games scheduled to take place in India. Directors at the NBA Basketball School anticipate these games could be the "sing[le] biggest basketball event in the country's history." Many children already follow the stars of the game, Steph Curry, James Harden, Russell Westbrook, and of course LeBron James. This dedication to the game is only likely to grow as Indian players such as Satnam Singh, Amjyot Singh, and Sim Bhullar begin to make a name for themselves in the league.
The schools may have a slight majority of males but there are certainly resources for females as well. The recent emergence of Sanjana Ramesh who signed with Northern Arizona University will only bolster the popularity of the game.
Sanjana Ramesh, MVP of #NBAAcademy India Women's Camp, is making India proud by becoming the second Indian-born player to play at NCAA D-1 basketball! pic.twitter.com/PCkmE5bP0V

- NBAIndia (@NBAIndia) November 15, 2018
Those that want to participate in the school or inquire about more information can contact the closest school and find that information here.