The Los Angeles Lakers are among the oldest teams in the league and through all of those years, they've built an impeccable record.
Every decade of the league, they've reached at least one Finals. Their 17 championships - including the most recent 2020 title - are all well spaced out in decades.
They have five each in between 1949-54, the 1980s, and 2000s - something that's helped them build their rich legacy and expand their fan base globally.
There are plenty of Laker fans in India including some celebrities from different walks of life and all of them took to social media to celebrate as their favourite team was crowned champions yet again:
Abhishek Bachchan
Abhishek Bachchan has a history with the NBA in India. Back in 2014, he was present at the launch of NBA's first online store in India with Jabong. He was present in a Lakers jersey with the custom number '1'. The following year, at the 2015 NBA All-Star Weekend in New York, he became the first Indian to feature in the Celebrity All-Star Game.
A few years later, when Kevin Durant came to India, Bachchan hosted a reception for the then reigning Finals MVP in New Delhi. A Laker and NBA fan, Bachchan has been quite active tweeting in reaction to the 2020 playoffs being played in the bubble near Orlando.
So, when Los Angeles finally clinched the title, he couldn't contain his excitement:
Shreyas Iyer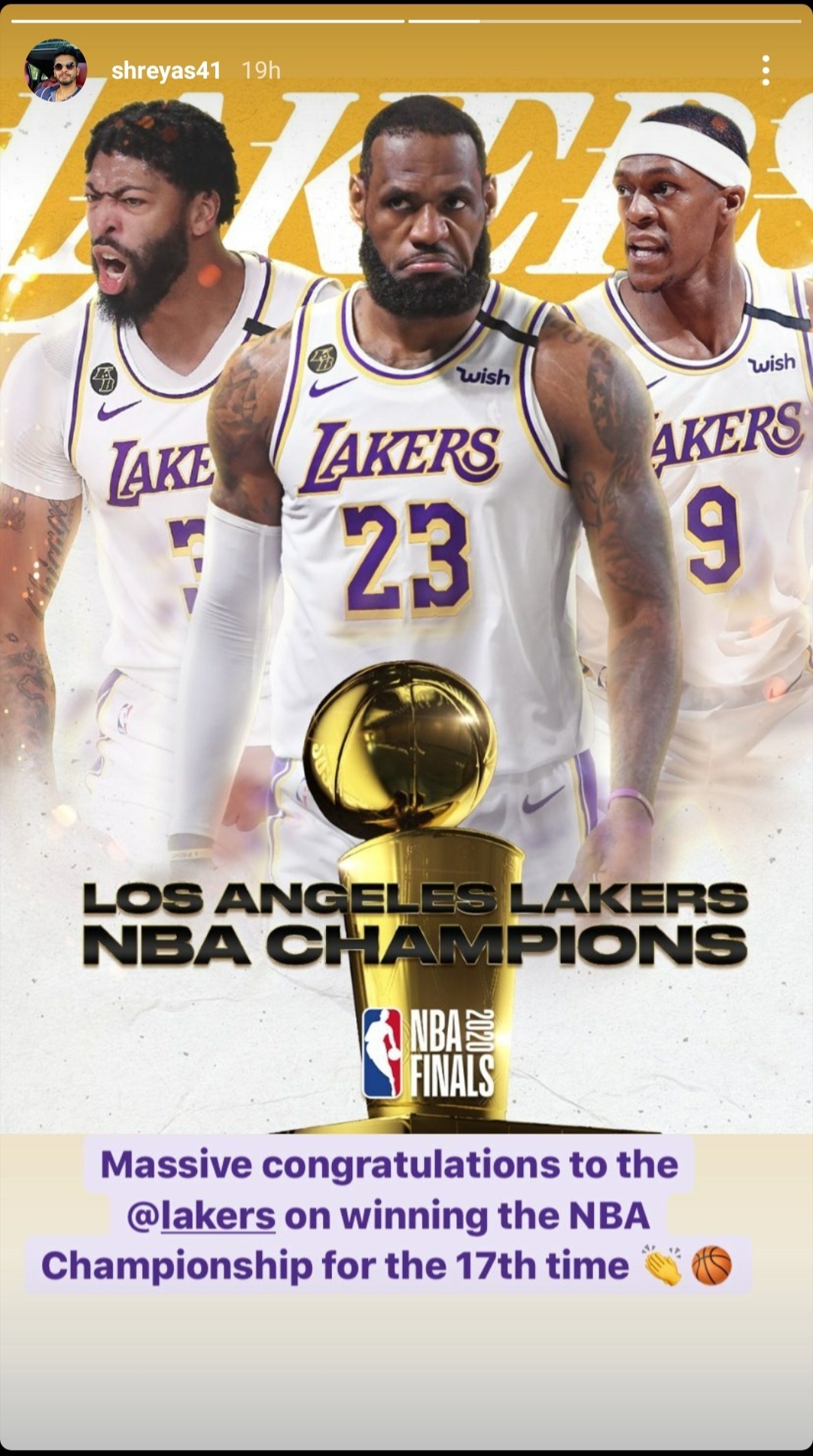 Shreyas Iyer, a regular fixture in India's senior national cricket team especially in the limited overs format - recently took in the NBA experience at the All-Star Weekend in Chicago back in February.
Mayank Agarwal
Another Laker fan is Mayank Agarwal - a regular fixture in India's senior national cricket team, especially in Tests format.
Currently, playing in the Indian Premier League bubble in the Middle East, he does mention in his post that he had predicted a Lakers championship back at the start of the season.
Varun Sood
Varun Sood - an athlete, VJ, and athlete who has worked with the league in the past to promote basketball in India - celebrates in the Lakers' championships t-shirt.
Joy Bhattacharjya
Joy Bhattacharjya, a quizmaster, has worked in sports for decades. Similar to Jr. Bachchan, he has been quite active on Twitter reacting to the 2020 postseason.
And the LA Lakers win their 17th NBA title. This one for the Mamba! pic.twitter.com/lTVBrhhPv6

- Joy Bhattacharjya (@joybhattacharj) October 12, 2020
The views on this page do not necessarily represent the views of the NBA or its clubs.