In this episode of NBA India All-Access, we welcome Harsimran Kaur.
Recently turned 17, Kaur is a rising sensation in the Indian women's basketball division. In fact, given the recognition and accolades she has received in 2019 and the early part of 2020, a legitimate argument could be made that among all NBA Academy India student-athletes (boys and girls), she has been the top performer since January of 2019.
In 2019, Basketball took the teenager to multiple countries including the United States, Malaysia, Australia, and Japan. Not to mention the fact that she has already made her senior national team debut and came back from that tournament with a gold medal
In an interview with Yash Matange for NBA.com/India, Kaur talks about these incredible past 18 months (Jan. 2019 - June 2020) in her life with memories from each basketball development camp around the world, what's the time at home been like during the Coronavirus-forced lockdown, her role model and more.
Here's how the conversation went:
NBA.com: How have you dealt with the lockdown not just physically to stay in shape but also mentally needing to stay at home in order to follow the norms of social distancing?
Harsimran Kaur: Over the last year [2019], I had practiced at the NBA Academy in India and the NBA Global Academy [in Australia]. So, whatever I have learned from those trips, I'm applying and putting in extra work, so I can do it better.
Sometimes, I work out with Papa [father] as well.
NBA.com: Basketball has taken you to multiple countries and you have traveled around the world for a majority of 2019. How difficult and different was it to stay at home for so long or was it good to be able to spend time with family?
Kaur: Honestly, it was difficult in the beginning. Between January and February of 2020, I was traveling across multiple competitions from Chicago to Australia and even the Khelo India Games.
I had returned from Australia on 3rd March and a few weeks later this lockdown began. Initially, I thought the lockdown would be for just a week because I wasn't aware of how serious this would become. I made up my mind to rest that week since I had participated in competitions from the beginning of the year.
No work, no studies, no nothing, just rest for that week.
When things got worse and the lockdown was extended, I started making a schedule, my timetable, my weekly goals. So, from the second week, I started working on that schedule from working on my studies to strengthening myself.
This time, I am putting more focus on strengthening myself because when we are in tournaments, we don't get the time to work on ourselves. Whether that's meditation, confidence or practice, the regular play doesn't allow that. What we do receive from regular play is experience, whether that's in India or outside.
So, from the last two years, I didn't have time like this to work on myself because I have been traveling. These weeks under lockdown has also given me a new perspective on things because now, I'm getting to spend time with my parents and both were athletes, so I asked them about their good days, bad days, challenges, experiences, memories, best moments.
And it was really good listening to them. They know better than us.
MORE: Harsimran Kaur's relationship with her father - Dangal on the courts
And secondly, I got to spend a lot of time with my sister, cousins, and friends which I wasn't able to as much in the past few years. Thirdly, when you go to competitions or the camps, there is somebody always watching you. Somebody looking at you and possibly taking inspiration but at home, I've not felt that. I'm doing everything on my own terms and I'm not being too hard on myself. I'm taking things slow.
This pandemic has given me a free mind with respect to what I want to do, what do I want to focus more on, what are things to be done, meditation, working on my weak points to get better and stronger.
NBA.com: As we list the events from the past 18 months, share with us your fond memories from that specific camp or trip.
Kaur: That was my first camp at the NBA Academy India.
I began playing basketball at the age of 12 but you can say that with this camp, I began growing up when it comes to playing basketball. That was the only point in my life, so far, it gave me a reason to grow more.
That's where I learned about the NBA Academy India, it's opportunities, the WNBA, the NCAA, and Division 1 colleges.
Kaur: That was my first international event.
Everybody aims to represent their country but this was something more than that. At this event, we weren't just representing our country, we were showing them that our country is one of the best in the world in basketball.
If I'm not wrong, there were about 35 girls and some were African while some were from another part of the world. The practices and tournaments were great, we went to experience a few games as well but the best part was that the staff treated everybody as equals.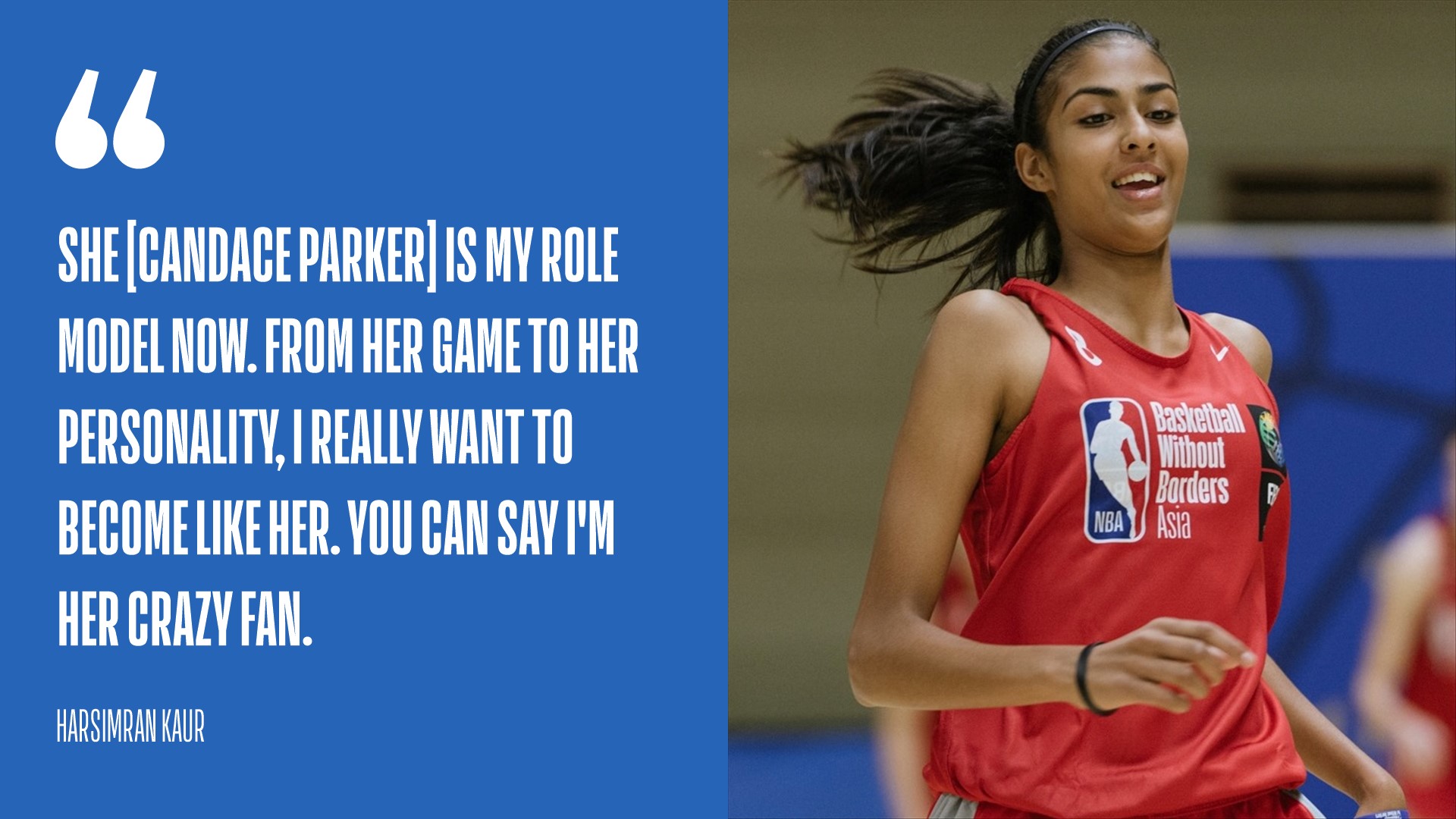 The coaches there, made us interact with each other by taking us to the beach, the tournament, the best spots in Florida because interaction isn't just about sharing the same court, it should be something off the court as well. I ended up making a really good friend there who was from Africa.
The experience was great and I'm really thankful to all the coaches for taking us on those trips and helping us interact so that we all got talking and now, we are all attached to each other. So, that felt good that a player from another country knows you.
Kaur: Each event has something attached to it, so I do remember this one as well.
When I came to Noida for the NBA Academy India Women's Camp, one had already done, so I looked at the awardees list from that camp and I began thinking that I wanted to win an award too. Then, I received the Defense Award at the camp, so, that's what made the coaches believe that I could represent India at the Next Generation Camp. I think we were four girls from India.
There, during the games and in 5-on-5 scrimmages, I was the only Indian who received a chance to play in the first 5. With me, there were girls from Canada and New Zealand. I'm not saying this to praise myself but just trying to tell you how I felt my game had improved.
This camp in Tokyo was my first BWB event. In this camp, I felt my game had improved from all the work at home and experiences from the previous camps. Honestly, the experience in all camps was great but I really want to share something different for each.
In the beginning, everybody feels that they won't be able to do it and every sportsperson feels that way. Tokyo gave me a platform that helped me understand the talent I'm up against in Asia. We move forward step-by-step so, at this camp, I came to know the Asian girls.
How do Australia and New Zealand play? What are their strategies?
Each player comes from a different background and coaching. I came to know a lot of things from the different mentality of all those players. The coaches at the camp are also from different parts of the world, so their strategies are different. There were a few former WNBA players there too, who have a lot of great experience, they share something different.
Kaur: Before this, I represented India in Malaysia to play 3x3. The FIBA 3X3 U18 Asia Cup was the first time I played 3x3 and we qualified to be among the best eight countries in Asia. We finished seventh after losing to China in the quarterfinal.
So, when I came to Mumbai, I was hesitating a little bit because it was the first event since playing 3x3. When you play one format then your mindset tends to change completely. I went from 5-on-5 to 3x3 and then back to 5-on-5 in Mumbai, which is more important to me because that's what will get me a Division-1 scholarship.
I was really excited that I got a chance to be at the first-ever NBA India Games. All of India was going to watch this and we got the opportunity to be there. So, it was a weekly [NBA Academy India Women's] camp and I had set the goal to win the camp MVP award.
This might sound funny, but every morning, I used to get up and write on a notepad that I want to win MVP. So, show the coaches something today that will convince them that you are worthy of that recognition. I wrote the line on the notepad every morning and each night, I would try to analyse how I had performed that day - on and off the court.
Nobody knows this but that's something extra I did in Mumbai.
Transitioning from 3x3, the first day of the camp didn't go well at all. Then, you do tend to doubt yourself but after that first day, I did whatever it takes to be named MVP. I wanted to be an inspiration. There were a few juniors present at this camp and I was a senior in possibly my last camp. I don't know.
I had some stiff competition at the camp because it had 18 of the best girls from all over India. I was from Punjab but someone was from Kerala, someone else was from Maharashtra. So, they all have something but if you want something extra, you have to have something more than the rest.
I did get the MVP. That was my only weekly goal because there's a lot more to do in the future.
After the camp, meeting the NBA players, that feeling was ..... The best thing was that when they were going to click our pictures - boys, girls, and then the NBA players, I was just standing beside one of the NBA players and I was just like - what is this happening? where are you standing?
I still don't believe it.
Kaur: This was the first time I was moving to a different country for a long time, almost one month. So, first time, I was very nervous as to what will happen, how will it all go, how will my teammates be, how will I interact with them and the coaches. Regular tensions that come in the first time.
Actually, the environment there was very nice. What I was thinking was totally different from reality. Teammates were really nice because we used to hang out, usually go everywhere together and watch each other's games. Then, the coaches.
I used to get individual sessions with different coaches. They were working on every part of my game from point guard skills to working in the post. They just wanted me to be the all-rounder in the game. Actually, I've never played position wise. I never liked it.
I want to shoot, knock down 3-pointers, play point guard, rebound, putback, and everything. I just want to be the all-rounder and they were doing everything to make me that. I was sincere in the practices, we usually had weights at least thrice a week.
The facilities and hospitalities were really good. Off-the-court, the nutritionist and psychiatrist were good too. They were very caring and would ask 'Are you okay', it never felt like I was in another country.
It was really great. Practicing 3 to 7 in the evening, 3-4 individual sessions used to be in the morning then implementing that work into the practice with the team in the evening. Coaches would tell me - 'Honey, I want you to implement that on the court' - and I was able to do that.
I got another chance to go there in February of this year. Australia is one of the best countries I have been to so far.
Kaur: This was a global event at the All-Star Weekend, so it had another filtration of players. When I played in the NCAA Next Generation Showcase last year, it included the girls that wanted to play in the NCAA. but in Chicago, the camp had filtered the list down from the camp at Next Generation.
There were only 18 girls in Chicago from the 34 that were in Florida last year. They were plenty in the boys but I'm not sure, I don't know much about that.
I was, first-off, very excited that I got the chance to go to the All-Star Weekend. A chance to see players like LeBron James, James Harden, and Kawhi Leonard. I was like, seriously!
The weather, there, off-the-court, had so much snow. It was the first snow in my life. It was actually really cold.
Check out our very own Harsimran 'Honey' Kaur absolutely ace the 1st-ever NBA Global Scout @HomeCourtAI Challenge at #BWBGlobal with a score of 254 for #10 overall (Women's) 🇮🇳 pic.twitter.com/Fk6SIRplKI

- NBAIndia (@NBAIndia) March 6, 2020
The facilities there were really good. Everything there was arranged from when we would play, where we would play, and which game we were going to watch. And I had learned a lot from my previous camps, which allowed me to show my best. I was able to play as a point guard, as a forward, as a shooter, in the post, everything.
Nobody there was going to restrict you. They just want you to put your effort sincerely. I think, in India, the player who scores the most or rebounds the most is considered the best but there, the player who is putting the most effort to perform the best on the court is their star.
It doesn't matter if you are scoring, rebounding, stealing the ball. You just have to show them your hard work.
Kaur: Everybody in this country wants those five letters on their chest - INDIA.
When I came to know I was on the team, I was the youngest at 16 years old but everyone else was either 21 or 24 or 26. All of them were experienced players who had represented India for the past 10 years while I had just done it once.
No doubt, I gained a lot of experience. Even though I played for a short time on the court, but in the time I got, I just tried to show the coach who I am seriously and after the full tournament, the feeling of winning gold is something I can't describe.
In previous editions of this tournament, India had been winning gold but for me, to be part of the squad that brought back the gold for my country, it was huge. Not great, it was actually something else.
You do get close to the seniors because of the one or two-month national camp before the tournament but I tried to stay close and learn all I could because the challenges they have faced, I am going to see them in the future. I asked them a lot of questions about overcoming injuries because I want to know how to figure out the challenges when I have to face them.
If I have to give any advice to younger kids, I would tell them - "learn as much as you can, ask as much as you can."
That's the only thing that will help you learn something in life.
NBA.com: From the national camps or any Indian basketball you watched before, is there any female athlete's game you liked or tried to emulate?
Kaur: In the early days, when I started basketball, it was Geethu Anna Jose, who is a Kerala player and an Arjuna awardee. She is now a legend of women's Indian basketball and I do regret sometimes, not being able to watch her game live. I have watched her on the television, or her highlights on Youtube but I wasn't able to watch her live.
MORE: India's Basketball G.O.A.T's
Her step, her quickness, her decision-making, that was really cool. I just watch her game and get inspired. Another player I follow or watch is Candace Parker in the WNBA.
She is my role model now. From her game to her personality, I really want to become like her. You can say I'm her crazy fan.
NBA.com: Your next step would possibly include looking for a D-1 scholarship in the United States? Is there anything you have to share with us regarding your future?
Kaur: Obviously, I can't name the colleges but yes, I have got offers. Right now, I am in that phase of life where I have to decide among the options myself because there are a lot of options in front of me whether that's high schools or colleges.
There are two ways and whichever one I chose, it will change my life completely. So, I can't share any information about the offers or whether there are any but I will definitely let everybody know when I make my decision.
The views on this page do not necessarily reflect the views of the NBA or its clubs.