In this episode of NBA India All-Access, we welcome Amaan Sandhu, a student-athlete at NBA Academy India.
Sandhu, a 6-11 forward/center from Mohali, Punjab, has been at the Academy at Jaypee Greens Integrated Sports Complex in Delhi National Capital Region (NCR) since May of 2017. He was one of 21 student-athletes that formed the first batch of the NBA Academy India.
Over these three years, the now 17-year-old has grown by leaps-and-bounds at the state-of-the-art facility capped-off, most recently, by his selection for the Basketball Without Borders Global Camp during the All-Star Weekend in Chicago.
As the world deals with the COVID-19 pandemic, Sandhu or 'Big Bay Punjab' as he is fondly known at the Academy, spoke with NBA.com/India about the spectacular transformation of his physique at the NBA Academy, his recent senior Indian team selection, and his experiences from an event-filled 2019.
Here's how the conversation went:
NBA.com: As this nation-wide lockdown continues (Week 5 during interview), how are you coping with it mentally and still staying fit and in-shape?
Amaan Sandhu: The quarantine with the curfew and all of it started a week after I had returned home. Now, it's been difficult but I'm maintaining my fitness and studying including my diet plans that I need to follow to stay in shape.
They [NBA Academy India] are helping a lot. They are giving us challenges that we should stay busy the whole day, so we don't sleep the whole day or fool around. They are sending us workout programs and challenges.
NBA.com: You were part of the NBA Academy India's first batch of student-athletes in 2017. It's been well-documented through videos that have been put out on how your physique has transformed over the past three years. Could you share what that experience has been like, what were the challenges, the diet plans, and who helped you through it all?
Sandhu: When I went to the Academy, I was 6-7 and around 130 kgs. So, it was very challenging and hard for me. Everybody from the Academy, from the NBA, helped me a lot. Even my coaches - Coach Todd, who was the strength and conditioning coach for the Academy, Coach Jacques, who was the head coach last year but he left.
Seeds of future NBA greatness are being sowed at the NBA Academy! #NBAHangout pic.twitter.com/YRwFfqKBHm

- NBAIndia (@NBAIndia) June 27, 2017
I was a swimmer and I was very heavy. They changed my diet and it was very hard for me because, basically, I'm from Punjab so we used to eat paranthas with makhan and all.
At the Academy, they changed my diet to salads a lot of the time. I can't eat bread, roti, dal, and any oily food. It was only fiber and proteins.
Hard work, dedication, perseverance - Amaan Sandhu gets it done!#ACGNBAJump #NBAAcademy
@ACGWorldwide pic.twitter.com/MqTNNL0O1R

- NBAIndia (@NBAIndia) August 9, 2019
It was very hard the first couple of months but now, it's good. I'm understanding what's good for my body. Practices were hard, I couldn't even run up-and-back. So, I was very fat.
Coach Todd used to take me to the pool to do some conditioning stuff and also in the weight room. Slowly, I lost weight and then, I started playing basketball. So, it was a hard time but I enjoyed it. It was a great experience.
MORE: Sandhu's exclusive interview with NBA.com/India at 2020 All-Star Weekend
Now, I'm nearly 7-foot and 110 kgs. Last year, I was 106 kgs, now in the third year, I just gained a little bit but I think that was muscle and not fat.
I'm now in better shape. Before, as a center, I couldn't do anything from outside, so, I used to post-up a lot. Now, I'm kind of a power forward/center, so, I can do whatever I want - drive-in, post moves, dribbling, and shooting from outside.
NBA.com: Over these three years at the Academy, you have been to multiple to global development and training camps alongside prospects of your age group from around the world. What has that experience been like and what have you learned the most from these?
Sandhu: My first camp was in 2018 in Noida only - Basketball Without Borders Asia.
So, I was very nervous at that time because before this, I hadn't seen players from outside - the Australian players were very fit, used to jump high, and run a lot. It was a challenge for me but I tried my best.
I think I did well at that camp, then, I went to the NBA Global Camp in Italy. I was completely nervous, sometimes I used to shiver thinking "what should I do" because there were a lot of players from all over the globe.
Captured! 📷📷📷
Making the country proud at the #NBAGlobalCamp in Italy were #NBAAcademy India's Princepal Singh, Amaan Sandhu, and NBA Global Academy's Aashay Verma! pic.twitter.com/8AWqC11ypv

- NBAIndia (@NBAIndia) June 5, 2018
First day, I was very nervous, then, second day I was like ok "they also play basketball, I also play basketball. Why are you being nervous". Then, I got into the game and I was ok. I got into the momentum and speed of the game, and I was ok. After that, now I'm not nervous for any camps.
The other camp was in Japan - Basketball Without Borders Asia [2019].
Amaan Sandhu announcing himself at the #BWBAsia 2019 in Tokyo!#NBAAcademy pic.twitter.com/f9jgeoqZOg

- NBAIndia (@NBAIndia) August 16, 2019
I think that was my best Asia camp.
After that, I went to Global [BWB Global at All-Star Weekend in Chicago] and that was also a great experience. Some of the players in the camp were already playing professionally in their countries, so I learned a lot from the camp.
NBA.com: In 2019, you were also part of the NBA Academy India squad that took part in the Academy Games and went to Hungary but representing your country has got to be special. Could you share your feelings from making your national debut in December to also being part of the squad in the recent FIBA Asia Qualifiers?
Sandhu: Yes, I represented India last year in South Asian Games and we won gold. Then, I went with the senior Indian team to the FIBA Asia Qualifiers.
When I was in the [national] camp, I was one of the youngest guys there. I was trying my best to get selected in the team but I didn't expect that I will get selected. When I heard my name that I'm in the team, I was very excited. When I got my essentials and jerseys, I was looking at them all the time thinking "ooo, I got selected, is this me only?".
I was the youngest guy on the team. In the South Asian Games, sometimes I used to be a kid in the games, so, all the senior players - the captain Vishesh Bhriguvanshi and Amritpal Singh from Punjab - used to tell me what should I do and that's how I used to communicate with them.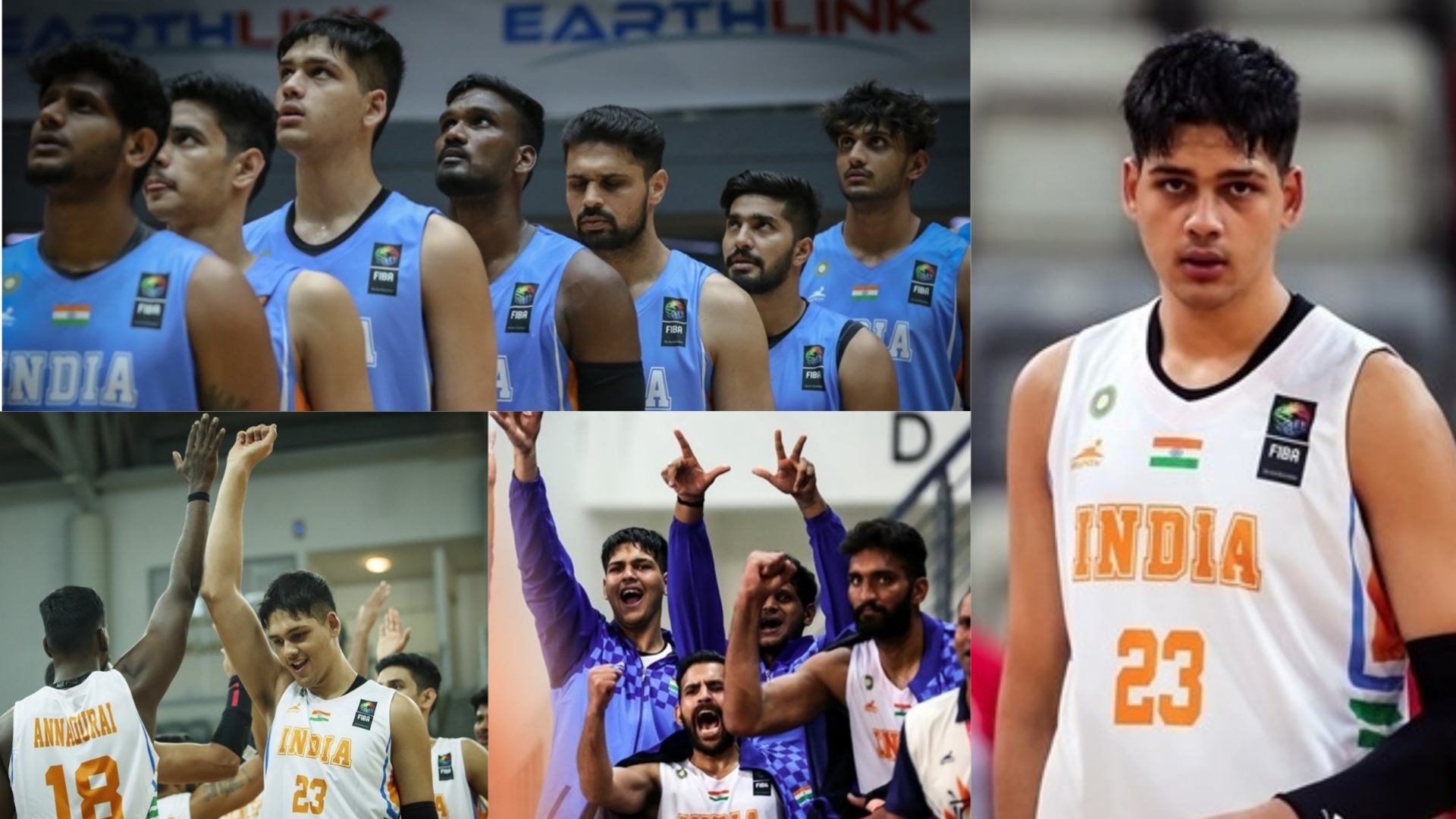 Above: Amaan Sandhu at the 2021 FIBA Asia Cup Qualifiers
In the [national] camp, I was a bit scared because you can't think what they want from you since you are the youngest. Sometimes, you are scared because you can't ask them "bhaiya, what should I do?". Slowly, slowly in the second camp, I got close to them - Vishesh bhaiya, Amritpal bhaiya, and everybody.
So, when I went to the FIBA Asia Qualifiers, before every game, I used to ask them "bhaiya, what should I do?". They used to tell play as the coach tells and put your everything, your 100%. So, it was a very special experience. It was one of my dreams come true to represent the senior Indian team and I was the youngest guy in the team.
The views on this page do not necessarily reflect the views of the NBA or its clubs.