In this edition of NBA India All-Access, we would like to welcome 2013 NBA Champion Rashard Lewis.
Lewis was in India over the past week to conduct basketball clinics in schools in Mumbai and Bengaluru respectively. In addition, he also helped promote the launch of NBA's fanwear collection for kids.
Even the 'shoppers stopped' when Rashard Lewis made his entry! pic.twitter.com/NPB6QAKyZ6

- NBAIndia (@NBAIndia) January 28, 2019
The former two-time All-Star was in the country for just under a week and all through his busy scheudle, he took out time to talk to Yash Matange on behalf of NBA.com/India.
Yash Matange: This [Jr. NBA clinic in Bengaluru] clinic was your second after the one in Mumbai. You have been here for the past few days, so could you tell us a little about your trip to India so far?
Rashard Lewis: Both clinics were good. The first clinic at Ryan Global School in Mumbai was great. It didn't have as many kids like this one [New Horizon Public School, Bengaluru] but they did a great job.
The clinic here [Bengaluru] was amazing. There were over 100 kids screaming and working hard. They made shots and they were really excited. That's really the most important part about this, is that the kids have fun, enjoy the game and learn at the same time.
Matange: You mentioned starting basketball at the age of 10. For these kids aged around 10, could you emphasize the importance of these clinics especially in countries outside of the US?
Lewis: It's huge. The clinic inspires them to keep working on basketball. When I was a kid, I always had a role model that I looked up to and when we had somebody who would come to our school and talk to us, I would be excited about it. Hopefully, they can continue to follow the game of basketball and learn more about the fundamentals.
I told them as well, make sure you are having fun and enjoy it with your friends. If you enjoy playing the game, you will love the sport more.
Matange: The NBA has set up multiple academies across the world. From these clinics, is grooming the boys and girls with the most potential through the academies the next step?
Lewis: Absolutely. It starts at the grassroots level with these young kids because then it grows into the next generation. Obviously, the kids here love playing cricket and soccer but if we can teach them the fundamentals at a young age, the game can continue to grow in India, especially with the Academy.
Matange: You were present at the NBA Mexico Games 2018 this past December. India is hosting preseason games this coming October. What impact do you think these games would make for the sport and the league in this country?
A spectacle awaits #NBAGamesInIndia pic.twitter.com/5Yk0uDHF8z

- NBAIndia (@NBAIndia) December 20, 2018
Lewis: I think the NBA India Games are going to be huge for this country. They do it every year in China and Mexico. This is the first year they are having preseason games here but hopefully, it could be every year.
When everybody gets a chance to watch the game in person and see the players perform live, it will really take the game of basketball to the next level here when the Indiana Pacers and the Sacramento Kings visit India this October.
Matange: In the Q & A round with the children, you mentioned the 2012-13 season with the Miami Heat being your favourite? Could you tell us more about the year, going on that 27-game win streak, experiencing Game 6 of the Finals when Ray Allen nailed the clutch corner 3 and finally winning it all?
Lewis: That was my first year there but the franchise had already won a championship the previous season. It was a season I would never forget because I played alongside either future or current Hall of Famers in LeBron James, Dwyane Wade, Chris Bosh, and Ray Allen.
We had a lot of veterans on that team - Shane Battier, James Jones, Udonis Haslem, and Mike Miller - so it was all about winning. I remember the team playing well and about halfway through the season we picked up 'Birdman' Chris Anderson. Then, we just ran off 27 straight wins and it was unbelievable.
Everywhere we went, there was a crowd of people.
Heading into the Playoffs that year wasn't all that easy. Our rivals that year were the Indiana Pacers, who we played in the Conference Finals. They had Paul George on the perimeter and the duo of Roy Hibbert and David West in the middle. We did struggle a few times but we were able to eliminate them in Game 7 but we had a bigger problem in the Finals playing the San Antonio Spurs.
They had future Hall of Famers in Gregg Popovich, Tim Duncan, Tony Parker, and Manu Ginobili. We fought tooth and nail all series but yes, if it wasn't for that Ray Allen's shot, we might not have had a championship that season.
They had cordoned off the court, brought the champagne out and were also bringing the Spurs' championships t-shirts and caps for the players but Ray Allen made that shot.
He sent it to overtime, and it was a whole new series.
Matange: That was the year you won the NBA Championship but your first trip to the Finals came in 2009 with the Orlando Magic against Kobe Bryant and the Los Angeles Lakers. Could you tell us more about that experience?
Lewis: It was certainly a great experience but it was also a nerve-wracking one since it was the first trip to that stage for most of us on that team. In 2009, the Lakers were the veterans with Kobe Bryant, who had already won three rings, Pau Gasol, Lamar Odom, Trevor Ariza, and Andrew Bynum.
They had a really good team.
We had a good team as well with Dwight Howard, Hedo Turkoglu, Marcin Gortat, and Jameer Nelson but they just beat us.
Matange: You've played on multiple teams - Seattle Supersonics, Orlando Magic, Washington Wizards and the Miami Heat - could you tell us the favourite coach you played for - the one who you felt brought out the best in you?
Lewis: I had two favourites. When I was with the Sonics, it was Nate McMillan and his assistant Dwane Casey. The two of them kind of raised me as a kid when I entered as a teenager. They groomed me to my first All-Star Game (2005). They really made me the type of player I am, so when I went to Orlando playing for Stan Van Gundy, it was unbelievable.
He was a hard-nosed discipline coach. Some players couldn't take the screaming but I could because I felt we were a better team when he held everybody accountable. So, I think, hands down, he is one of the best coaches I've played for.
Matange: Could you tell us who you think is the best coach in the league right now?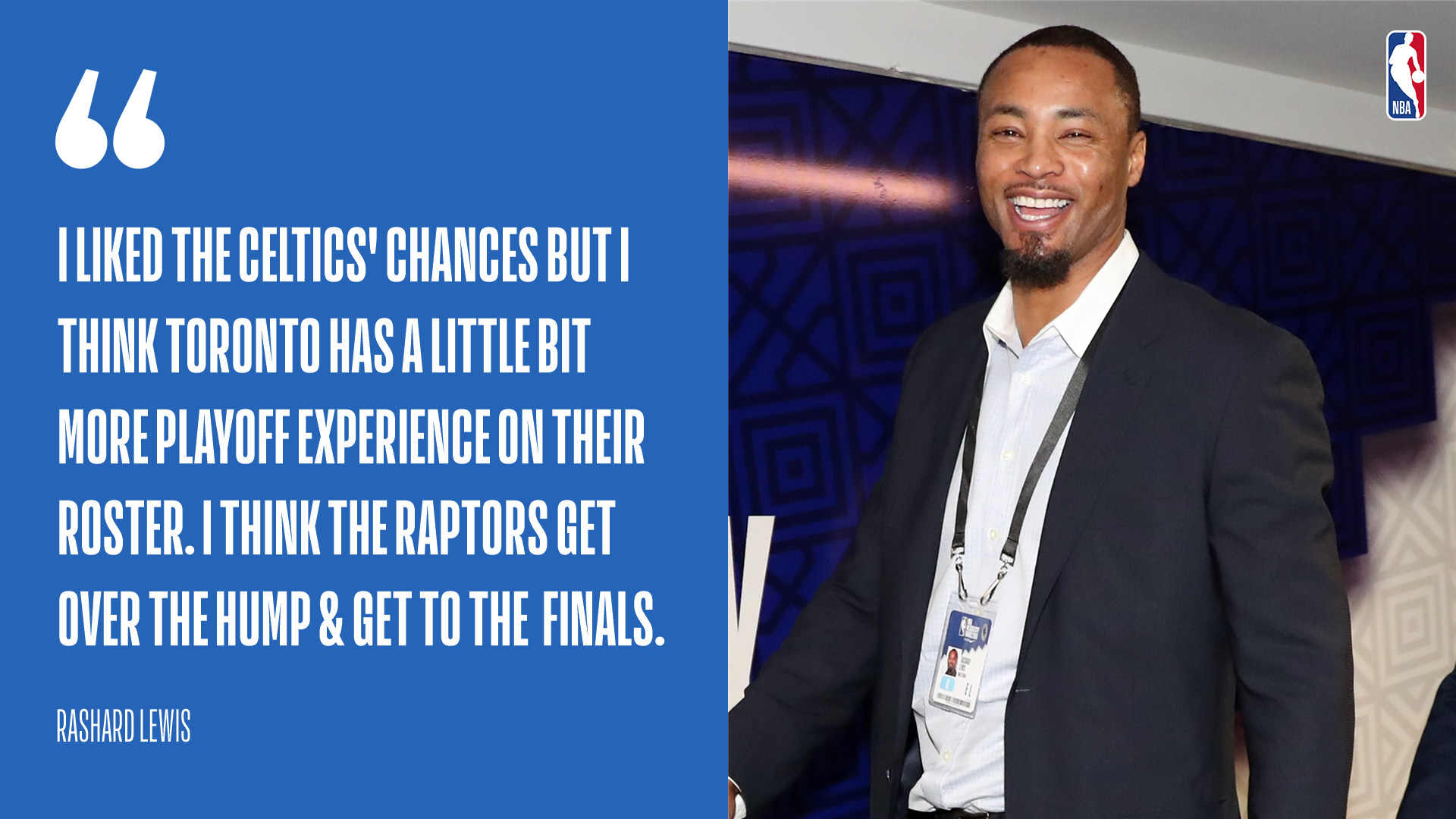 Lewis: I really like Brad Stevens of the Boston Celtics and, of course, Steve Kerr is amazing as well but the answer has got to be Gregg Popovich. He's one of the best coaches ever and you still got to "beat the Spurs".
Matange: One huge storyline right now is LeBron's groin injury, when he would return and how that would impact the Lakers' season. You think they will make the Playoffs and if yes, how far would they go?
Lewis: I think they'll make the Playoffs but I don't know if they will get out of the first round because of the 1-8 or 2-7 matchup where they might have to face the Golden State Warriors or the Oklahoma City Thunder or the Denver Nuggets.
Matange: Who is your 2018-19 MVP so far?
Lewis: The way James Harden is playing right now, I think he will be named MVP for a second straight year.
Matange: You think the Golden State Warriors will three-peat?
Lewis: Yes. Especially with DeMarcus Cousins back, they'll be near unbeatable once they build more chemistry with him on a consistent basis.
Matange: Who do you think the Warriors will face in the 2019 NBA Finals?
Lewis: I think they face Kawhi Leonard and the Toronto Raptors. At first, I liked the Boston Celtics' chances but I think Toronto has a little bit more Playoff experience on their roster. So, I think the Raptors get over the hump this year and get to the Finals.