In this edition of NBA India All-Access , we welcome back Amjyot Singh .
Amjyot Singh is currently in his second season with the Oklahoma City Blue, the G-League affiliate of the Oklahoma City Thunder. Arguably one of the best basketball products that India has to boast off about, Amjyot took some time from his busy training schedule to speak to Yash Matange on behalf of NBA.com/India.
Here's how the conversation went:
Yash Matange: What has been the biggest challenge in your second season with the OKC Blue?
Amjyot Singh: The biggest challenge has been to improve on every aspect of my game as much I can. Since the team is so good this year, I have to stay and perform at my peak in order to earn my way into the team's rotation.
Matange: Has the team's coaching staff provided you with any direction to become part of their regular rotation?
Singh: Yes. The coaches have regularly spoken with me and given me guidelines to earn my way into the team's regular rotation.
.@gill_amjyot is winning basketball fans' hearts as a member of the @okcblue! pic.twitter.com/vhdFZzs2XD

- NBAIndia (@NBAIndia) December 13, 2018
Matange: Being part of the rotation obviously involves a lot of discipline and dedication to your craft. Could you give the readers an insight into your diet and what your training routine looks like?
Singh: The diet mainly consists of proteins and veggies with no dairy products and carbs as the team wants me to maintain my weight.
Coming to the training, it is usually from 8 am to 2 pm. The gym is available to us 24x7 providing us with the opportunity to put in the extra effort on our game.
Matange: In the time you have spent with OKC Blue so far, where do you feel your game has improved the most?
Singh: I believe every aspect of my game as improved whether that's my shooting or dribbling. The biggest benefit to me coming here has been the nutrition. I feel more in control of my body rather than just going and playing.
More: NBA India All-Access - Amjyot Singh (Pt. 1)
Matange: Diverting to the national team now. I wanted to speak to you about Scott Flemming, who was the coach of the national team when you represented the country. Could you tell us the impact he had on your game and how instrumental he was as a Coach on the team's results during his tenure?
Singh: He diversified my game a lot. Earlier, I used to play inside as a post player but he asked me to move further from the rim and make my shooting a weapon.
When he was the coach, there was a system in the team and the results when he was coach speak for themselves. We were not a good one-on-one defensive team but he installed a system that made us very good defensively as a team. We still use some of his strategies.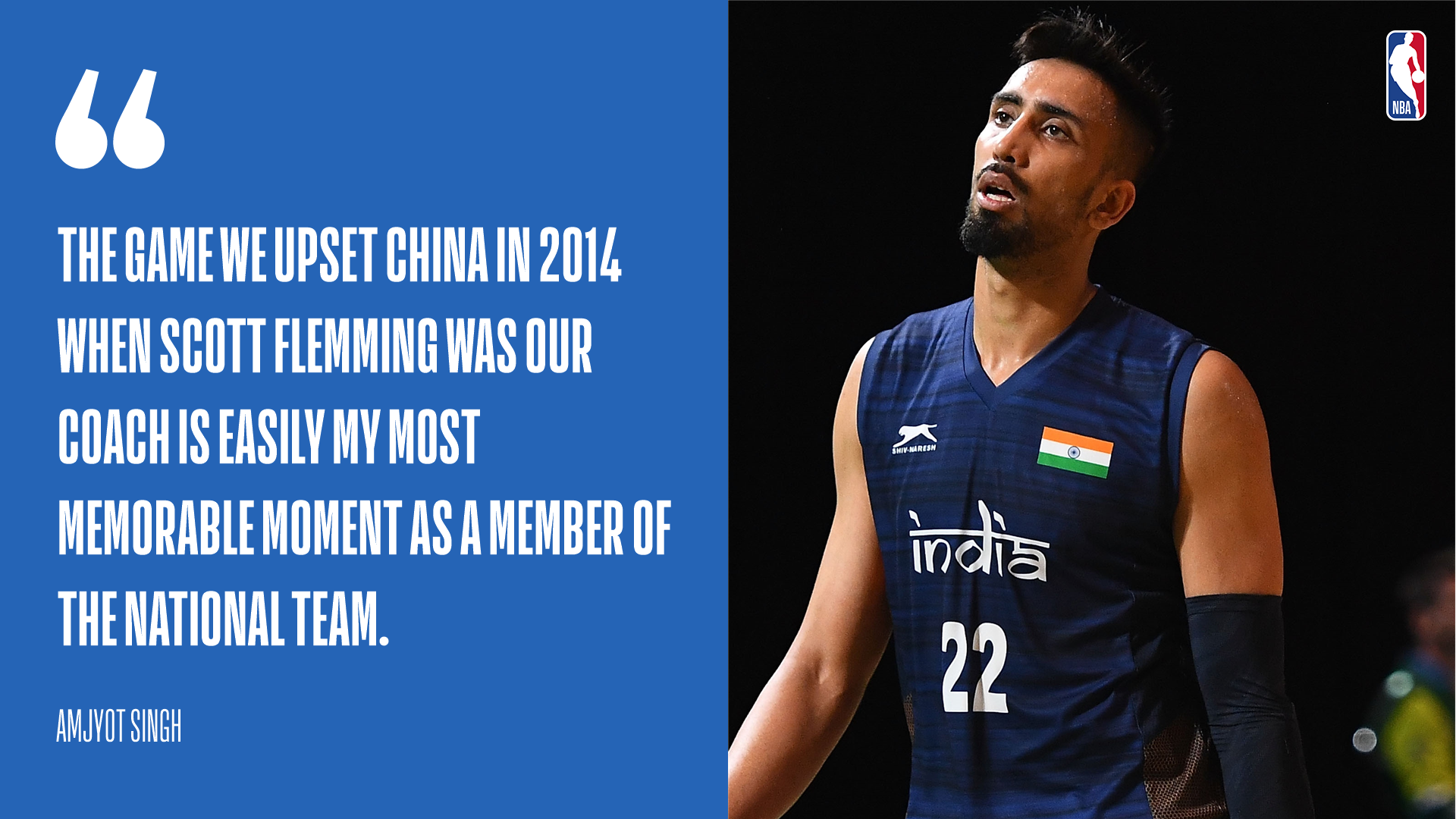 Matange: Sticking with the national team, what has been your most memorable moment while representing the country?
Singh: The game we upset China in the 2014 FIBA Asia Cup and Scott Flemming was our coach. That has got to be the most memorable one because it was a huge upset. We played as a team and a lot of credit goes to Coach Scott. He brought the team together and helped us get to a higher level to beat China.
More: NBA India All-Access - Scott Flemming
Matange: You do know the people who have implemented the 3BL league in India. Given how important this league is to help India qualify for the 2020 Tokyo Olympics in the 3x3 format, do you intend to participate in the league?
Singh: Yes, I do intend to play in the 3BL. I believe we have a legit chance in the coming years to make some noise in this format. 5-on-5 is really difficult for us unless we get a coach who manages the team over a long period of time like Coach Scott.
In the 3x3, we can do a lot of good things in a short period because we have proved so in the past. Now that we have this league in India, we can use it to enhance our experience. So, in the summer, I do intend to play in the league.