In this edition of NBA India All-Access, we welcome Brian Shaw, head coach of the NBA G League Ignite.
Shaw took on this challenge in 2020 after 13 years of coaching experience in the NBA, including two years as the head coach of the Denver Nuggets (2013-15). He also won a couple of NBA Championships (2009, 2010) as an assistant when he coached under Phil Jackson with the Los Angeles Lakers.
He made the transition into coaching after 15 years of professional basketball, 14 of which were spent in the NBA with seven teams. Shaw won three NBA titles as a player as part of the Lakers between 2000 and 2002.
Nearly two months removed from the conclusion of the 2021 G League season, Shaw sat down with NBA.com's Yash Matange to discuss a host of topics including India's Princepal Singh, Ignite's performance in their debut season, his trip to India in 2016 and more.
Coaching Princepal Singh
Although he was signed as one of the team's young prospects alongside Jalen Green, Isaiah Todd, Daishen Nix, Kai Sotto and Jonathan Kuminga, Singh played the fewest games and minutes of the group.
Of the team's 15 regular-season games, Singh played a total of 25 minutes in four appearances, finishing with season totals of nine points and four rebounds. Whereas the rest of the young prospects - aside from Philippines' Sotto, who missed the bubble altogether - played in at least 13 games and averaged at least 25 minutes per game.
"He [Singh] still was behind in terms of his talent level, and experience," Shaw said explaining the disparity in minutes. "As with most teams, even in the NBA at any level that you look at, there's only a number of guys that play in the rotations. And for the most part, he was outside of that rotation."
MORE: Landmark Moments from Princepal's Ignite season
Despite being outside of the regular playing rotation, Singh had earned a lot of praise from his head coach. Over the course of the team's training at Walnut Creek, CA prior to the bubble, Shaw called him the 'Most Improved' among all the prospects, the MVP of a practice session and raved about his work ethic.
"I think that he improved as a player, just based on him practicing every single day against the kind of competition that he was playing against," Shaw said, looking at the positives from Singh's season with the Ignite.
"Playing against Amir Johnson and Brandon Ashley and Isaiah Todd and Dante Hall and the guys that we have on the team at that position, he got better."
MORE: Ignite veteran Amir Johnson calls Prince a 'workhorse'
Singh might have played just four games, but being selected for the Ignite and logging minutes in the G League make him a trendsetter and pathbreaker.
When he made his debut, Singh became only the third Indian ever and first-ever NBA Academy alumni to step onto a G League court. A few games later, his first points made him the first NBA Academy alumni to score in the G League and the third Indian ever.
"The first game that I called him off the bench to go in, I think he was a little nervous," Shaw recalled. "It took him a long time to take off his warm-ups to get in the game and that's natural."
In his seven-minute debut, Singh went scoreless but in his next chance a week later, he finished with five quick points towards the end of a blowout game.
that dunk though@princepal_15 x #PhantomCam pic.twitter.com/UmlrXHrHtJ

- NBA G League (@nbagleague) February 26, 2021
"Everybody on the bench jumped up and was cheering for him," Shaw said, noticing a different confidence in his walk. "And I think that that made him really feel good. And it made him feel like he belonged."
What's next for Princepal Singh?
At the conclusion of the 2021 G League season, the quartet of Jalen Green, Isaiah Todd, Daishen Nix and Jonathan Kuminga were and are still expected to declare for the 2021 NBA Draft.
Late in April, Kai Sotto signed a multi-year deal with the Adelaide 36ers of the NBL in Australia.
So, what about Singh? What's next for Princepal?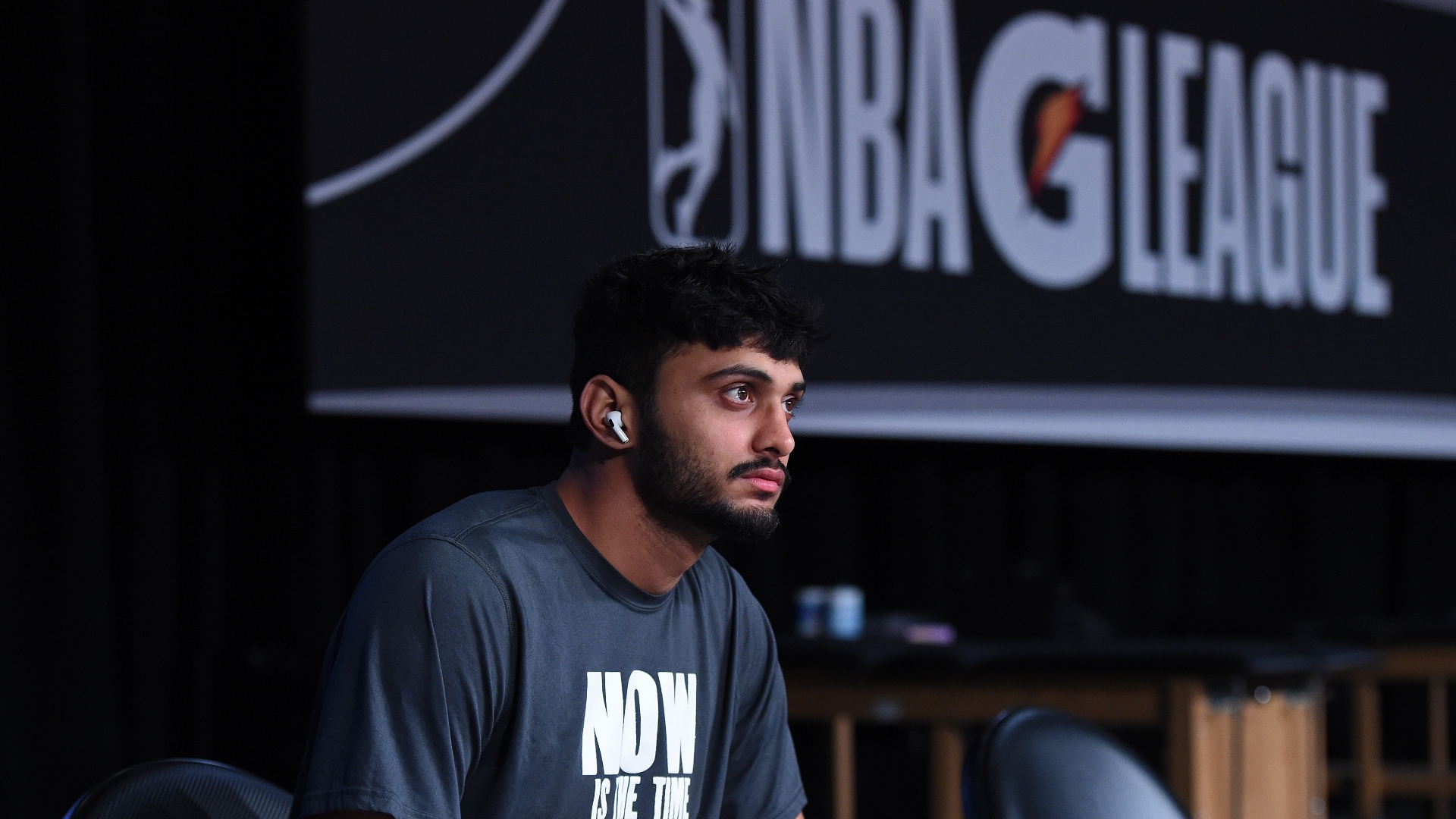 "I don't know the answer to that," Shaw begins explaining. "The technical answer that in terms of if it's just a one-year deal for all of the players or if there's a provision for it to continue and I'm sure Princepal would have loved to play more than what he played this year."
When announced, the Ignite were slated to be a team dedicated to developing top young players across the world through a one-year program with a focus on preparing for the NBA Draft and imbibing professional life skills.
Unless the Ignite expands their program for Singh to join for a second year, as of early May, it is unclear what's next for Singh. Will he declare for the 2021 NBA Draft? Only time will tell, so stay tuned to NBA.com/India for the latest updates.
Green, Kuminga & Ignite's future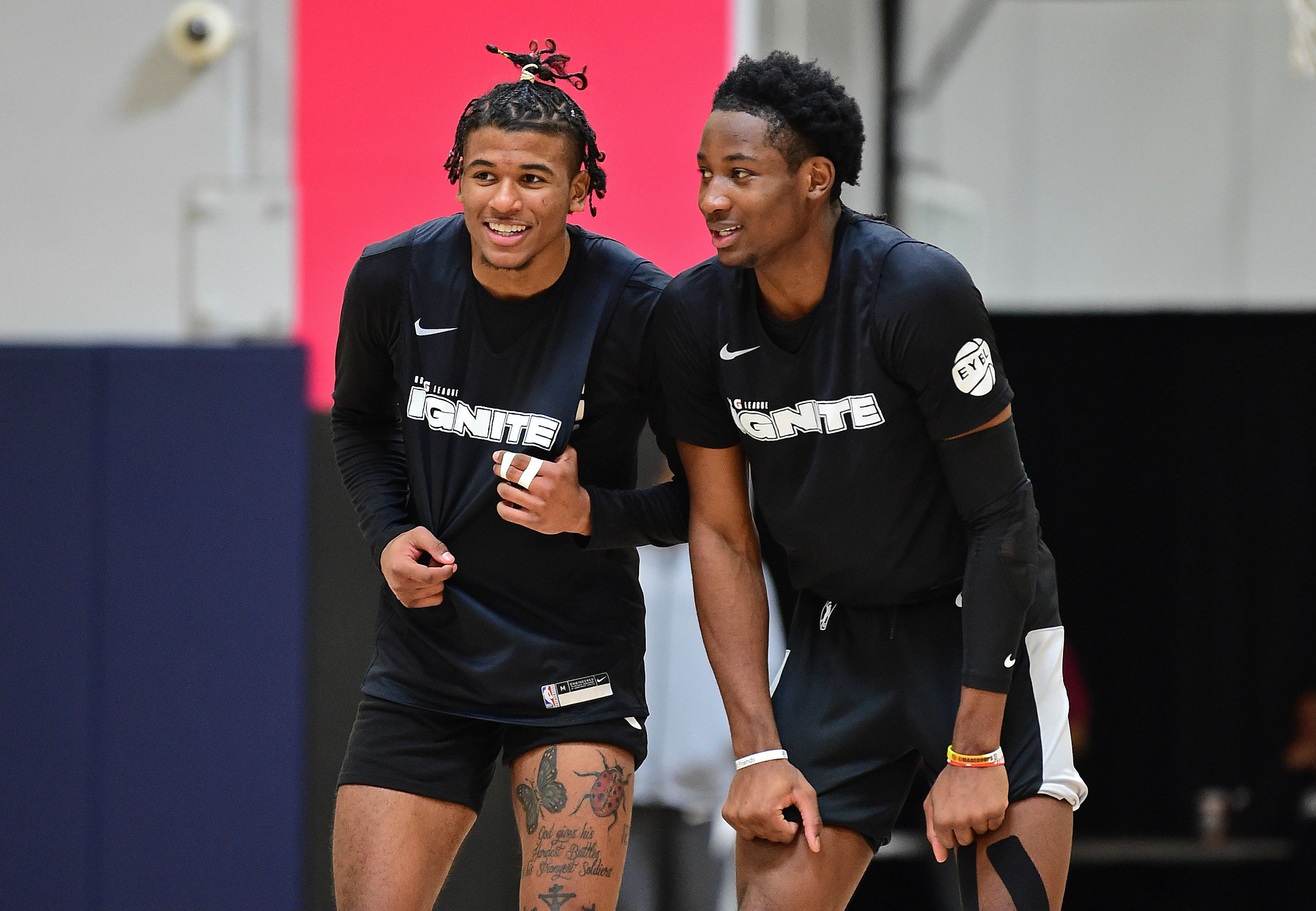 Among the young prospects, Jalen Green and Jonathan Kuminga were the headliners. They ranked No. 1 and No. 4 respectively on ESPN's Top 100 out of high school for the class of 2020 .
They were also the Ignite's top performers in the bubble, with Green averaging 17.9 points, 4.1 rebounds and 2.8 assists over 15 games, and Kuminga averaging 15.8 points, 7.2 rebounds and 2.7 assists per game.
While neither has declared for the 2021 NBA Draft, Shaw is confident that their competitive spirit is one of the multiple factors that will help them carve a role and place in the league.
"I think that they will fit seamlessly with whatever team drafts them because they have the right attitude. They have the talent, and they have the work ethic to go along with it."
When asked to list out each of their standout qualities as individuals, Shaw mentioned Green's "off-the-chart" athleticism and Kuminga's physicality which he says is "tailor-made for the NBA."
Last year, Shaw didn't have a hand in the selection process for Green, Kuminga or any of the young prospects. However, things have changed in Year 2 of the program.
"I have had conversations with various players and their families that potentially could come next year," Shaw said. "Not necessarily recruiting them but just explaining kind of what the program is all about and my philosophy as a coach and what I'm looking to try to do."
It's only been a couple of weeks since the Ignite announced one signing for next year in Michael Foster, who's still completing high school, while a Chinese prospect named Fanbo Zeng is also reportedly set to join next year's roster.
Ignite: Not just the young guys
"I think that we surprised a lot of people," Shaw said while discussing the Ignite's playoff appearance in their first year.
Starting off on fire, the team won its first four games and looked set to breeze into a postseason spot, but things changed quickly. In their season finale against the Austin Spurs, the Ignite needed a win to secure the league's final playoff spot and they did so while Kuminga was sidelined.
"We probably played our best game of the whole bubble in that last game, especially defensively," Shaw said about the 127-92 win. "Everybody was on the same page, and everybody performed well."
The Ignite eventually lost in the first round to the Raptors 905 but despite the postseason berth, the final game's clinching situation begs the question: "How did it come down the final game if they started off 4-0?"
"We started out 4-0 and then our starting center Donta Hall got called up on a 10-day [contract] with the Raptors and that kind of started it right. It changed the makeup of the team a little bit."
Hall, a 23-year-old 6-foot-10 center, actually played in nine games for the Ignite before being called up. With the Toronto franchise, he was instantly assigned to the 905, the Raptors' G League affiliate, and ended up playing three games for them in the bubble.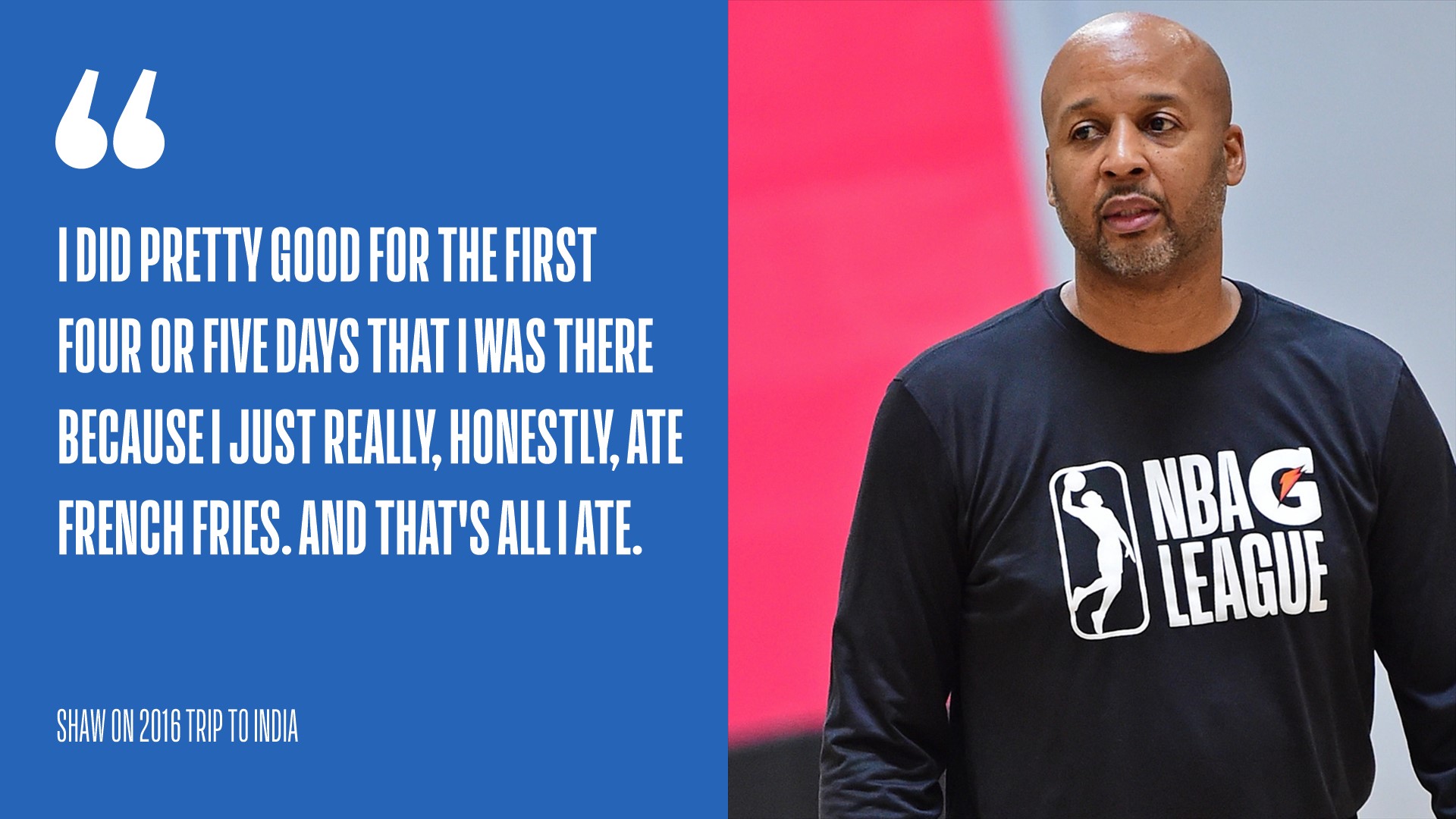 At the end of the 12 games, he averaged 10.2 points, 8.3 rebounds, 1.5 assists and 2.08 blocks in 24.8 minutes, while shooting 62.5 percent from the field. A month after the G League bubble, Hall signed two 10-day contracts with the Orlando Magic in April before being waived on May 2.
His story and the call-up are proof that the Ignite isn't just a team of young prospects and grizzled veterans.
"The other advantage is that we know that we're going to get a lot of media coverage following us because of the young talented guys on the team," Shaw explained.
"And so, I think for our vets and our G League guys like Dante Hall, and Cody Demps, grande and Brandon Ashley and guys like that, they get an opportunity to be seen even more, because people are coming to watch Jalen, Kuminga, and Daishen and Isaiah."
Shaw's Memories of a trip to India in 2016
Shaw is connected to India in more ways than just Singh. In fact, coaching Singh brings things full circle.
In 2016, while visiting India to promote few premier events, including the ACG-NBA Jump National Finals (in Noida), Reliance Foundation Jr. NBA City Finals (in Jaipur) and NBA Jam (in Mumbai), Shaw was in attendance when Palpreet Singh won the National Finals of ACG-NBA Jump, India's first national basketball talent search program.
Winner of @ACGWorldwide NBA Jump camp, Palpreet Singh spotted with Brian Shaw, the man with the 3-peat! #LoveNBA pic.twitter.com/McBSXEHxX1

- NBAIndia (@NBAIndia) February 26, 2016
That earned Palpreet Singh the opportunity to participate in the D-League (now G League) later that year. And now, five years later, Shaw is coaching India's first G League player from the NBA Academy India that selects their prospects each year with the ACG-NBA Jump search program.
Shaw was one of multiple NBA players to have visited India over the past decade to promote the sport and the league.
MORE: A look back to Kevin Durant's offseason trip to India in 2017
"There were some really beautiful areas there," Shaw said, adding context that prior to arriving in India, the movie "Slumdog Millionaire" was the only reference point he had for the country.
Given the difference in flavours, food has always been of intrigue to NBA players that visit India. "How have you liked the food here?" is a frequently asked question when the players - current or retired - do their media sessions.
Despite taking care, Shaw's trip had gotten specifically memorable because he ate something that didn't agree with him towards the end of his stay.
"I did pretty good for the first four or five days that I was there because I just really, honestly, ate french fries. And that's all I ate," Shaw said before discussing his ordeal with an upset stomach.
Got a chance to speak with #GLeagueIgnite head coach & 3-time NBA Champion Brian Shaw. #Exclusive

Spoke with him about #Princepal Singh, Ignite's play in the @nbagleague 2021 bubble & a lot more. Here's a clip of Shaw talking about his memories from his trip to India in 2016. pic.twitter.com/GU9dpdBbL2

- Yash Matange (@yashmatange2694) May 5, 2021
"Overall, I had a nice time," Shaw said about his complete experience in India. "That was an area of the world that I hadn't been to before. And so, it was one of the things that I got to check off the list."
The views expressed here do not represent those of the NBA or its clubs.