The Sacramento Kings and the Indiana Pacers will become the first professional teams from a North American sports league to participate in a game on India soil when they face-off in two exhibition games at the NSCI Dome in Mumbai on the 4th and 5th of October.
As we inch closer to those famous dates, we discuss the biggest questions in part 1 of this two-part roundtable with a few notable NBA experts and fans:
NBA.com: Your first reaction/response when the NBA India Games were announced?
Karan Madhok (NBA Experts & Contributor): Ever since Vivek Ranadive expressed his interest to bring the Kings to India 4-5 years ago, I've known that the day was not too far away. But to actually hear official confirmation of the NBA India Games still took me by surprise and blew me away. My first thought was: okay, I need to get to Mumbai for this, no matter what happens!
Akshay Manwani (NBA Expert & Hindi Commentator): Elated. Ecstatic. Happiest. Absolutely over the moon. I knew clearly this was a big milestone in the NBA's continued focus to grow the game in India.
Gopal (NBA Expert & Contributor): "Finally". Talk of the NBA India Games have been going on for years now. So when the announcement finally came, it wasn't a surprise. From what I understand, it was all about finding the right venue and the right timing. Let's not forget that the NBA opened its office in India way back in 2011. So this has been a long time coming.
MORE: NBA India Games - A hoop dream come true
Bhushan Suryavanshi (NBA's Most Valuable Fan in India): The NBA India Games 2019 were announced way back in Dec 2018 by NBA Deputy Commissioner Mark Tatum in Mumbai and the news was all over social media. I being a die heart NBA fan since 1999 went crazy on hearing this news as my ultimate dream of watching an NBA game live was going to come true. I immediately started searching for that golden ticket and also immediately posted about the NBA India Games on my Twitter, Instagram and Facebook accounts as I was super-duper excited.
NBA.com: Your projection on the impact of the NBA India Games on the sport in the country?
KM: It will be another huge step in popularising basketball in India. Even though the game is being played by foreign players and teams, having the NBA on Indian soil is gonna generate a lot of media hype - I hope it turns a spotlight to India's own talent and encourages more young players to choose basketball as a serious option.
AM: I think Indians love touch-and-feel and by that what I mean is that the opportunity to see the players of the two teams up close and in person will be big. The expectation will also grow after these games. It's like - so we had a player of Indian descent (Sim Bhullar) play in the NBA, then we had Satnam drafted in the NBA, along the way a number of stars came to India, an NBA Academy opened up in India.
Now that the preseason games are here, the question will be what next? Can a player make it to the NBA and play consistently or will the preseason games be a curtain-raiser for a regular-season game? When people see possibility (the NBA India Games), they start believing, asking and demanding more.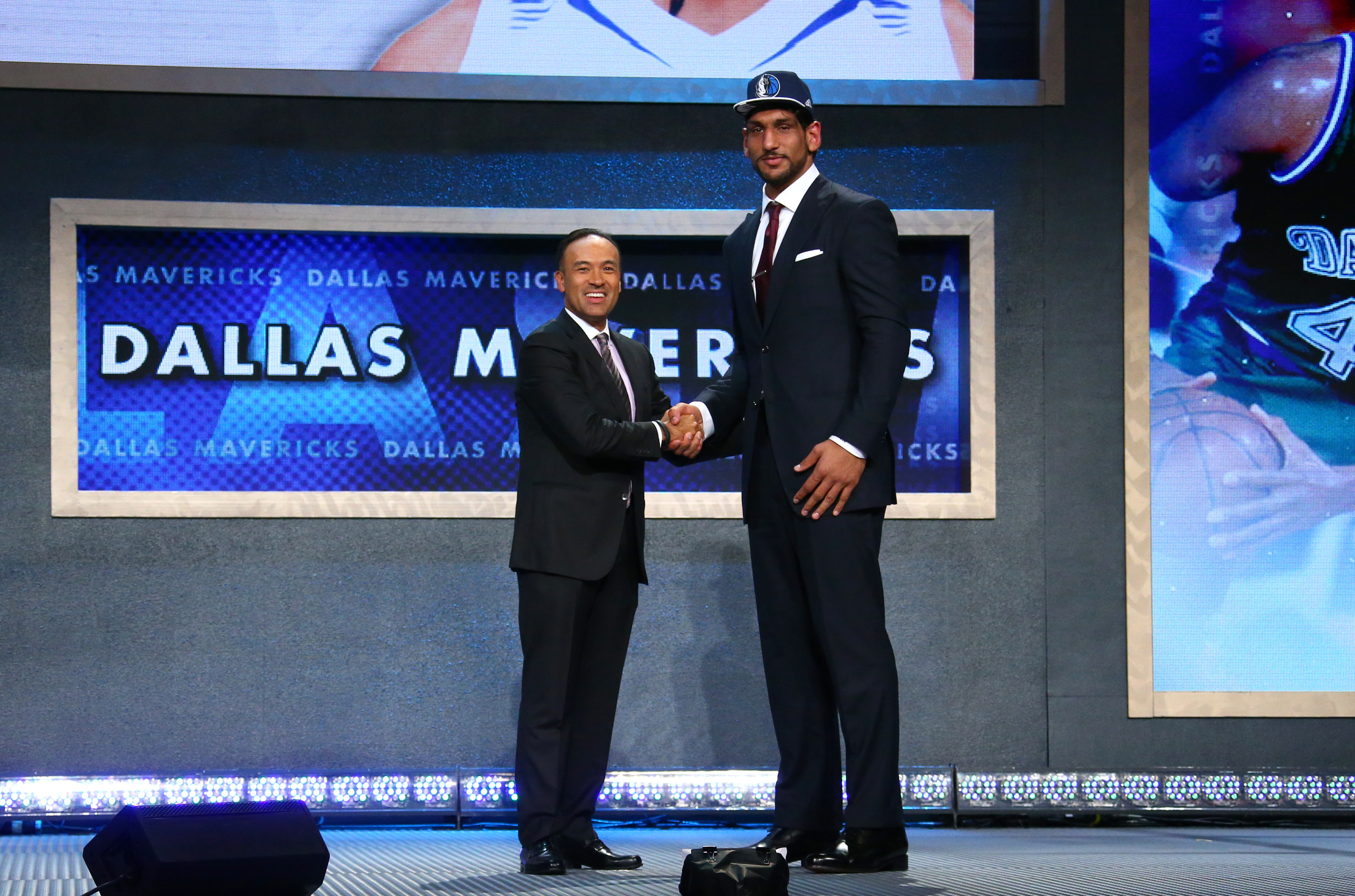 Gopal: Tough question that can be answered differently depending on what parameter we are considering. From the marketing standpoint, I think this is sure to draw eyeballs. Over two dozen NBA players actually coming down to India (as against 1-2 ex/current players at a time in off-season), is something that has never happened before. So it is historic in that sense.
The long term impact remains to be seen, and I am hopeful that these Games are just the start of regular pre-season Games in India year after year, similar to what we see happen in China, Mexico or the Philippines. I think if NBA Games in India can become an annual fixture and anticipated event in India's sporting calendar, that will have a real long term impact. Also, it will help immensely if future Games in India can happen in other cities as well.
MORE: Mumbai - A fastbreak city
Personally, as a basketball fan, I think all those who will be in attendance, for whom this will be their first live in-arena experience of an NBA game, it's definitely going to be a memory of a lifetime. It is one thing to see NBA action on a television/mobile screen, but I imagine it will be quite something else to watch the best players in the world in action live in person. There is no 5x5 Pro League in India, so basketball fans in India rarely have the experience of even watching ANY basketball game in an arena, let alone an NBA game.
So it is going to be mind-blowing in more ways than one. I am hoping that those among the audience who are actively involved in the sport at the local level (players, coaches, event organisers) will go back with new ideas on how to step up their standards and expand on their vision in terms of what basketball can grow to be in this country.
BS: India has always been dominated by the sport of Cricket but the popularity of Basketball and NBA is on a high. The NBA India Games 2019 will definitely attract more people towards this exciting, entertaining and thrilling game. I am sure post-NBA India Games 2019, the NBA will have more fan following from India.
NBA.com: Prediction - Pacers vs. Kings? Why? Which team will have a better 2019-20 season? How far would each go?
KM: For the Games themselves, I predict that the teams will tie 1-1. Pacers, even without Victor Oladipo, have a disciplined and deep squad of talents who know how to grind out wins with their defensive intensity. But the Kings have an incredible young core of players who are ready for a breakout season. I think they'll split the two matchups.
As for the season, I feel that the Pacers will finish around mid-tier in the East, and if the matchups fall right, win a First Round series. The Kings will take a huge leap, but the West is still too stacked, and I see them closely miss out on the playoffs.
AM: I think the Kings will have the edge in the NBA India Games, but only because Victor Oladipo is not fit, and Bojan Bogdanovic, who was such a big part of Indiana last season, has now moved on. But heading into the 2019-20 season, I feel that both teams should do well. Indiana will be bolstered by the return of a fit Oladipo at some point and some other key acquisitions (Malcolm Brogdon) in the offseason.
I think they could go as high as third in the East. As for Sacramento, this could be the season where they finally make it to the Playoffs. The continued development of Buddy Hield and DeAaron Fox with the presence of Harrison Barnes, Bogdan Bogdanovic could be the key to making that happen.
Gopal: Can I answer this as a fanboy? I've always had a soft spot for blue-collar teams. So I would have to go with the Pacers. Also, like every other Indian, I am inherently superstitious & believe in omens: There is "INDIA" in Indiana. That can't be a coincidence.
MORE: 2019-20 Pacers are a sleeper team in the East
BS: Both the teams are good but Pacers, being my favourite out of the two, have high chances of winning. Pacers last played against the Boston Celtics in the 2019 NBA Playoffs, where they lost in the first round and were 5th in the Eastern Conference standings whereas the Sacramento Kings clinched the 9th spot in the Western Conference Standings and had missed the Playoffs (the longest active playoff drought in the NBA - 13 years). Both the teams have new faces to play alongside their current roster, so time will tell which team will have a better 2019-20 NBA Season.
NBA.com: Will you be there at the NSCI Dome in Mumbai?
KM: Yes indeed - I can't wait to see the stadium and feel the atmosphere of NBA action in my own country.
AM: I'm reminded of the time Michael Jordan was asked 'Can you still dunk?' on the Jay Leno show, to which his response was 'Can I still dunk? Are you stupid?'. You can gauge my answer - of course, I will be there.
Gopal: Got my ticket within 10 minutes of the online bookings opening.
BS: Yes. Of course. From the time, the NBA India Games 2019 were announced on Dec 2018, I was eagerly waiting for the bookings to open. Finally, the dates were out for the registration of the tickets for the October 5 game. I immediately got myself registered and finally on August 13 at 12 pm the bookings were made live and I was so excited, that within minutes I booked my golden ticket of my first ever live NBA game and posted it on my Twitter, Instagram and Facebook accounts.
Stay tuned for Part 2 of this experts roundtable.
The views on this page do not necessarily reflect the views of the NBA or its clubs.
For more updates and stories on the NBA India Games 2019, you can follow NBA.com's page dedicated to the historic event.