The Indiana Pacers boarded a flight that took them halfway around the world for nearly a full-day. The time-space continuum was disturbed. Wheels down far from home in Mumbai. India welcomed Indiana.
Almost immediately, jetlagged and all, undisturbed by the time-space violation, the squad were back to what they did best: a tough evening practice on the court. Mumbai is, of course, vastly different from Indianapolis: a different climate, many different languages, the smell of the humid air, the winds from the Arabian Sea, the multitude of noises and chatter and somewhat-organised chaos of India's largest population… But the team found their peace with basketball.
And a day later, they were at practice again.
And on the third day, they got ready to make history. The Pacers will take part in a special moment, playing against the Sacramento Kings in Mumbai in the NBA India Games: two preseason matchups of NBA basketball for the first time on Indian soil. With the new NBA season just weeks away, the Pacers detour from business-as-usual preseason preparations has brought them into a new world.
MORE: NBA India Games - By the Numbers
And despite these radical changes, the big man Domantas Sabonis seemed relatively at ease when I met him on the eve of the first game, right before the team's practice at the NSCI Dome in Mumbai where the two Games are set to be held.
Sabonis, who will begin his fourth season in the NBA and third with the Pacers, is accustomed to adaptability. The 6-foot-11 big man is the son of one of the greatest European players in history, Lithuania's Hall of Famer Arvydas Sabonis. He was born in Portland, Oregan, growing up between Europe and the USA. But his professional basketball career took him to Spain, where he played for Unicaja Malaga as a teenager and starred in the EuroLeague. College brought young Sabonis back to Gonzaga in the USA, the NBA Draft relocated him to Oklahoma City, and a trade after his rookie season landed him in Indianapolis.
India, for the 23-year-old, was just another place to continue this journey. In an interview with NBA.com, Sabonis said that the travel can indeed change the practice routines-but as usual, he keeps adapting.
"You just have to adapt as a professional," said Sabonis. "There were a lot of times last year when buses were late, there were some weather conditions, or flight times changed... players get hurt, you gotta come in early. We just need to be professionals and take care of business-that's the most important thing."
"At the same time," he added. "We wanna enjoy this trip and immerse ourselves in the culture."
MORE: Fast facts on Domantas Sabonis
It has been a hectic summer for Sabonis, as he represented Lithuania at the FIBA World Cup in China, and then spent time in the gym improving his game as much as he could in anticipation for the new NBA season. In the logjam of big men in the Pacers roster last season, Sabonis started 74 of the 79 total games off the bench. But he was on the court when it counted, finishing the season as his team's leading rebounder and second-leading scorer after the injury to All Star Victor Oladipo.
Speaking on the World Cup first, Sabonis shared his joy of watching Spain-the nation he calls his 'second home' because of the Malaga connection-lift up the prestigious World Cup trophy.
"Spain is my second home. I grew up there my whole life. Seeing them win was awesome. I was living there when they won in 2006, so Spain's always a favourite. You can never count them out. They have great, talented players every year, and they only get better."
Lithuania could only muster a 9th place finish at the World Cup, but Sabonis is already looking ahead at the challenge ahead: this fourth NBA season. There have been a flurry of changes around the NBA, and the Pacers have also added a couple of important pieces like Malcolm Brogdon, Jeremy Lamb, and TJ Warren to boost their roster. The team has played well but been stagnant the past two seasons, winning exactly 48 games each time, finished 5th in the conference and lost in the First Round. With the continuing absence of Oladipo, more pressure will fall on players like Sabonis to carry the team's load, something that the young player is more than ready to do.
"There are improvements in my game overall everywhere," Sabonis said "I feel more confident in everything I do. That's a very big part of basketball, I think. Just being able to guard 4s, guard 5s, be quicker on the floor… That's a big part of it."
"Of course, Victor [Oladipo] is a big part of our team. As players and teammates, we'll do our job and try and win as many games as we can and still be competitive in the East. When he comes back, we're gonna open our arms and let him in slowly. Who knows when he's gonna come back…? We wish the best for him. Sometimes it takes a while to get used to that game tempo. We're confident it's gonna be a quick adaptation and he's gonna be ready to compete with us."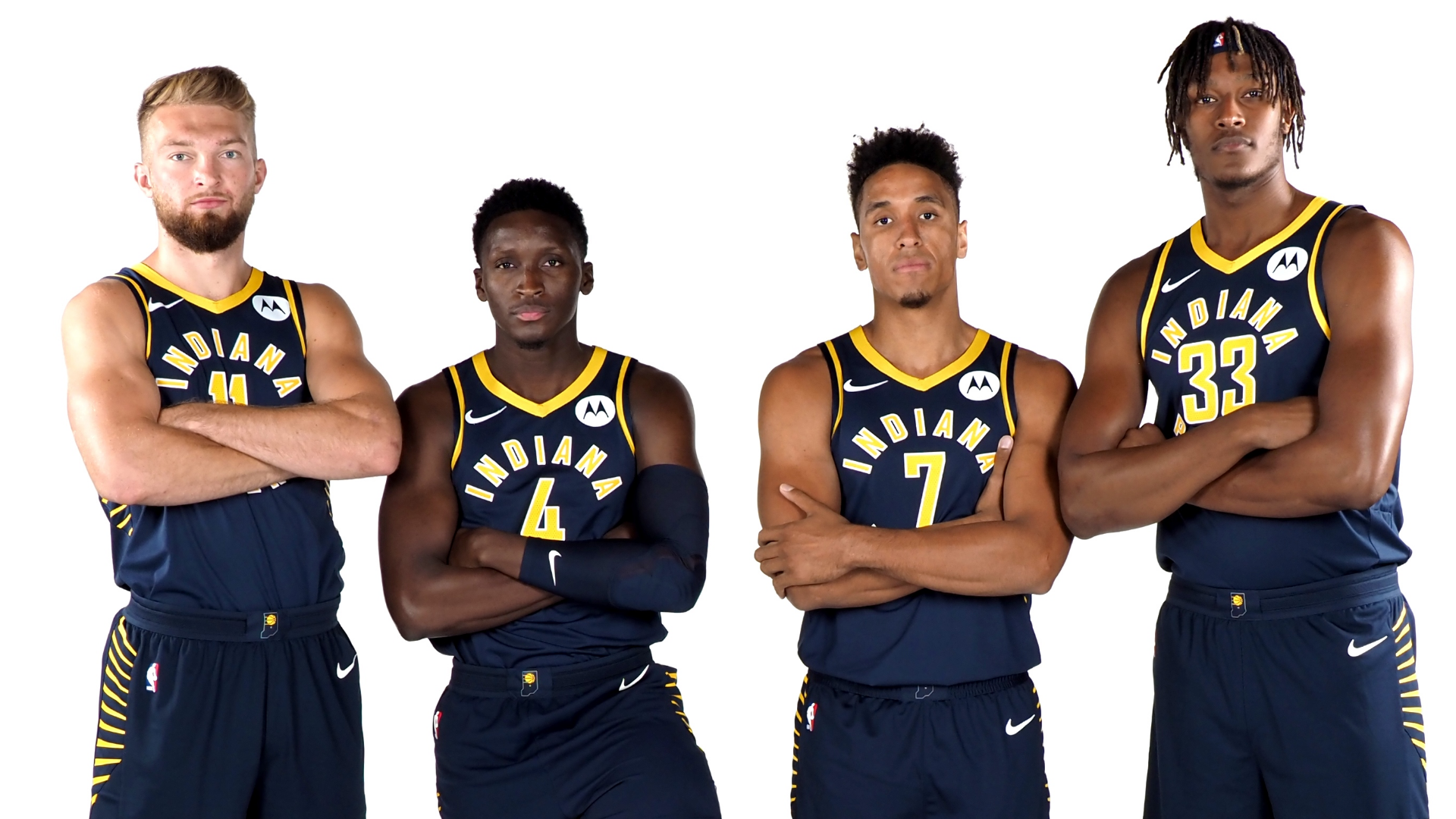 Sabonis has evolved from being a hard-nosed rebounder in college to a player with more finesse in his game, with better shooting in his arsenal, and a wider array of moves. All this will come in handy-because in the NBA now, all big men are expected to do everything. He understands the challenge, he said, of dealing with the evolved bigs on both ends of the floor.
"I feel that nowadays, especially for big men, it's changing," said Sabonis. "They're all becoming power forwards that can shoot. We call it 'point forward'. They can all get the rebound, bring the ball up, find their teammates, make them better. I feel like, at the same time, on the offense and defence, you gotta improve. You gotta defend players like that. So, I think it's better for the game. It makes it more interesting. And brings a lot more talent."
At the two games in Mumbai, Sabonis will get an opportunity to face a couple of evolving bigs from the Sacramento Kings, like the youngster Marvin Bagley III and a couple of 'smaller' combo-forwards like Bogdan Bogdanovic and Harrison Barnes. The Kings also feature an electrifying backcourt of De'Aaron Fox and Buddy Hield. Without Oladipo, Sabonis will be one of the focal points of his team, alongside Myles Turner and new addition Malcolm Brogdon.
Usually, preseason games are times of caution for important players such as those named above, many of whom play limited minutes and use the opportunity to play themselves into game-shape. But Sabonis also understood the hype behind these matchups, being presented in front of so many fans who've never experienced NBA action before.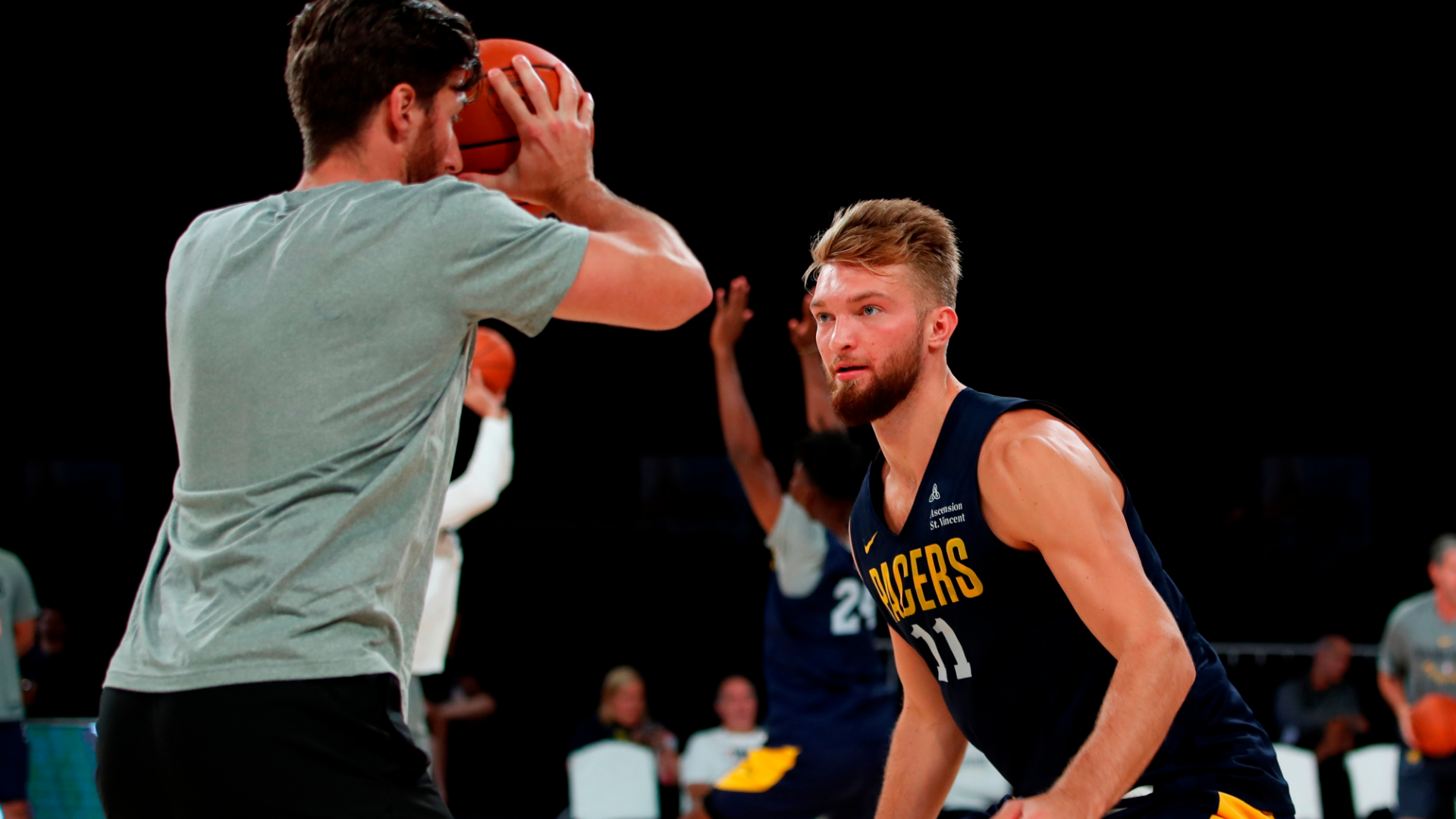 Above: Domantas Sabonis at the Pacers' practice on the eve of the first-ever NBA India Games
"As basketball players, we're competitive," he said. "No matter if it's the preseason or not, I feel like players wanna win. At the same time, it is the preseason, so you gotta be careful-injuries, whatever… take it easy… We just wanna have fun. That's the main thing. If we have fun, it's gonna be really good."
Preseason games have been held globally around the world for decades, but India is a relatively new NBA market, even if India's own basketball scene has been active for decades. I asked Sabonis how a moment like this could impact the future of the game in India.
"It's big," he said. "I feel like both teams are excited to be here. It's gonna be two great games. The atmosphere is great. You guys are hosting us like we're kings here, so it's amazing. It's only gonna make teams wanna come more… We saw a bunch of kids, a bunch of fans all excited to see us. I feel like this is just the beginning to opening a bigger door."
MORE: NBA.com's exclusive interview with Vivek Ranadivé
It is sure to be a historic time for the two teams participating too, to have the privilege of being part of the first NBA action on Indian soil. But once they take their flights back home, back to their homes, back to the time and place of their familiarity, it will soon be business as usual. The 2019-20 NBA season begins on October 22, with the Pacers playing their first 'real' game at home to Detroit on October 24.
For Sabonis, it will be another opportunity to push himself further, to reach new destinations with his play on the court.
"My personal goal is win as many games as possible," he said. "That's always the number one thing. The better the team does, the better it is for everybody. The more games we can win, the further we can go in the playoffs, that's the goal."
For more updates and stories on the NBA India Games 2019, you can follow NBA.com's page dedicated to the historic event.