Born in Juhu, Mumbai, young Vivek Ranadivé quickly became a young king of sorts, turning a risky opportunity to travel to the US for his education into, ultimately, a billion-dollar business. Even with all of his successes, Ranadivé kept two of his favourite things close to heart: his birth-city, and his love for basketball.
The basketball love translated to Ranadivé investing in the Golden State Warriors, and then, becoming the first Indian majority owner in the NBA when he bought the Sacramento Kings in 2013. Immediately, he tried to marry his other love-Mumbai-to hoops, intent on bringing Sacramento to India for an NBA game.
Ranadivé's "wildest dream" has come true, as the Kings will play the Indiana Pacers on October 4-5 for the NBA India Games, the first time that NBA preseason events are being held on Indian soil.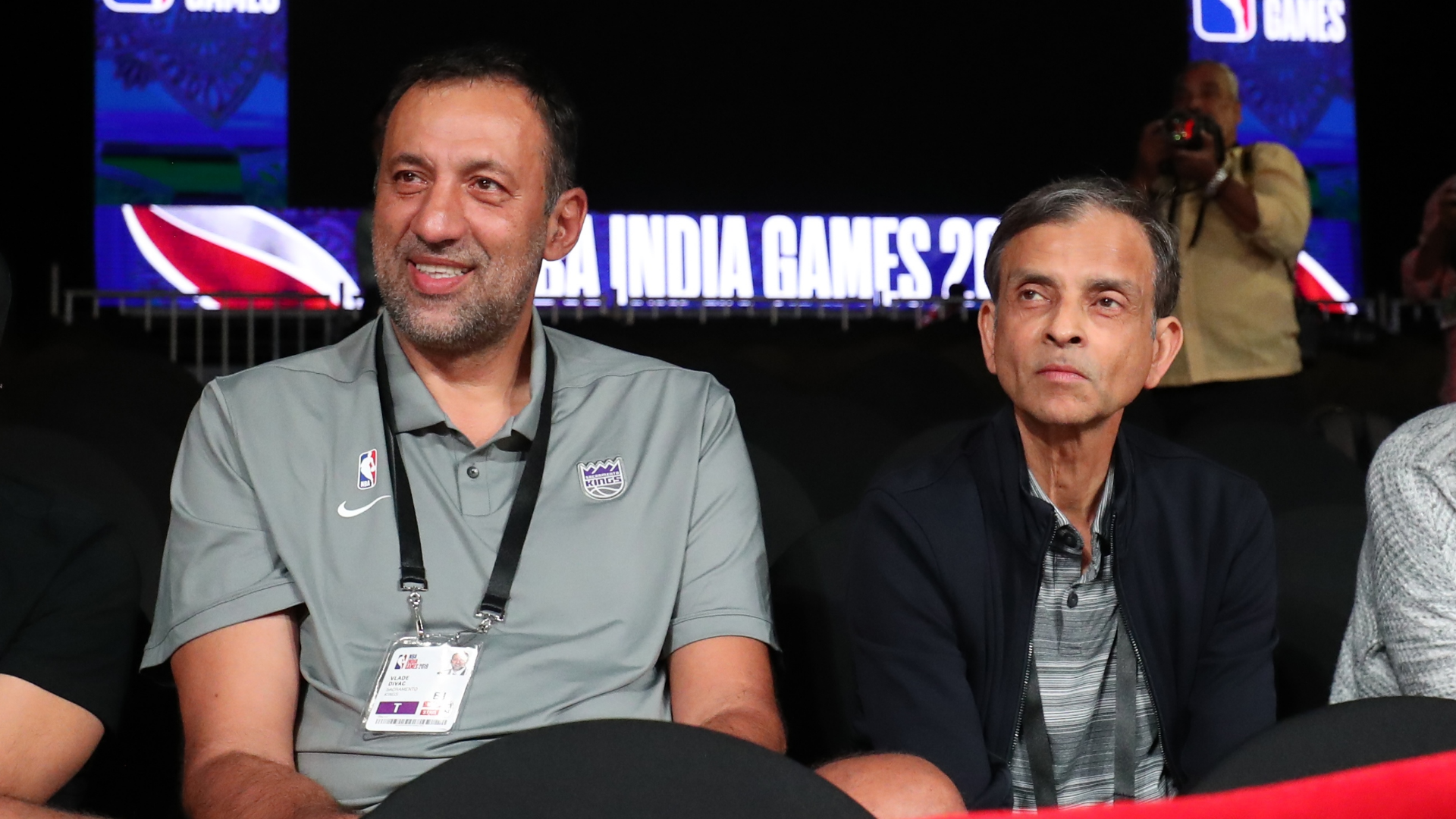 Above: Vlade Divac and Vivek Ranadivé taking in the Kings' practice on the eve of the first-ever NBA India Games
In an exclusive interview, Ranadivé took some time off while observing Kings' practice at the NSCI Dome in Mumbai on the eve of the first game to talk about this historic event, Mumbai's importance as a basketball city, and why the Kings are the best show in the sports.
MORE: NBA India Games By the Numbers
Q. The last time we spoke-several years ago in China-you had a plan that sounded super-ambitious, of bringing a team in India. Now you're actually doing, you're back in your hometown, your birth-town! How did that make you feel when it was made official?
Vivek Ranadivé: Well it was beyond my wildest dreams. I'm a Mumbaikar, this is land of my forefathers, this is the town where I was raised. And I left this country and showed up in America with literally 50 dollars in my pocket. To be able to, actually bringing the NBA team that I bought is… I'm speechless. It's beyond my wildest dreams.
Q. What is it about Mumbai that you feel would be a good fit for the NBA culture? The Mumbai culture and the NBA culture… what is it about this city that is special?
VR: I think that what people will realise is that no city in the world captures the essence of 21'st century basketball the way that Mumbai does. Bombay is Bollywood, Bombay is fashion, Bombay is culture, Bombay is swagger. Bombay is a vibe. That's what NBA basketball is-it's more than a sport, it's a vibe.
Q. You've played such an important game in these historic first NBA India Games in Mumbai. What do you hope is the impact of this game in the future of the NBA and Basketball in India, too?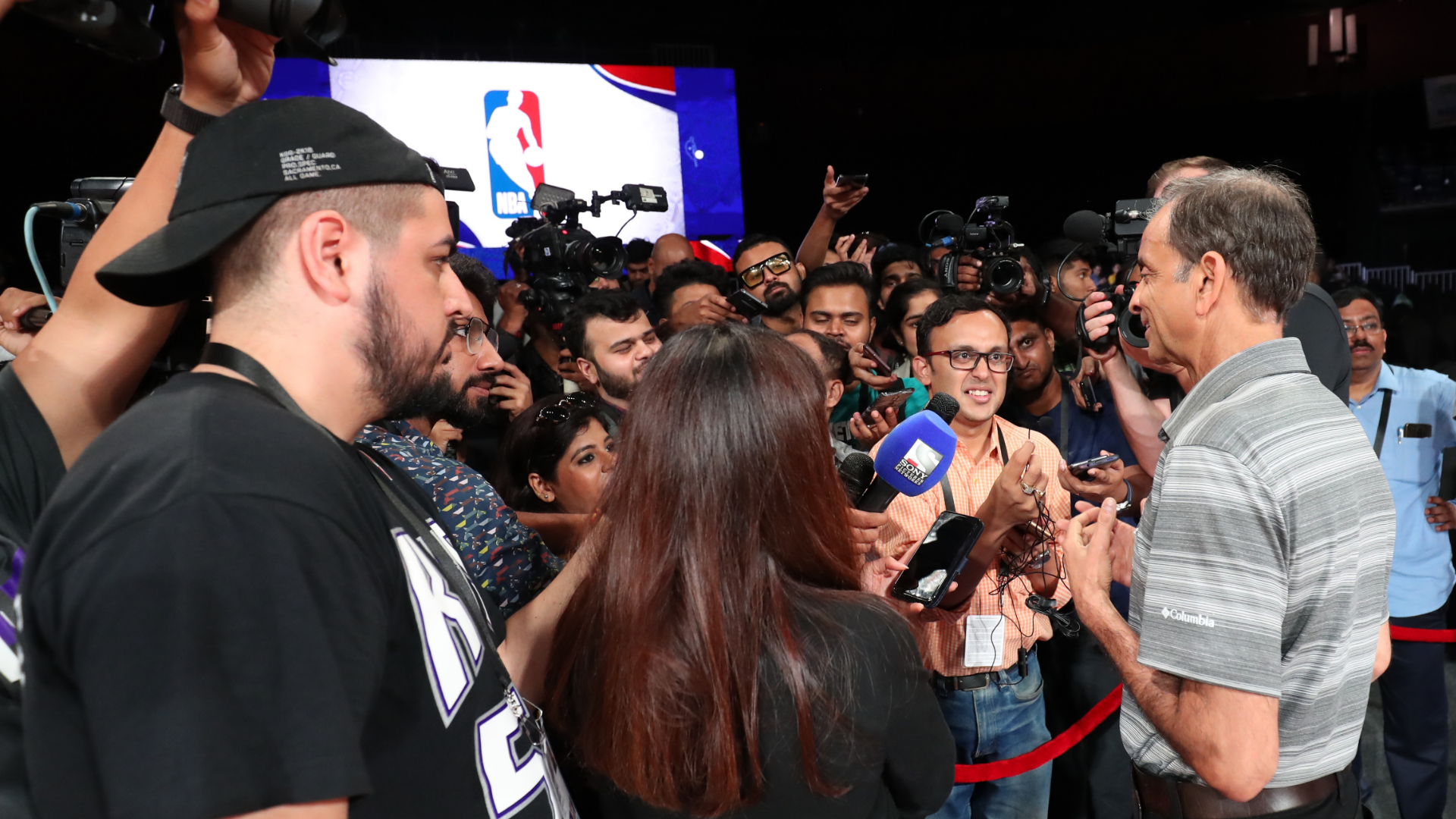 Above: Vivek Ranadivé speaking to the media during the Kings practice on the eve of the first-ever NBA India Games
VR: In my mind, we've already made significant progress. Since I first came here with Adam Silver, we now have 10 million boys and girls bouncing basketballs all over… We have an NBA Academy, we have clinics, we have WNBA girls working with the NBA and local girls, we had 150 million viewers last year. So, I expect that basketball will continue to grow in popularity on the great subcontinent of India.
And I fully expect that in the next ten years we'll have one or more players coming out of the Indian market that will make it to the NBA. I expect that we'll have world-class arenas that will become centres for basketball and also for art, culture, and music. And I also expect that we'll do a lot of good-using this platform to impact kids' lives… the first game that we're going to have, we'll have kids from 70 schools… so that's just the beginning.
MORE: Interview with Detlef Schrempf and Jason Williams in Mumbai
Q. The Kings gave Sim Bhullar the first player of Indian-origin to play in the NBA. And that was such a big moment for desis everywhere. How far do you think the rest of the Indians, from India, are from catching up to that? Do you think an Indian could make the league soon?
VR: I would be very surprised if, in the next 10 years, we don't have multiple players that make it all the way up to the NBA.
Q. Any last words for the fans who are coming to watch this game. What is it about the Kings that they should keep an eye on?
VR: We're the best show in sports. We have a very fast team… It's 'excitement in a bottle'! Go Kings! Jai Ho!
For more updates and stories on the NBA India Games 2019, you can follow NBA.com's page dedicated to the historic event.