The NBA announced the Western and Eastern Conference Players of the Week on Monday.
Stephen Curry
Curry is off to the best start of his career, a frightening thought for the rest of the NBA given he's a two-time MVP. In four games last week - all wins - Curry averaged 36.0 points and 7.5 made 3s per game while shooting a scorching 54.7 percent from beyond the arc.
MORE: The top 10 games of Steph Curry's career
Magnificent in all four games, Curry was especially brilliant in last Wednesday's home win over the Wizards in which he erupted for 51 points in three quarters, making 11-16 from downtown. It was the fifth time in his career he's scored at least 50 points to go along with 10 3s, something nobody else in league hisory has done more than once.
This the 13th time in his career that Curry has been named Western Conference Player of the Week.
Entering the third week of the regular season, Curry is leading the NBA in scoring and is on pace to make a ridiculous 541 3s which would obliterate the single-season record of 402 he set during the 2015-16 season.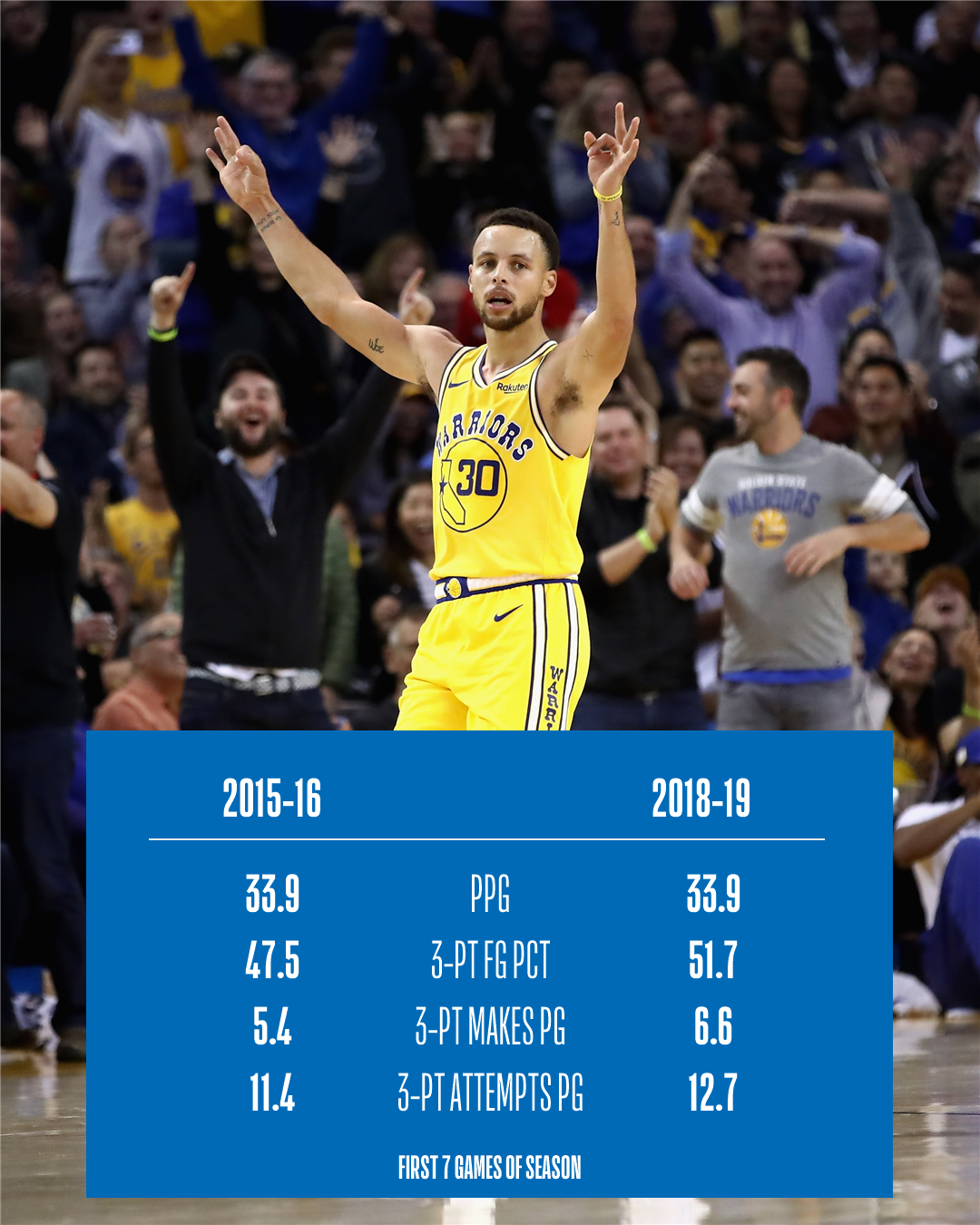 Giannis Antetokounmpo
Two weeks into the season and the Greek Freak has the re-tooled Bucks off to a 6-0 start heading into Monday's game against the also undefeated Toronto Raptors.
Antetokounmpo averaged 24.8 points, 13.0 rebounds and 5.3 assists last week for the Bucks who won all four of their games by an average of 19.5 points per game, the best point differential in the NBA just ahead of Curry's Warriors who were +19.0.
His best performance of the week came in an eye-opening statement win against the 76ers in which he finished with 32 points, 18 rebounds, 10 assists and three blocks.
With the Bucks now among the league leaders in 3-point attempts, it's even further opened up the paint for Antetokounmpo who rumbled to a league-high 17.5 points in the paint per game last week which was remarkably a drop from Milwaukee's first week in which he scored 21.0 per game.
The 23-year old forward has transformed the Bucks into one of the East's best teams in the early going as the Bucks are outscoring teams by 18.5 points per 100 possessions whenever he's on the floor with an offence and defence that would rank among the league leaders.