This weekend marks the second of five straight Sundays in which the NBA will play in primetime in India. You can catch the action this Sunday at 9:30pm IST on Ten 1 and Ten 3.
March 10: Pistons def. Bulls
March 17: Lakers at Knicks
March 24: Clippers at Knicks
March 31: Bucks at Pistons
April 7: Heat at Raptors
With LeBron James set to play in the NBA's most famous arena, here's a closer look at some of the biggest reasons to tune in!
LeBron dominates in New York
Although his first season with the Lakers has not gone as smoothly as he likely would have hoped, LeBron James is still a good bet to show up in a big way under the bright lights of New York City where he's historically played very well.
James has won nine straight games at Madison Square Garden, his last loss coming over five years ago while playing for the Miami Heat.
In the NBA's most famous arena, he has a pair of 50-point games and is one of only two visiting players to do it multiple time since the current version of Madison Square Garden opened in 1968. Michael Jordan also did it twice while playing for the Chicago Bulls.
MORE: Who are the NBA's top players?
His most memorable performance came back in February 2009 when he finished with 52 points, 11 assists and nine rebounds just two days after Kobe Bryant dropped 61 points of his own in the same building.
For his career, James is 19-7 with averages of 28.2 points, 7.5 assists and 6.9 rebounds per game.
Knicks full of promise
It's all about building for the future with the Knicks and they have several intriguing young players that ooze with star potential in Dennis Smith Jr., Mitchell Robinson and Kevin Knox.
Acquired from the Dallas Mavericks in the trade for Kristaps Porzingis earlier in the season, Smith Jr. is one of the most electrifying and gravity-defying guards in the league. He's a threat to deliver a highlight reel dunk at any moment and is a must-see player on the offensive end.
Here's a collection of some of his best dunks of the year with both the Mavericks and Knicks:
Of course, he can do more than just dunk as well. Check out this nifty behind-the-back dime against the Minnesota Timberwolves.
Dennis Smith Jr. splits the defense and dishes in style! #NewYorkForever pic.twitter.com/XUBbcdq6Se

- NBA (@NBA) March 11, 2019
That was teammate Mitchell Robinson who finished it off. Robinson is having a breakout rookie season of his own and mostly for his work on the other end of the floor. Robinson is already running up the reputation as one of the NBA's best shot blockers and ranks third in the league in blocks per game despite averaging fewer than 20 minutes.
When accounting for minutes played, there's not a single qualified player that blocks as many shots on a per-minute basis.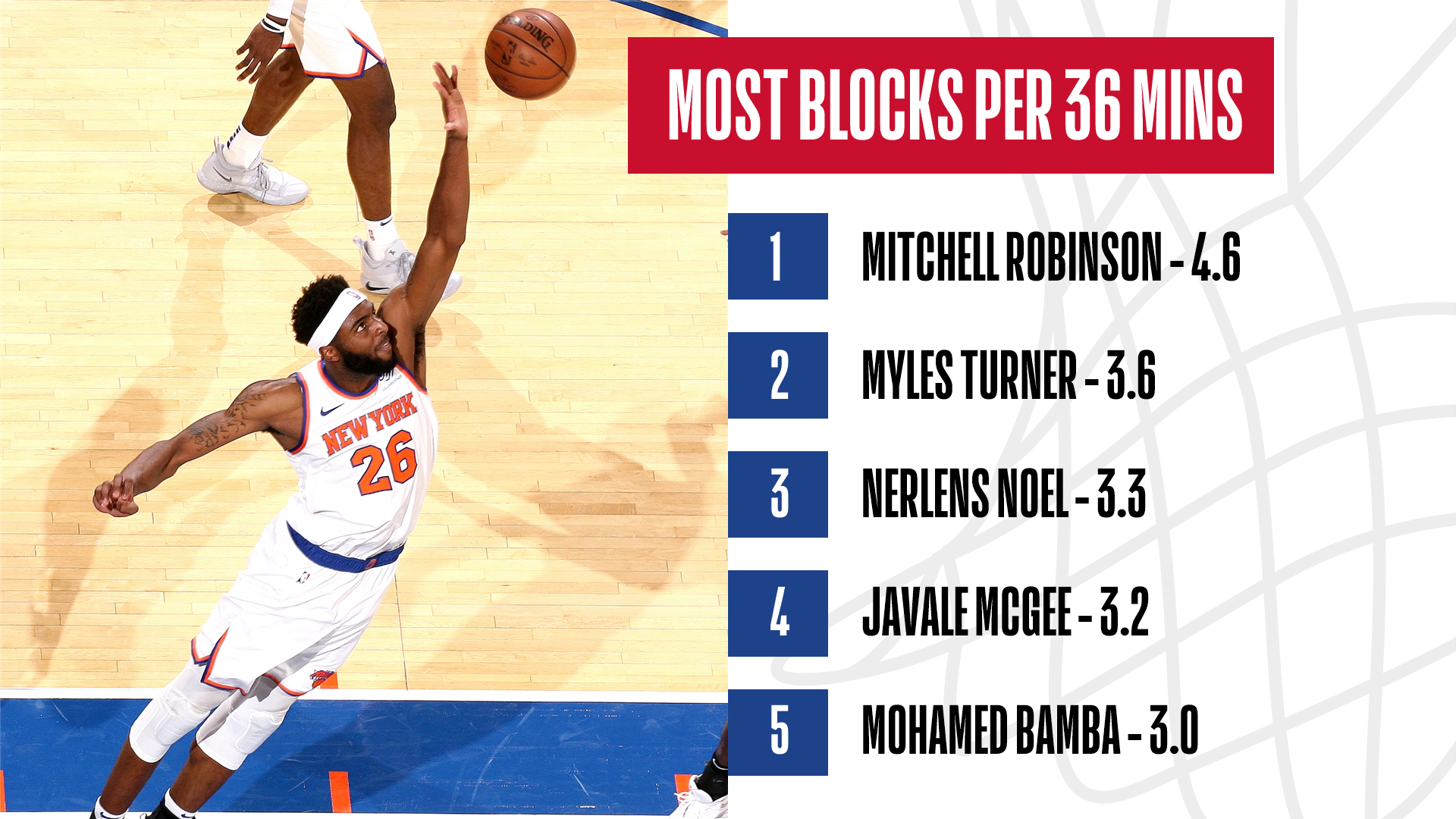 He was recently quoted as saying that he thinks he could someday average six blocks per game. If that sounds unheard of, it's because it is. The NBA single-season record for blocks per game is 5.6 by Mark Eaton in 1984-85.
A rim-protecting 7-footer with the swagger and confidence to someday become a record-setting shot blocker? Yet another reason to catch the Knicks in action.
Perhaps the most promising foundational piece on the Knicks roster is Kevin Knox. Though he hasn't had the rookie season some expected, especially after a strong Summer League showing in which he looked to be the most NBA-ready rookie with significant polish as a three-level scorer, Knox has shown flashes that make you think he could someday reach his ceiling as an All-Star wing.
His best game of the season came back in January against the 76ers when he exploded for 31 points on 12-23 shooting. He hit open jumpers, bullied smaller defenders, blew by bigs, finished over Joel Embiid, ran in transition and hit all types of shots from every angle. It was the head-turning, eyebrow-raising type of performance that makes it easy to see the roadmap for the 19-year old to become an unstoppable NBA wing.
The Knicks may be headed for another high draft pick, but Kevin Knox, Mitchell Robinson and Dennis Smith Jr. are all players on the upswing that are worth tuning in to see.
The views on this page do not necessarily reflect the views of the NBA or its clubs.