Thursday (AEDT) was a full night of action in the NBA with a busy 11-game schedule.
If you missed anything, we've got you covered with the top storylines, best fantasy performers, and can't-miss highlights.
Top Storylines
LeBron moves up in the record books and the Lakers stay hot
LeBron James entered today's game needing just 39 points to surpass Wilt Chamberlain for fifth on the all-time scoring list. Naturally, he delivered his best performance as a Laker thus far with 44 points, 10 rebounds and nine rebounds to lead his team to its fourth-straight win - a nine-point win over the Trail Blazers.
James was on a mission, sinking five of his six 3-point attempts and missing just two of his 15 free throw attempts in the game.
After starting the season 2-5, the Lakers have won six of their last seven games and now sit two games above .500. LA looks to continue its winning ways on its three-game Eastern Conference road trip that begins Sunday in Orlando.
The Magic spoil Jimmy Butler's debut
A 3-pointer from Joel Embiid extended Philadelphia's lead to 16 points with 10:51 to go in the 4th quarter.
Then Orlando went on a 21-0 to take the lead and spoil Jimmy Butler's debut with the 76ers.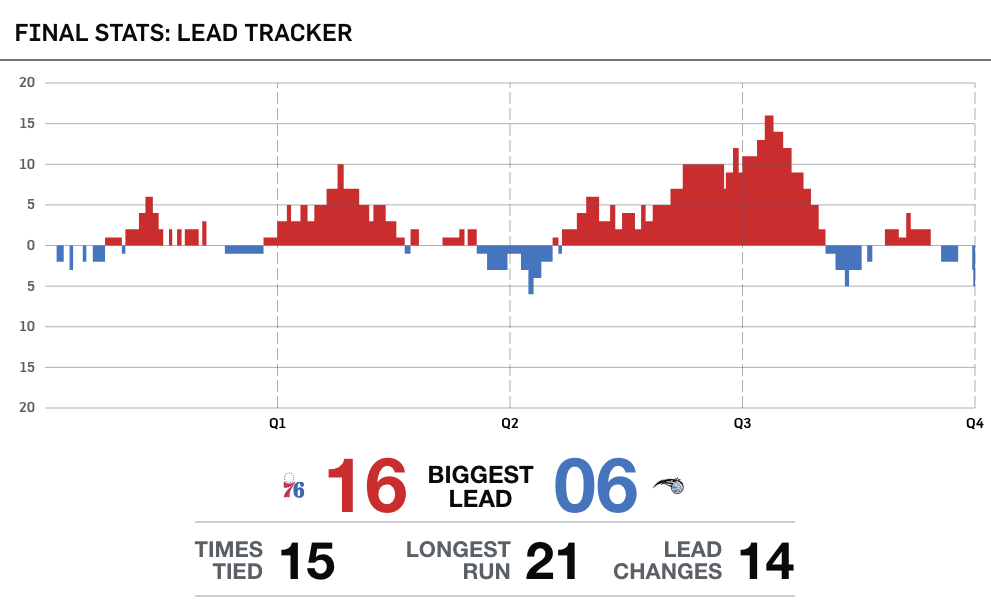 Butler finished his first game in Philadelphia with 14 points (6-12 FG), 4 rebounds and 2 assists in 32 minutes of action. Embiid led the way for the 76ers with his first career triple-double (19 points, 13 rebounds, 10 assists) while Ben Simmons struggled to find a rhythm (9 rebounds, 6 assists, 3 rebounds).
Terrence Ross played the hero for the Magic, hitting a 3-pointer in the final seconds of the game to give Orlando a 109-106 lead.
Dwane Casey's unforgettable return
The Magic weren't the only team to pull off an impressive comeback on Thursday. Down 88-77 after three quarters, the Pistons outscored the Raptors 29-16 in the fourth quarter to give Dwane Casey a win in his return to Toronto.
Stanley Johnson and Reggie Jackson led the Pistons in scoring in the fourth quarter with eight points each, but it was Reggie Bullock who came up big in the clutch with a game-winning floater.
Turnovers (20) and 3-point shooting (20.0 percent) were once again an issue for the Raptors, who have now lost two games in a row.
Blowouts
There were a number of one-sided victories on Thursday, none more surprising than the Mavericks beating the Jazz by 50 points and the Suns beating the Spurs by 20 points.
Whereas Dallas got it done with a balanced scoring effort, Phoenix got 27 points out of T.J. Warren and a career-high 12 assists out of Devin Booker.
Best Fantasy Performers
Joel Embiid - 19 points (6-20 FG), 13 rebounds, 10 assists, 2 blocks
Nikola Vucevic - 30 points (10-19 FG), 8 rebounds, 4 assists, 2 steals
Blake Griffin - 30 points (13-22 FG), 12 rebounds, 3 assists, 3 steals, 2 blocks
Marc Gasol - 29 points (6-12 3PT), 5 rebounds, 2 assists, 1 block
Paul George - 35 points (13-22 FG), 7 rebounds, 5 assists, 2 steals
E'Twaun Moore - 31 points (13-23 FG), 4 rebounds, 4 assists, 1 steal
Giannis Antetokounmpo - 31 points (10-14 FG), 9 rebounds, 4 assists, 2 blocks
LeBron James - 44 points (13-19 FG), 10 rebounds, 9 assists, 3 blocks, 1 steal
Can't-Miss Highlights
The play where LeBron moved up in the history book.
LEBRON JAMES AND-1 TO MOVE UP TO 5TH ON THE ALL-TIME SCORING LIST! #LakeShow 121#RipCity 111

WATCH on @ESPNNBA pic.twitter.com/etnRvrGj1S

- NBA (@NBA) November 15, 2018
Reggie Bullock wins the game for the Pistons at the buzzer.
Reggie Bullock floats in the #TissotBuzzerBeater to win it for the @DetroitPistons! #ThisIsYourTime pic.twitter.com/wDtCPoKGn4

- NBA (@NBA) November 15, 2018
Giannis Antetokounmpo is a cheat code.
Giannis Antetokounmpo... INCOMING!#FearTheDeer 72#GrindCity 82 pic.twitter.com/eb49mojgxh

- NBA (@NBA) November 15, 2018
Again: Giannis is a cheat code.
How'd Giannis make this move look so easy? 🤯 pic.twitter.com/C4h5Z73LAJ

- Bleacher Report (@BleacherReport) November 15, 2018
One of Joel Embiid's many assists on the night.
Embiid dropped it off to Simmons for his career-high 9th AST! #HereTheyCome pic.twitter.com/WgsZuwkzIV

- NBA (@NBA) November 15, 2018
Terrence Ross calls game!
T-Ross. Cold-blooded. ❄️ pic.twitter.com/HAbTIzSRXg

- Bleacher Report (@BleacherReport) November 15, 2018
Jonathan Isaac ruins Joel Embiid's highlight with a spectacular block.
Embiid took some ankles then got got 😬 pic.twitter.com/9li834QDCt

- Bleacher Report (@BleacherReport) November 15, 2018
Box Scores
Magic 111, 76ers 106 | Wizards 119, Cavaliers 95 | Celtics 111, Bulls 82
Heat 120, Nets 107 | Pistons 106, Raptors 104 | Grizzlies 116, Bucks 113
Timberwolves 107, Pelicans 100 | Thunder 128, Knicks 103 | Mavericks 118, Jazz 68