By establishing the G League Ignite, the NBA intended to provide a pathway for elite prospects - both in the United States and worldwide - with a one-year development program that would help prepare themselves for the life of an NBA professional on and off the court.
On the court, the plan would be to maximize each prospect's skills and basketball IQ for the next level. Off the court, this program could really help these prospects prepare for their rookie year in the NBA and all the publicity that comes with it.
For 20-year-old Princepal Singh, the only Indian on the Ignite roster, he's reaping the benefits of both on and off-court work.
Princepal's off-court growth
"The sleep bit, where they explain how many hours we must sleep, is what I find interesting," said Princepal Singh from Orlando at Tuesday's (Feb. 2) media availability, his first since joining the Ignite squad.
"That helps a lot with training also because it's very important to know how much we should rest. That section is what I found great."
MORE: Shaw calls Princepal the 'MVP of practice'
Speaking to sleep specialists is one of the multiple extracurricular activities the young elite prospects participate in as part of their development. Ignite head coach Brian Shaw shared some details earlier in the same media call.
"The guys take classes on financial literacy, on mental health, and mental awareness. College courses... some of the guys want to continue their education. We've had parents of NBA players talk to the parents of some of our young prospects to kind of temper their expectations in terms of what's about to come their way."
The future NBA-hopefuls, an entity and brand in themselves, also learn how to deal with the media.
"There's more to this than just the game of basketball, it's also the business of basketball," Shaw added.
Watch Princepal Singh talk about his goals ahead of his first G-League season 🎯

Stay tuned to this space tomorrow for part 2️⃣ pic.twitter.com/mVwgcLwGcI

- NBAIndia (@NBAIndia) February 5, 2021
Prior to signing with the G League, Singh was with the NBA Academy program for nearly four years - a year-and-a-half with NBA Academy India in Noida and nearly two years at the NBA Global Academy in Australia. That time away from home would have certainly exposed him and his game to different cultures and helped him grow.
But for the first time in his basketball career, he's a professional.
"That session was great because it's our first time," Singh began, referring to the financial classes. "What we get paid, how do we use it and how we should save. That was great."
Bonding with teammates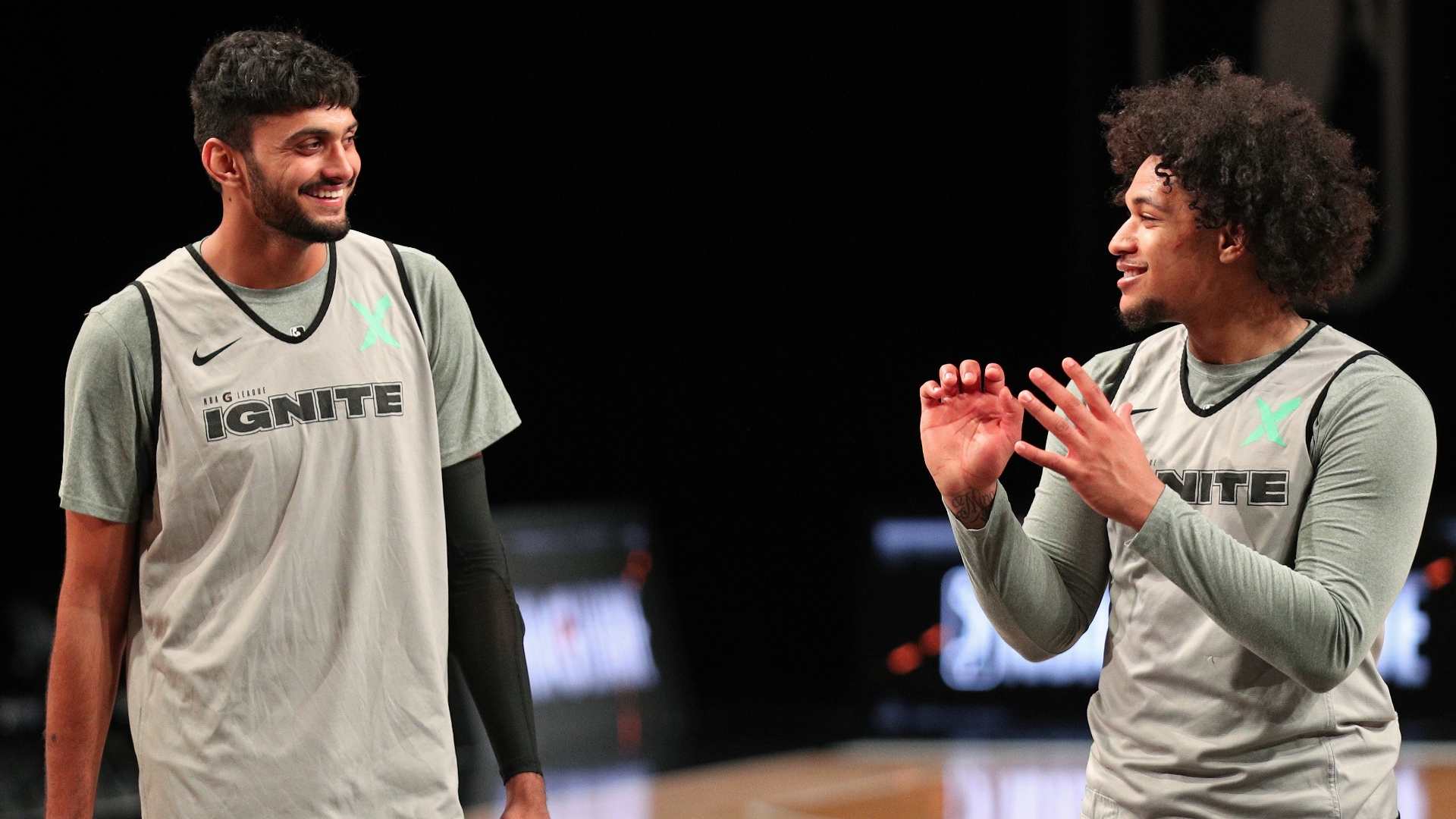 Unlike prospects of his age, Singh picked up the sport relatively late at the age of 15.
His rapid development is what has earned him the spot on the Ignite and playing alongside other young stars like Jalen Green, Jonathan Kuminga, Isaiah Todd, Daishen Nix, and Kai Sotto - all of whom are ranked in ESPN's Top 100 Rankings - will only help him further elevate his game.
"All of [my teammates] are great players," Singh said. "I get to learn a lot from them. How they play and handle themselves on the court. It's really great for me because I'm with them."
Talking about Amir Johnson and Donta Hall, the veteran big men on the team, Singh mentioned the aggressiveness in their rebounding and play but adds that they are very experienced and he learns a lot from them.
MORE: Coach Shaw calls Princepal 'Most Improved' on Ignite squad
And while Singh is quietly learning on the court, one of his favourite things is the team's music selection at practices.
"We listen to music in our practice to get kind of used to what the crowd noise would be like if you had people in the arena to get them to communicate earlier and communicate louder, over that kind of background noise," coach Shaw began illustrating a story from practice.
"And each day, we let a different player plug in their playlist of music to play while we're practicing during different segments of practice. And so, there's been some days where Princepal has been able to play his music, and he actually listens to hip hop with an Indian flavor to it. So that's been nice to see the guys like bop their heads and stuff to his music and vice versa."
Strength & Conditioning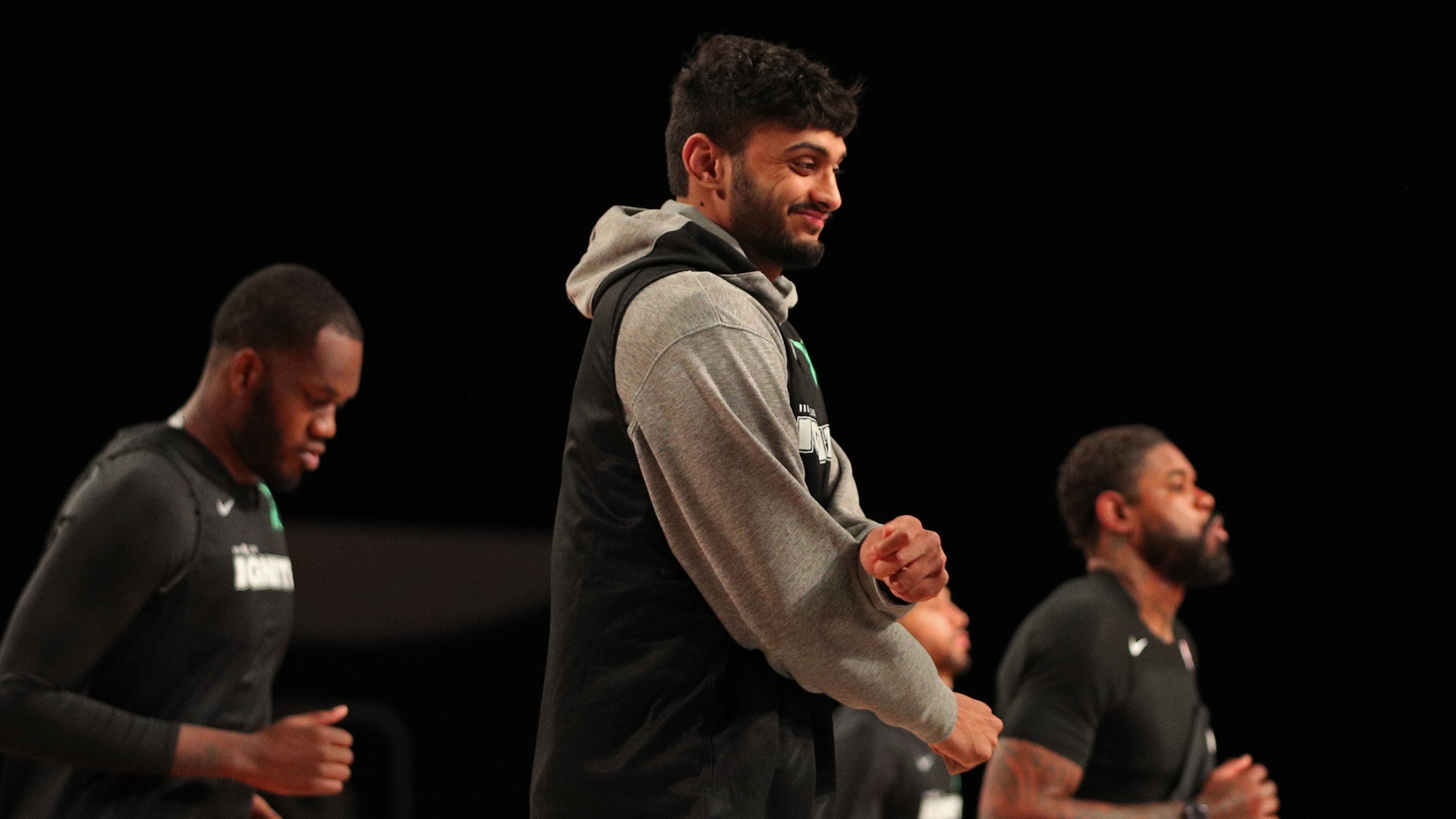 "No, it's not much," Singh responds when asked if there was any shock from the G League training. "It's going great because I had earlier trained in NBA Academy India and NBA Global Academy, it's the same."
Despite the lack of difference in training, the 20-year-old did have to play catch-up when he first joined the team.
"When I was arrived [to San Francisco in October] , India was under lockdown and it been a while since I had been on a basketball court," Singh shares. "I hadn't gone to a court in three or four months, so I was a little unfit. So, in Walnut Creek, I first worked on my strength and conditioning."
MORE: Info on G League Ignite - Full roster, coaching staff, season schedule & more
That strength and conditioning work combined with extra hours before and after practices has helped Singh improve his passing, dribbling and 3-point range - the last of which even coach Shaw has noticed and mentioned.
Coach Shaw has talked about how Singh will have to compete to receive minutes on the court, so it's all about continuing to improve for the young Indian. If and when he checks in to a game, he will make history as the youngest and third-ever Indian to participate in a G League game.
Princepal Singh and the Ignite will open their 15-game 2021 season against Jeremy Lin and the Santa Cruz Warriors on Feb. 10 at 9:30 p.m. IST.
The views on this page do not necessarily represent the views of the NBA or its clubs.