The Indian hoops revolution is upon us and it's picking up pace.
Last week, Amaan Sandhu became the third Indian male teenager from the NBA Academy India to receive a high school scholarship in the United States. Signing with First Love Christian Academy (FLCA) - a private school in Washington, Pennsylvania - the 18-year-old will team-up with his NBA Academy India teammate Pranav Prince.
Prince received a scholarship from FLCA a couple of months earlier, in August.
On playing with Prince again
"I think it's an advantage for us," Sandhu said about teaming up with Prince as part of an exclusive with NBA.com just hours before he was set to take-off from India for the United States. The two of them were student-athletes at the NBA Academy India facility in Delhi National Capital Region (NCR) since 2018.
Both were identified through the ACG-NBA Jump Program with Sandhu being picked in 2017 as part of the 21-member inaugural class of student-athletes while Prince was selected a year later. ACG, the official partner of the NBA Academy India, has assisted in conducting these programs annually since 2016. Every year from 2017, the program has worked as a funnel to look for the new batch of student-athelets at the Academy.
Having played together for a couple of years, their on-court chemistry shouldn't come as a surprise, but their off-court camaraderie could help them more in this new phase of their basketball careers.
Part of the NBA Academy India's roster, the duo has traveled to various parts of the world like Hungary and Atlanta (USA - NBA Academy Games) to compete in youth tournaments. Away from home, on the road, there's bound to be a brotherhood that's formed between the young rising stars.
"I have a very good connection with him," Sandhu continues. "He's like my younger brother. It'll be a lot easier."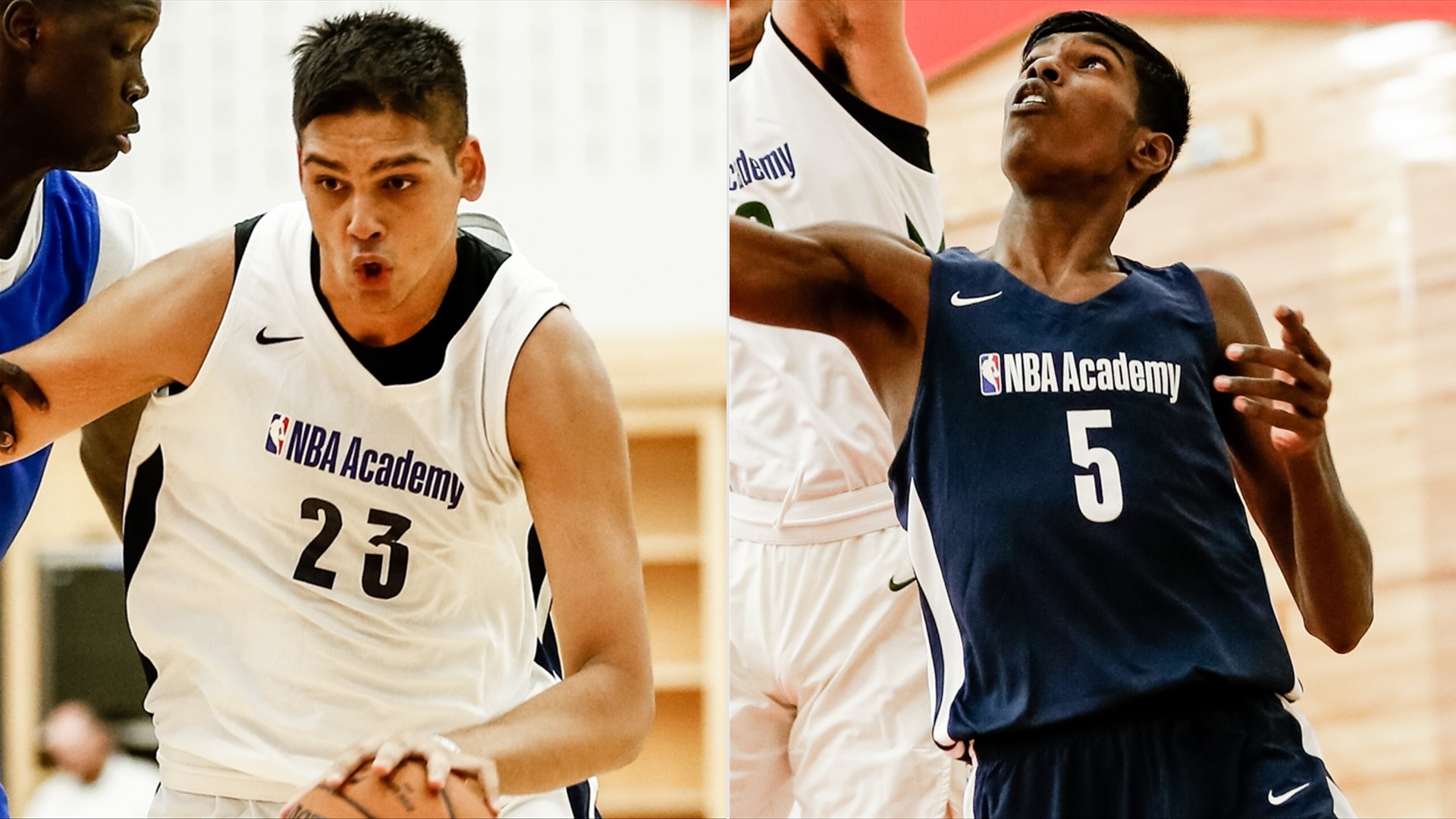 "I know who and how he actually is. In the hard times, we can help each other because it was the same thing we used to do at the Academy. If somebody would feel down, we used to uplift them."
Family's reaction and advice
"My family and I are super excited about it. It's a new chapter in my life," Sandhu replied when asked about his family's reaction to the news of his scholarship.
Over the course of the last 18 months, Sandhu was grabbing the attention of his coaches and global scouts.
In August of 2019, he was one of two Indian boys (four Indians overall) to be selected for the Basketball Without Borders Asia Camp in Tokyo, Japan. During the 2020 All-Star Weekend in Chicago, he was selected as the only boy out of three Indians for the Basketball Without Borders Global Camp.
MORE: NBA.com's all-access exclusive with Sandhu from May 2020
But not many could have predicted his rise when he was one of the 21 student-athletes originally selected for NBA Academy India. Why? His physique, the transformation of which has been well-documented since.
Hard work, dedication, perseverance - Amaan Sandhu gets it done!#ACGNBAJump #NBAAcademy
@ACGWorldwide pic.twitter.com/MqTNNL0O1R

- NBAIndia (@NBAIndia) August 9, 2019
"My parents are very proud of me," Sandhu continues.
Coming from a family of athletes, Sandhu didn't have to look far for advice. His father - a former international basketball player - and mother - a former national-level basketball player - prepared him to chase his dreams by sharing their own experiences with him.
Ready to grow on and off the court
He's come a long way in his three years with the Academy but Sandhu knows there's still work to be done.
"When I first started at the Academy, I was completely a centre," Sandhu explains. "Throughout my Academy journey, I've grown from a centre to centre/forward. I used to play a lot in the post before but not now."
When asked where he believes he can continue to grow his game, the 6'11" big man from Mohali didn't keep it short, naming his "driving skills, shooting, basketball IQ and passing" as the areas he needs to focus on.
Even though he's been to the United States before and has traveled the world a decent bit for a 17-year-old, Sandhu knows there's going to be a learning curve.
"In India, parents are always there with the kids, so I need to be a little more responsible and more mature about my decisions because the US is a very new country. I need to be very focused on myself."
The views on this page do not necessarily reflect the views of the NBA or its clubs.