Harsimran Kaur and her father Sukhdev Singh have the same shooting action: hands extended in a straight line to the rim, guide hand to the side in an interfering angle, a high release. Years after Sukhdev retired from the game, Harsimran received compliments from her coach-and her father's former teammate-about how much her jump-shot resembled her old man's. She learned how to shoot from years of watching him play on the sidelines, and later, from the advice he gave her in gruelling training sessions.
On their home-court in Kapurthala, Punjab, daughter and father have played in a series of 1-on-1 games for the past few years. Sukhdev, despite being slowed by a decades-old ACL injury, always held an upper hand. At 6-foot-5 with the instincts of a seasoned-vet, he knew all the tricks of the trade to ensure his first-born never slipped by.
But, guided by Sukhdev's own training and other coaches that came along the way, Harsimran's game improved dramatically. She shot up to 6-foot-2 to become a legitimate post threat. She became a smooth finisher, a strong defender, and that inherited jumper continued to splash. She began to get noticed, to play for junior levels for her state, get invited to national camps, and then to prestigious international events, and became harder and harder to stop.
And then, earlier this year, while the 16-year-old was back to Kapurthala from an NCAA Next Generation Showcase event in the USA, she returned feeling an extra swagger in her step. Another one-on-one with Sukhdev. The Kapurthala court was dusty cement, a far cry from the air-conditioned hardwood in Florida, but basketball was the same game-and Harsimran's game was now better than ever.
"We play very aggressively against each other," Harsimran said. "We don't call each other's fouls. When we're on court, we don't know each other. We're not father and daughter; we're opponents."
The games had been getting more aggressive, more competitive over the years, but this time, it was finally Harsimran's day. She edged by her father, 22-18, her first-ever victory over him, the student beating the master.
"I started jumping with joy when that happened," she said. "'Now Papa,' I said. 'Now, you tell me? When do you wanna play again?'"
"He's a bit old now," she said of the 44-year-old. "He gets tired. Whenever I come back from camp, Papa always wants to play me. He always loses now, but never accepts it."
"It's totally a Dangal story."
Above: Harsimran Kaur at the 2nd NBA Academy India Women's Camp in January this year
'Dangal', which could mean 'riot' or a 'wrestling competition', is, of course, a reference to the superhit 2016 movie of the same name, loosely-based on the true-life story of Haryana's Phogat family. The family's patriarch is Mahavir Singh Phogat, a former wrestler who trains his daughters to take up the sport after him-and help complete his unfulfilled dreams of medalling for India.
Harsimran could see Dangal parallels in her own life, in her relationship with her father-a former player-who has helped give her the pedestal of taking a step higher than him, too. Like the movie, she mentioned that, at her birth, some family and friends expressed disappointment that Sukhdev's first-born had been a girl.
"When I was born, everybody told him, 'Oh, it's too bad it's not a boy… But Papa took a stand. He always that I could fulfill his dream."
*
Some people adopt a world of sport; Harsimran Kaur was born in it.
Her grandfather played kabaddi internationally for India. Her mother, a six-footer herself, was a volleyball international player. Her father, Sukhdev Singh, played domestically for Punjab and Indian Railways. And she has a younger sister-15-year-old Yashneet Kaur-who is continuing the family legacy and becoming a blossoming basketball star in her own right.
Harsimran also happens to have the advantage of hailing from one of the hotbeds of the game. Her hometown, Kapurthala, is fertile hoops ground, the town where, as legend goes, basketball was first played in the country back in the late 1920s. The town features the Rail Coach Factory (RCF) team that has help mould dozens of important national and international players over the years. Harsimran herself has been blessed with the mentorship of several living legends of the game, like Arjuna Awardee Ajmer Singh and Dhyan Chand Awardee and RCF coach Ram Kumar.
"Whenever they have time, whether its once or twice a week, they would come and tell me that I have something," she said. "They always make sure to come encourage me."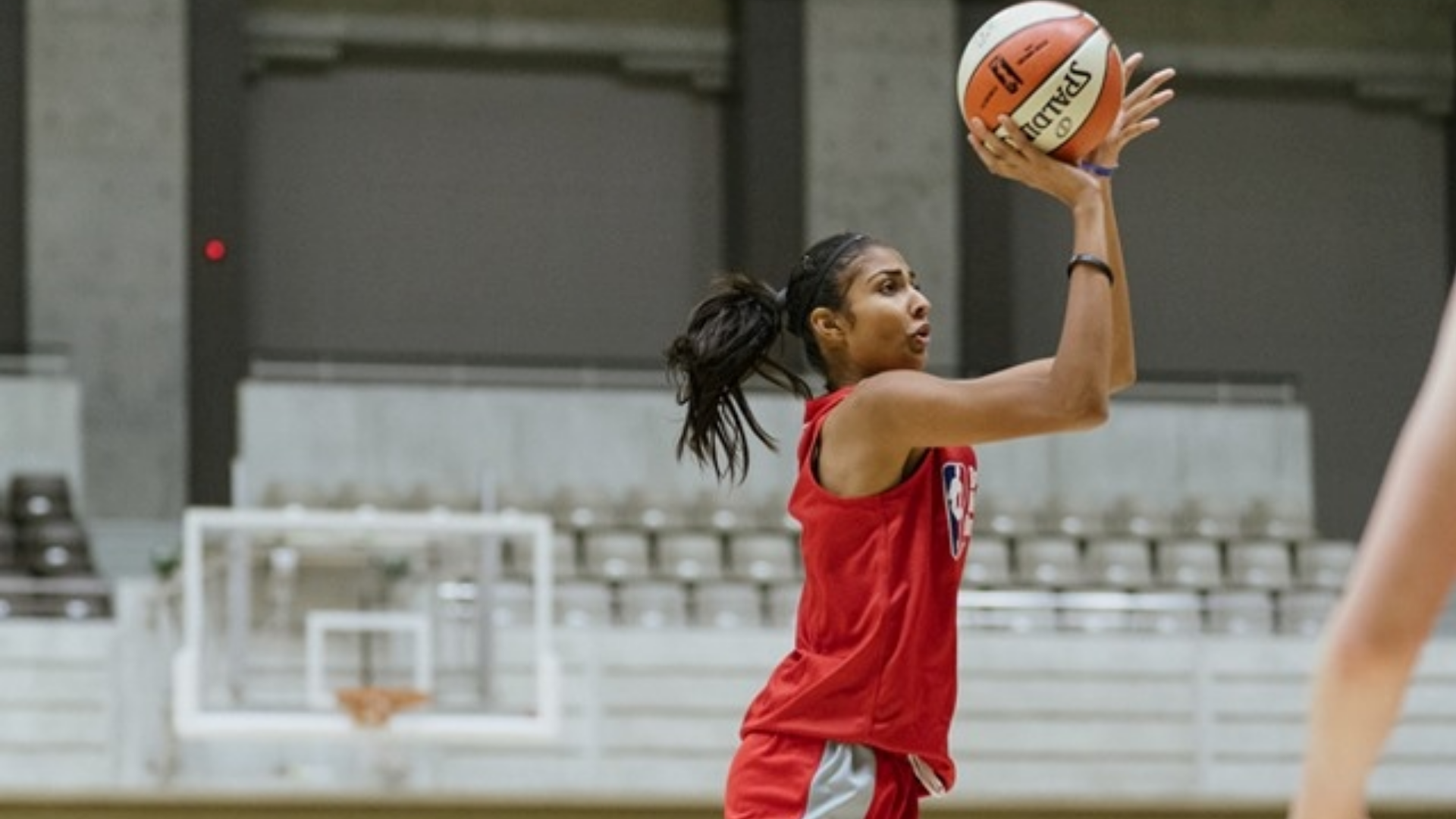 Above: Harsimran Kaur at the 2019 Basketball Without Borders Asia Camp 2019 in Tokyo.
Harsimran's father, Sukhdev, was destined to be an international player for India before a debilitating ACL injury put his career on hold. "He was from a poor family," Harsimran said. "And they didn't have money for a surgery. That stopped him… he quit the game."
As Harsimran grew older, she began to accompany her father as he hit the courts to practice in Kapurthala. It was here that she began to observe and learn the basics, too.
"He was my inspiration," she said. "Just watching him: I wanted to play basketball. When I turned 12, he handed me the ball and asked me just one question: Do you want to play? And if yes, you have to play at the highest level."
"Yes," I answered.
And the journey began. The practices, the lessons, the one-on-one matchups, the father-daughter 'dangal', and four years of rapid development that has since made Harsimran into one of the brightest young prospects in India.
"Basketball became my passion," she said. "I knew that, in my life, this is the only game I have to play."
*
2019 has been a life-changing year for the teenager-and the month of November could be a tipping point for her legacy.
The year began when Harsimran was invited among an exclusive group of 24-star teen players from around the country to take part in the NBA Academy India's women's programme in Greater Noida, an elite training camp held by an international array of coaches that included basketball Hall of Famer Jennifer Azzi.
Her performance at this camp raised eyebrows and interest, and she was soon picked for that aforementioned NCAA Next Generation showcase in Florida, USA. Here she gained experience among a pool of 64 players from all around the world. In August, she continued to gain international experience when she was among four Indian prospects-two boys, two girls-to participate in the Basketball Without Borders Asia camp in Tokyo, Japan, among Asia's top prospects.
Honey, Siya & Amaan made it to the All-Star team at the #BWBAsia Camp in Tokyo! 🇮🇳#NBAAcademy pic.twitter.com/rtbXbKjxdF

- NBAIndia (@NBAIndia) August 19, 2019
And last month, in the week of the historic first-ever NBA India Games, Harsimran was part of the NBA India's women's programme again, this time held in Mumbai. Once again, coaches like Azzi, Blair Hardiek, Vanja Cernivec, and others trained her and a shortlist of other prospects. This time around, Harsimran didn't just raise attention; she raised hell. And she walked home with the camp's MVP award.
MORE: NBA India All-Access - Blair Hardiek
With each passing achievement, she could feel her game improve.
"Earlier, when I used to get the ball, I would almost panic," she said. "I would want to get rid of it as soon as possible-to pass or shoot it quickly, to end things. I used to be over-aggressive. Now, I feel that I've gotten more patient with my game. I've had to learn that missing a shot is a part of the game. I used to tell myself to never miss. But now that I've played against some top players, I realise that it's fine."
Harsimran also said that the coaches helped her become more confident about her own skillset.
"They told me that I needed to become a better leader," she said. "They told me that I have potential to reach the WNBA… They have motivated me a lot. I personally felt that the WNBA is too big, too far away. But the coaches continue to motivate me to that goal."
"All my coaches have had a big role, day-to-day, in my game. Even if I make a mistake, they say, 'You can do it again. Not every day is a good day, sometimes you can have bad days in life. But you can overcome your problems.'"
Apart from taking a bigger leadership role, Harsimran also wants to become more ambidextrous on court. For now, she has a more dominant right hand-but her hopes are to learn to finish with the left as often as she does with the right.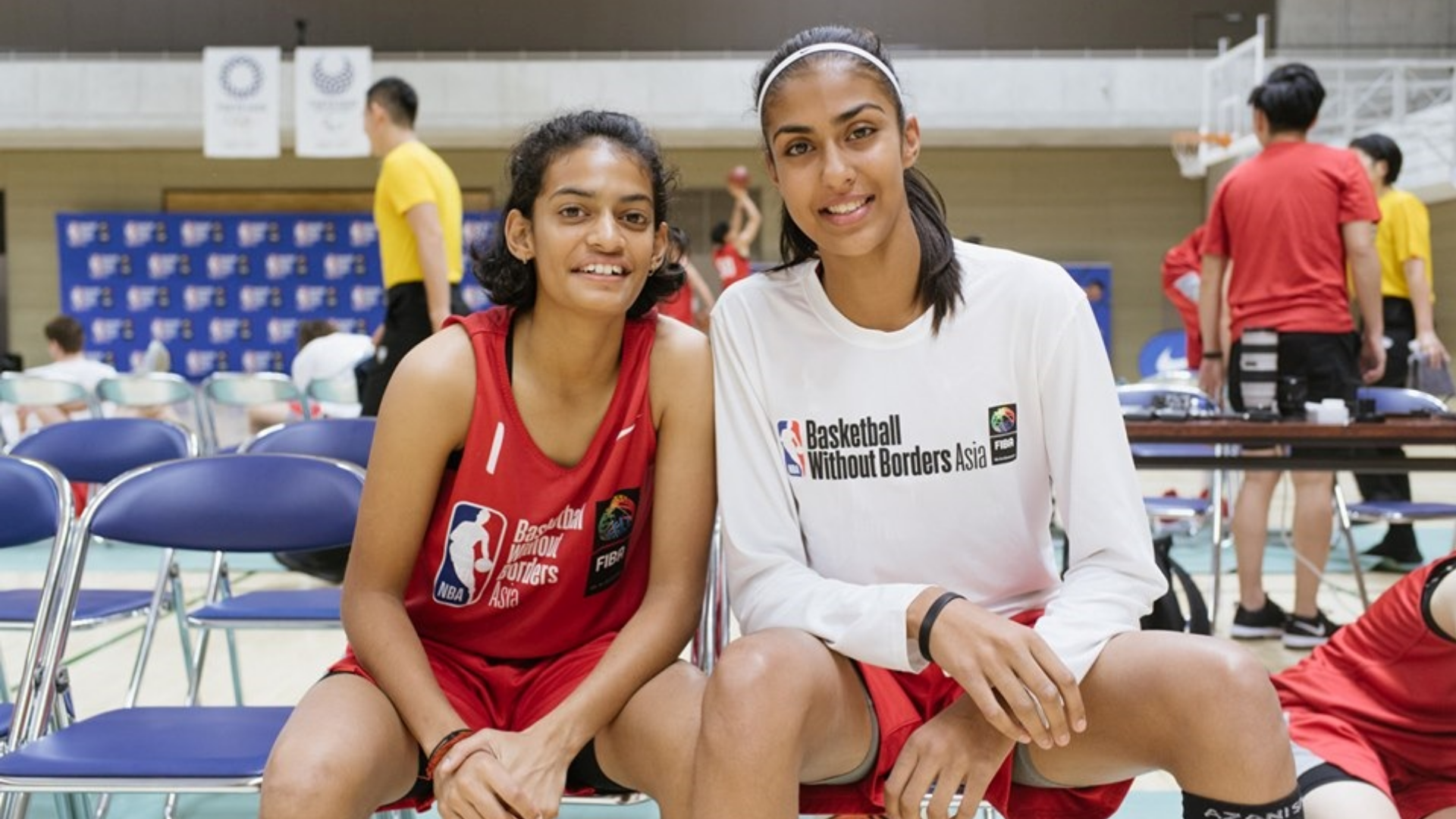 Above: Siya Deodhar and Harsimran Kaur at the 2019 Basketball Without Borders Asia Camp 2019 in Tokyo.
Her improvements have brought her, for the first time, to India's senior women's basketball team camp in Bengaluru. Harsimran, who has only worn the national colours in a FIBA U18 Asia 3x3 championship, will now hope to make her senior debut-completing a journey that her father had once started. She is in camp in Bengaluru with a few dozen of the top players in the country like Shireen Limaye and Jeena Skaria. Harsimran, of course, is the youngest.
If she is selected in the final roster of twelve, she will join the national team in the FIBA Asia pre-Olympic qualifying tournament.
But before camp concludes, Harsimran has also been invited for her next international outing: a try-out for the prestigious Australian Institute of Sport (AIS) women's basketball team in Bruce, Australia. She will be flying to Australia in a few days with the aim of getting more experience, more exposure, and perhaps, a road ahead to even more opportunity.
"I hope to improve my basics even more in Australia," she said. "To become a better player, a great player. If I get selected, I could join AIS. The coaches there will observe my game and hopefully I can reach scouts for colleges abroad."
*
And this is where we leave the past and begin to contemplate her future. Harsimran has turned every opportunity into a showcase of her own skills and now aims to do the same with the try-outs in Australia. "I want to play in America," she said. "Play in a top-20 university there in NCAA Division 1. Once I get there… then, there are more chances for me to make it to the WNBA. That's my final goal."
It will be around the same time, later in this month, where she will also find out her Team India fate. She is still young and a step slower compared to some of the country's top players. But if she makes the roster, she will complete an important achievement-not just of her life, but of her father's, too.
"I know there are expectations for me to complete my father's dreams," she said. "Papa wanted to play for India and he couldn't do it. He wanted to make us into a stable family in a good environment. Now, it's on me to complete these goals."
22-18 was the final score in her first win, a win that marked the turn of an era. Sukhdev had officially passed on the torch to Harsimran. And even as she gallops forward, she promised to take her father along.
"I'm playing with all my heart, playing for him," she said. "I want to show the world, and do what he couldn't."